4-layer Vanilla Cake with Whipped Chocolate Ganache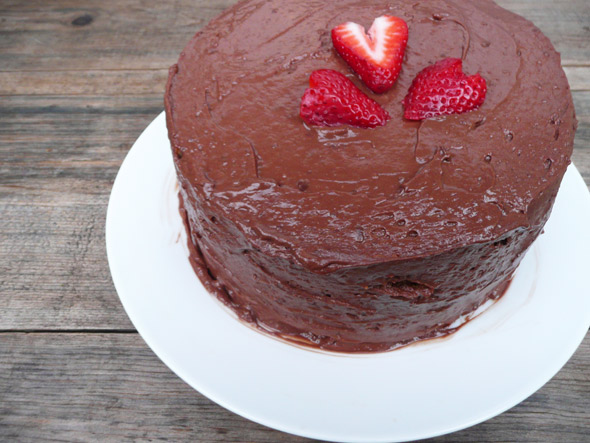 I am not a cake artist. My cakes rarely turn out that beautiful. I'm much better at styling a salad or baking up a pretty loaf of bread … but this year my girl and I were bound and determined to make a fantastic vanilla cake for her birthday party.
When South your Mouth posted a "Suck it Betty Crocker" Vanilla Cake, we both knew THIS was the right recipe. And it was! The cake was moist, tender, wonderful … I did it in 4 layers instead of three … the bottom two layers were thicker and I didn't quite cook them enough. But nobody minded. Everyone said the cake was great. (Because it was.) I usually make an attempt at "healthifying" my recipes, but this one I left alone. It's a BIRTHDAY cake after all. Once a year, I think my girl deserves a good un-healthy cake.
My daughter wanted chocolate frosting with her vanilla cake so I thought I would attempt a chocolate ganache. We are both choco-holics and it didn't seem like a buttercream was going to give enough chocolate flavor for us. When I went to make the frosting, though, I had a bit of a dilemma. First, I had 5 egg whites that my girl thought I should use in the frosting. And secondly: without thinking, I had made all the half and half into vanilla ice cream mix. Ooops. So there I was, wondering just how to go about making the frosting.
Sooo I used the vanilla ice cream mix in the ganache, then whipped up some of the egg whites and folded them in. After a little time in the fridge, it turned into a luscious wonderful whipped chocolate ganache. I'm not normally a frosting person, but I could eat this stuff by the spoonful it was so good.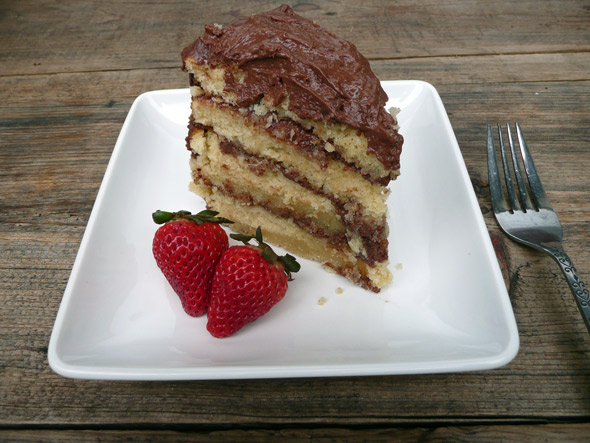 You see? My cakes always look a little messy … oh well! It tasted really good.
'Suck It, Betty Crocker' Vanilla Cake
Recipe from South Your Mouth
1 ½ cups sugar
¾ cup butter flavored shortening
2 ½ cups all purpose flour
1 tablespoon baking powder
1 teaspoon salt
5 large egg yolks
½ cup honey
1 cup whole milk
1 cup additional liquid*
1 tablespoon vanilla extract
Directions:
Preheat oven to 350 degrees. Grease and flour pans. In a mixing bowl, sift together flour, baking powder and salt.  Set aside.
 In a small pitcher or glass, mix together milk, additional liquid and vanilla.  Set aside.
 Using a mixer, cream shortening on medium speed until fluffy – about 1 minute.  Add sugar and continue to cream for 5 minutes.  Add eggs yolks one at a time, then honey. Beat well after each addition.
 Add flour mixture and milk mixture to creamed mixture (alternating each, beginning and ending with flour mixture).
 Pour batter into prepared pan(s)* and bake per the following or until the cake no longer jiggles in the pan and a toothpick inserted in the middle comes out clean. DO NOT OVER-BAKE.
8-9" Round: Fills three pans, or 4 thin layers.  Do not try to fit all of the batter into two.  Use about 1 3/4 cups batter per round. Bake 20-25 minutes. See South Your Mouth for other pan baking times and a beautiful vanilla frosting recipe that uses all the egg whites.
*Use any sweetened clear liquid such as cream soda, white wine, light-colored fruit juice, coconut milk, lemon-lime soda or tea.
Lowfat Basic Vanilla Ice Cream Mix
This makes too much ice cream mix to fit in my ice cream maker, so I usually make half this much. It's nice to have extra on hand. You can add all kinds of flavorings to this basic mix to make just about any flavor ice cream you crave. You'll need some of this for the ganache frosting … although you may be able to get away with just using half & half instead.
4 cups fat free half and half
1/2 cup sugar
1 tablespoon vanilla extract
1 egg, beaten
Directions:
In a medium saucepan, mix half & half & sugar. Heat, stirring frequently, until small bubbles form at the edge of the pan.
In a separate bowl, beat the egg with a whisk or mixer until frothy.
Slowly drizzle a stream of the hot cream mixture (about 1 cup of it) into the egg, whisking or beating constantly.
Gradually add the egg mixture back into the remaining hot cream mixture in the saucepan, whisking as you go.
Cook over medium-low heat, whisking constantly, until mixture thickens slightly and is thick enough to coat the back of a spoon–roughly 5 minutes. Add the vanilla.
Put in a jar or covered container in the fridge till it's cold, then freeze in an ice cream maker.
Whipped Chocolate Ganache
1 12-oz. bag of quality semi-sweet (or dark) chocolate chips (we used Ghirardelli)
1 cup basic vanilla ice cream mix (in liquid form)
2 tablespoons butter, melted
1/2 cup of egg whites
1/8 teaspoon cream of tartar
1/3 cup powdered sugar
a pinch of cinnamon
Directions:
Put the chocolate chips in a medium mixing bowl.
Heat the ice cream mix with the butter till it's very hot (but not boiling!) and the butter is melted. Pour the ice cream mix over the chocolate chips and stir stir stir until the chips have melted and it forms a nice creamy hot mess.
In a separate bowl, whip the egg whites until they form stiff peaks, then add the cream of tartar and beat a little longer so the peaks are REALLY stiff.
Fold the egg whites into the chocolate mess until it's all totally chocolatey and no white stuff remains. Mix in the powdered sugar and cinnamon.
Put the frosting in a covered container in the fridge till it's cool and thickened up to frosting consistency. I'm not exactly how long this was because I was so busy with the party, but I think it was about 2 hours.
Frost your cake! It makes quite enough to frost a 4-layer cake with a bit to spare.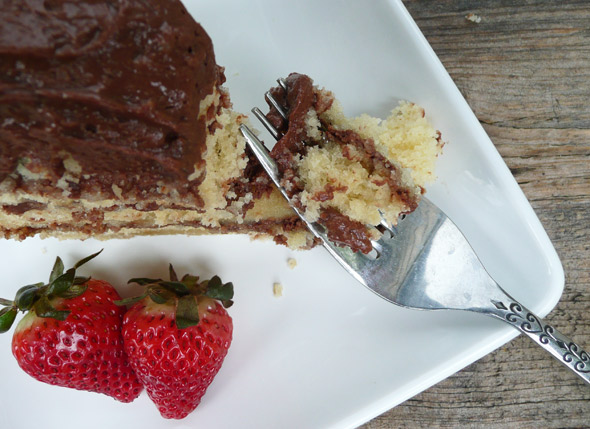 This recipe was shared at Weekend Potluck, Everyday Mom's Meals, Crazy Sweet Tuesday and Trick or Treat Tuesdays.