A Peach & Chicken Salad with Oriental Vinaigrette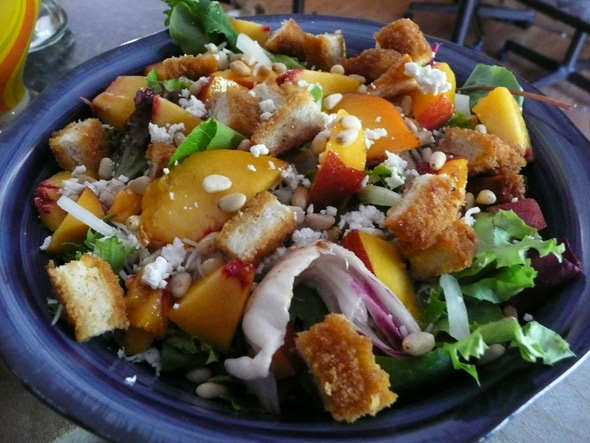 The other day I needed a quick meal so I tossed together some things I found in the fridge to make a quick salad and it turned out SO delicious that I have to share it. In case you haven't noticed, goat cheese and pinons (pine nuts) have become essential ingredients in my house. They add a touch of elegance and a funky taste to so many different kinds of dishes!
Peach & Chicken Salad
Ingredients:
Mixed greens
1 peach, pit removed, sliced and cut into chunks
1 chicken patty chopped into chunks. I used a breaded chicken patty left over, but you could use a grilled chicken breast or any cooked chicken meat. This is a great way to use leftover chicken!
Vidalia or red onion slices
Goat cheese crumbles
Pine nuts, toasted
Oriental vinaigrette (recipe below)
Directions:
Fill your salad bowl about 2/3 – 3/4 full with mixed greens.
Toss on the other ingredients.
Drizzle with oriental dressing
Oriental vinaigrette salad dressing
Ingredients:
2 T. soy sauce
1/2 c. rice vinegar (or white vinegar)
2 T. honey
1-2 cloves garlic, chopped fine OR 1/4 t. granulated garlic
1/2 t. ground ginger
About 10 drops of sesame oil
1 T. canola oil
1 T. fish sauce
1 T. chinese mustard
Directions:
Pour all ingredients into a bottle and shake well to blend the flavors. Refrigerate.