Asparagus Pesto Rotini with Shrimp & 'Shrooms

So of course I had to make some pasta with my new love: Asparagus White Bean Pesto! I tossed in some fresh shelf mushrooms my dad gave me, but you can use any mushrooms of your choosing. I chose Rotini because the ridges in the little swirly pasta will "catch" the pesto nicely, so it won't all slide off of the noodles.  It is a tasty, healthy meal that is fancy enough to  serve to company, but quick enough to have any weeknight.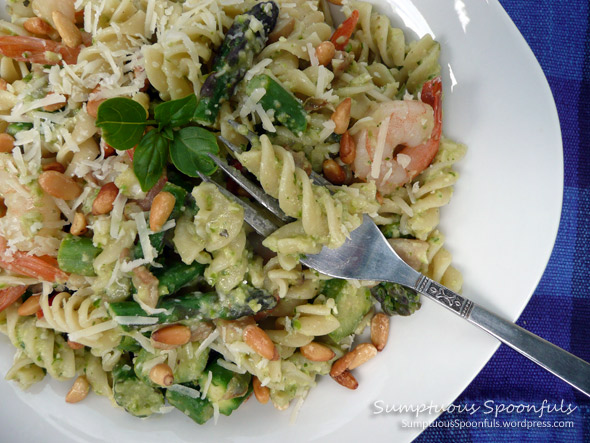 Asparagus Pesto Rotini with Shrimp & 'Shrooms
If you have the pesto pre-made, this meal takes about 15-20 minutes to put together. If you don't, it might take another 15 minutes to make the pesto. This makes two servings.
2 servings (about 7 oz.) rotini pasta (I recommend using whole grain or high fiber pasta of some kind … it will keep you energized longer.)
1 1/2 – 2 cups chopped asparagus
1/2 – 1 cup chopped mushrooms
2 cloves garlic, peeled and chopped
1/2 cup white wine
1 heaping cup of shrimp (I used frozen pre-cooked shrimp, but fresh is even better)
1/2 cup Asparagus White Bean Pesto (recipe here)
For the top: Freshly shredded parmesan, toasted Pine nuts, and fresh basil
Directions:
Boil the water and cook the pasta. While the water is heating, chop the asparagus, mushrooms, and garlic.
When the water begins to boil, add the pasta and heat a frying pan up for sauteeing the shrimp & vegies. Spray the pan with cooking spray, and when it's hot, put in the asparagus, mushrooms, and garlic and sautee just a couple minutes, then add 1/4 cup of the wine. Cook a few minutes or until the asparagus is starting to look a little cooked (but still bright green), then add the shrimp and the rest of the wine and cook a few minutes longer or until the shrimp is cooked and the asparagus is crisp-tender. (It only takes a few minutes.)
By now the pasta should be about done. Test it to see if it is. If it's not, remove the shrimp/asparagus mixture from heat, and wait a minute or two. When the pasta is done, strain out the water, then return the pasta to the pan. Add the pesto and asparagus/shrimp mixture and stir until everything is mixed up well.
Serve topped with a few toasted pine nuts, a bit of freshly shredded parmesan, and basil leaves for garnish.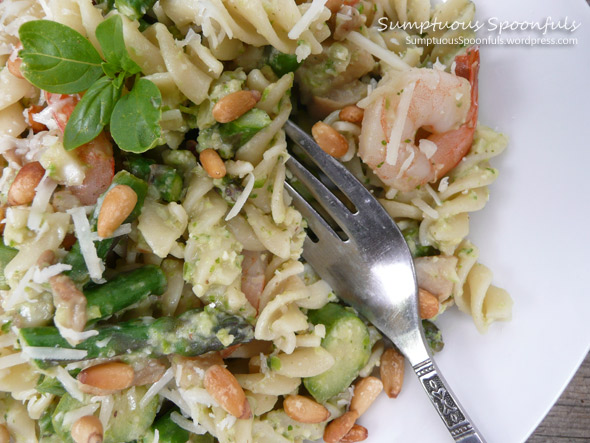 This is a #pastalove post!
Powered by Linky Tools
Click here to see all the other great #pastalove dishes!
This recipe was also shared at Mealtime Monday, Tuesday Talent Show, Delicious Dish Tuesday, Totally Tasty Tuesdays, Cast Party Wednesdays, and Fit & Fabulous Fridays.