Avocado Artichoke Hummus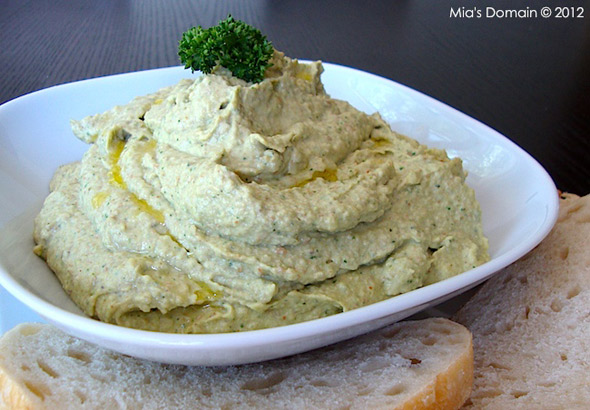 Hello my dear visitors! I am so excited about my guest blogger today … Mia from Mia's Domain has agreed to share one of her precious recipes. Mia 's recipes truly inspire me. I can't remember a single post of hers that I didn't absolutely LOVE … she leaves me drooling just about every time! In fact, Ally and I are arguing over who gets to go live in Mia's spare room. If you're not familiar with Mia's Domain, go visit her beautiful blog or look her up on facebook or Pinterest and you will see what I mean.
Mia sent over this beautiful recipe for Avocado Artichoke Hummus! I love hummus! I am really wishing I had some of this to munch on today …
I hope you've enjoyed my guest bloggers this week. I'm having so much fun seeing what they have to share, I'm wondering if I should come back? … just kidding. I'll be back in my own kitchen very soon!
In the meantime, enjoy this lovely recipe from my sweet friend Mia.
Avocado Artichoke Hummus
1 cup baby artichoke hearts in olive oil
1 cup avocado
1 cup raw almonds
1 cup cooked pinto beans
4 tablespoons tahini
1 garlic cloves, crushed
Handful fresh Italian parsley
1/2 white onion, chopped
1 lemon, juiced
Extra virgin olive oil
Sea salt and black pepper
Blend artichoke hearts, avocado, almonds, beans, onion, garlic, tahini, lemon juice, and parsley, while streaming in oil until you've reached the consistency you desire. Season with sea salt and black pepper. Keep refrigerated.
Drizzle extra virgin olive oil on top to serve.