Baba Ghanoush: a smoky, wonderful dip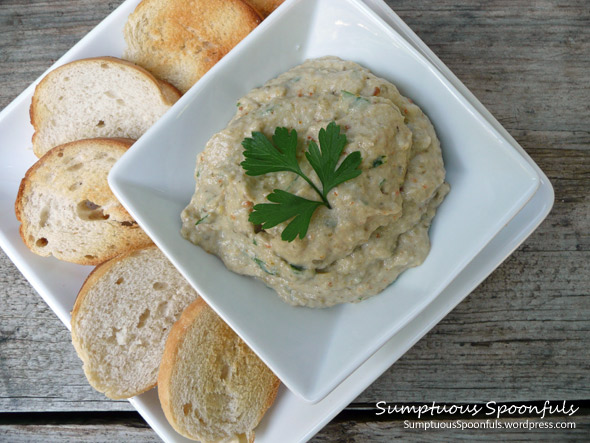 If you have never had Baba Ghanoush, you should try it. It's a creamy, garlicky, silky smooth dip somewhat akin to hummus in flavor, but lighter and smoky tasting and oh so wonderful. It's made of eggplant, but if someone didn't tell you it was made of eggplant, you would never guess.
I used the smaller, thinner long skinny Japanese eggplant for this Baba Ghanoush. If you use the larger, globe-style eggplant, you will want to adjust the other ingredients because you'll end up with more pulp. After grilling your eggplant, measure the pulp and multiply the rest of the ingredients by the number of cups of eggplant you have.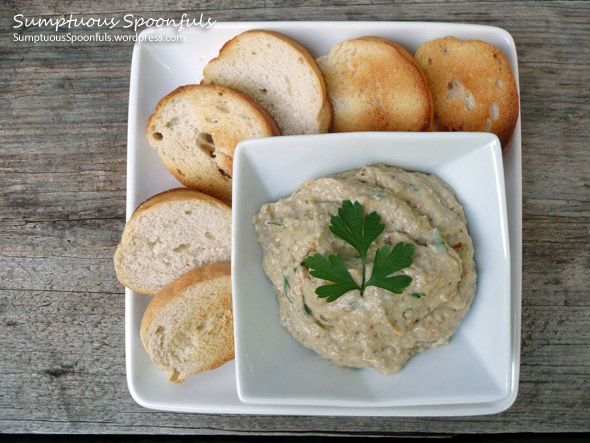 Baba Ghanoush
3 Japanese eggplant (yielding about 1 cup of pulp after roasting)
4 cloves garlic, peeled
juice of 1/2 lemon
1 Tablespoon tahini
1/2 Tablespoon extra virgin olive oil
1 hot chili pepper (optional … baba ghanoush doesn't usually have hot pepper in it, but I roasted these beautiful hot peppers last night and thought it would be a good addition … and it IS! I love the kick it adds to the dip!)
Fresh parsley
Salt, to taste
Directions:
To get the smoky flavor, you need to grill the eggplant, so start up your grill and if it's one of those gas grills, throw some rosemary or apple wood chips or something like that on the coals to make a good smoke. Poke your eggplant all over with a fork and set it on the hot grill and roast it for quite a while … until the skin is charred and dark on all sides and the eggplant has gone totally limp and cooked down. Let it set for a few minutes to cool down enough to touch it, then pull off the peel, saving the soft wonderful roasted interior. It might not be the prettiest thing to look at at this point, but don't worry. It will taste wonderful!
If you are lucky enough to have a hot chili pepper around, roast that on the hot grill too till the skin is black and charred and bubbly on both sides (this won't take long! only a few minutes on each side), then pull the peel off of the pepper. It should slip right off.
In a food processor or handi chopper, add the roasted peeled eggplant, garlic, lemon juice, tahini, olive oil, the peeled chili pepper and the parsley and blend until the dip is totally smooth and silky. Add salt to taste. Serve at room temperature (or a little warmer) with little toasts or crackers or vegies for dipping. Baba Ghanoush also makes a great sandwich spread and goes very well in a wrap too.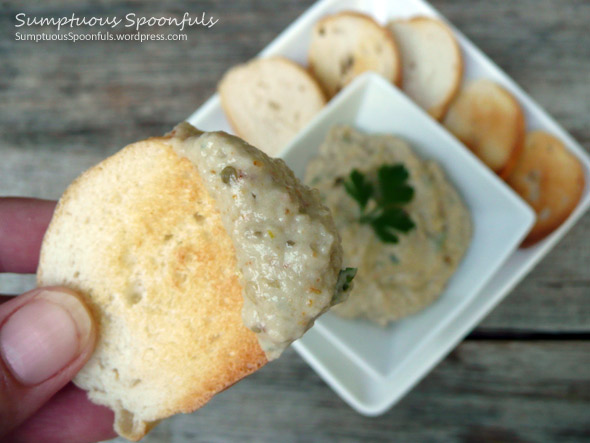 This recipe was shared at Tastetastic Thursday, Foodie Friends Friday, Fit & Fabulous Friday, and Totally Tasty Tuesday.