Bacon & Caramelized Onion Dip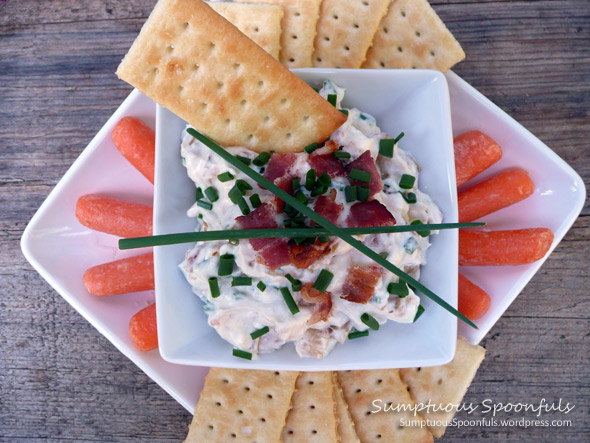 Yeah, I'm on a dip kick lately. I've been feeling kinda down, and I like to munch and dip when I'm sad. My ultimate "comfort" food is potato chips and french onion dip (the kind made with real sour cream), but I have come to realize that eating it just makes me feel worse than before, so I kinda stay away from that store-bought stuff now. Today I tried making my own home-grown version of french onion dip. With bacon. Because bacon makes everything better, right? And the greek yogurt has the same rich texture as sour cream, but it's good for you, so it makes you feel BETTER after eating it instead of sinking you deeper into depression.
There are a few things that are nagging at me, but I think the biggest one is probably the changes on facebook. Yeah, I know, my life is really easy if all I have to be upset about is the changes on facebook, but you see the social connections I've made on facebook are really important to me. I've met a lot of foodie friends on facebook (7,264 of them as of this moment) and every single one of them is precious to me. Most facebook users probably aren't even that aware of the changes or how they impact the pages they "like" on facebook, but what facebook did is cut back the views of our posts unless we pay to "promote" them.  It feels like my fan base that I worked so hard to build was just cut from 7,000 to 700. Ouch.
But the worst part is now when someone tags my page, I can't see that they tagged me, and vice versa.
We foodie pages used to communicate by tagging each other in our status … we did virtual parties on facebook and the invitations were lists of facebook tags. Everyone would bring a drink or dish … the way we would do this is to go to one of our food photos and tag the person having the party (plus a bunch more pages usually … hey, the more the merrier!). We did "shout-outs" telling our fans about other pages we thought were awesome and you always knew when someone else shared your page so it was easy to say thank you by tagging them back. We shared recipes amongst ourselves and tagged the creator of the recipe. Now, if someone shares my recipe or my page, unless it is directly shared from one of my own posts, I have no way of knowing it. There are no more parties. No more shout-outs. No more thank you's.
It makes me really sad that I can't see the posts of my friends unless I take time out to go visit their page. They are my inspiration and joy. Oh, yes, there is an alternative: I can make a "list" of my favorite pages from my personal facebook page, but this has several disadvantages:
I have to leave my page to go there
I can share to my page from my personal page, but it's cumbersome, tricky and easy to screw up
I can't comment as my page from my personal page
How the heck am I going to make a list of thousands of people from memory? Okay, not all of my "likers" are facebook pages, but still, there are thousands of them, built up over time. Trying to make a list of all of them is harder than putting together a list of people to invite to your wedding. You're going to forget someone … and in my case it's a LOT of someones.
Foodies are a tight-knit group and we are feeling right now like facebook is tearing us apart. I think many of us are turning to Pinterest to fill the gap. At least I can always see my friends' pins on Pinterest. We have group boards that a bunch of us contribute to, and you can comment and like things just like on facebook.
We're trying to roll with the punches, but I have to tell you it's very disheartening. I know this is not personal, facebook is just trying to make some money off of this service they have offered us for free for so long, but can't they do that without tearing us apart? At least let me know when someone mentioned my page. That's business networking and analytics 101: you want to know who your referrers are. That's how you build your network. How can you thank your referrers and help them out in turn if you don't know who they are?!?
Sorry about the rant, I just needed to get that out … let's get back to the dip at hand, shall we? It's a lovely dip with the sweet taste of caramelized onions and the salty, smoky bacon, along with creamy cream cheese and tangy greek yogurt and a few chives for spite (and color). Thinking on it now, I bet some smoked paprika would be nice in this too … I'll have to try that next time.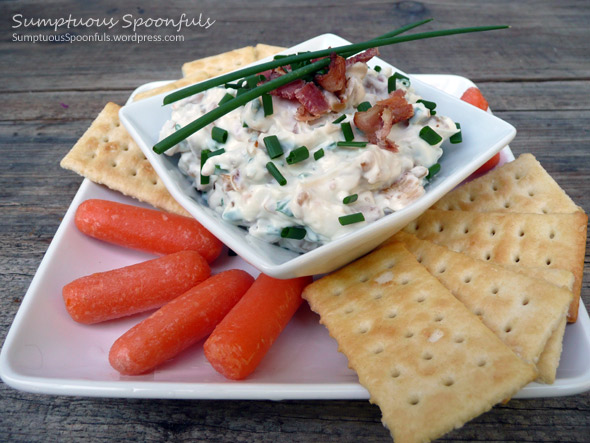 Bacon & Caramelized Onion Dip
Inspired by one of my foodie facebook friends: Lisa's Dinnertime Dish
1 teaspoon of olive oil
1 1/2 cups of chopped onion
1/4 cup of white wine
2 oz. lowfat cream cheese
1/3 – 1/2 cup of fat free greek yogurt
1/4 cup of lowfat mayonnaise (or plain nonfat yogurt)
2 slices of lean bacon, fried till crisp and chopped up
2 tablespoons chopped chives
Salt & freshly ground pepper, to taste
Heat your frying pan up to medium heat and swirl around a teaspoon of olive oil in the pan. Add the onions and reduce head to medium, stirring pretty much constantly to keep them from burning. When the onions start to brown, add a bit of the wine and cook some more, stirring the onions till the wine has evaporated, then add a bit more wine and stir and cook some more, and repeat until the onions are brown and sweet and all the wine has evaporated. This might take 20 minutes or so, but it's worth it, believe me.
Remove the onions from the heat and put in a bowl with the cream cheese and stir. The heat of the onions should melt the cream cheese and make it easier to mix in. Add the rest of the ingredients, reserving a few bacon crumbles and snipped chives to sprinkle on top before serving. If the dip is too thick, add a little plain nonfat yogurt (not greek yogurt, the regular thinner kind) or a teaspoon or two of milk.
Serve with crackers and/or vegetables and/or chips. Whatever you prefer. You'll need a sturdier chip, though, like a kettle chip, if you want to use chips.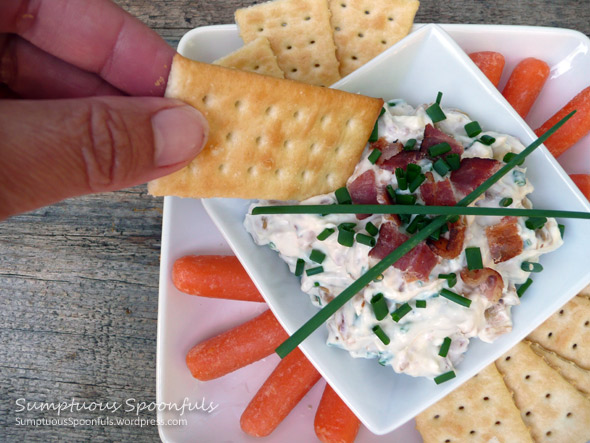 This recipe was shared at Cast Party Wednesday, Newlyweds Recipe Linky, Full Plate Thursday, It's a Keeper Thursday, Tastetastic Thursday, Katherine Martinelli's Onion Bloghop and Weekend Potluck.