Bacon, Lettuce, and Tomato Salad
with Feta and Basil Vinaigrette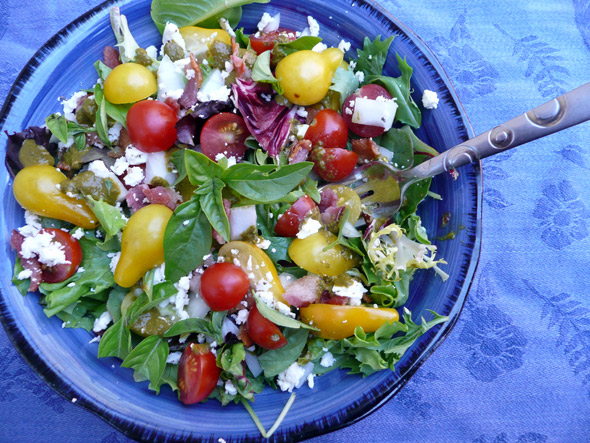 Oh it was one of those crazy busy emotionally exhausting days when you barely have time to think, let alone cook. Lunch was a scramble, grabbing whatever I could find in the kitchen. My body was worn out from all the emotional ups and downs life has thrown us lately and was crying out for something super-nutritious. I have a bunch of those gorgeous cherry tomatoes from my friend and some organic spring mix that really needed to be used up. I bet I was in the kitchen 5 minutes. Maybe 10. And back to work. Whoosh!
So what goes with tomatoes and lettuce? Duh, BACON!
Bacon, Lettuce and Tomato Salad with Feta and Basil Vinaigrette
So this is what I found:
2 strips of lower-fat bacon, fried crisp, drained on a towel and crumbled
A bowl full of assorted spring mix lettuce
A bunch of cherry tomatoes, halved
A bit of chopped onion
A good sprinkle of tomato-basil flavored feta cheese
Chipotle-flavored sunflower seeds
Just a few fresh basil leaves
Basil Vinaigrette
I topped it with a basil vinaigrette I made the other day after a trip to my friend's basil "field" … really she doesn't have that big of a garden but the basil has gone CRAZY this year.
Basil Vinaigrette Salad Dressing
I found this recipe on Farm Fresh Living when I was looking for a way to use up some of my plentiful basil (besides pesto!). I used a LOT more basil than the recipe called for. And I adjusted it quite a bit … like I always do …
Ingredients:
2-3 garlic cloves
1-2 tablespoons Garlic peppercorn mustard (or Dijon)
1/8 c. balsamic vinegar
1/2 c. rice wine vinegar
Juice from 1/2 lime
Juice from 1/2 orange
1 small tomato diced
Several BIG handfuls of basil, chopped
2 tablespoons extra- virgin organic olive oil
Toss all the ingredients in a blender and blend till smooth. Drizzle it over your favorite salad toppings.
I love the color in this salad. It was such a relief on a crazy, crazy day.