Banana Colada Ice Cream with Spiced Fruit Compote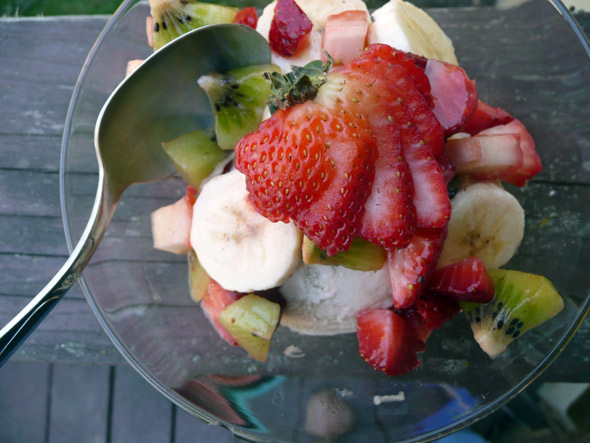 The other day I was cruising around the blogosphere when I saw some coconut ice cream … I'm not much of a fan of that dried shredded coconut, but I love the flavor of coconut … and I thought: wouldn't coconut ice cream be dreamy? Or better yet, coconut RUM ice cream? Oh and then you could go a step further and make it pina colada ice cream.
I didn't want all the fat and sugar from the recipe I saw so I made up my own. It's fruity with that creamy coconut taste and an underlying hint of banana … because frozen bananas have a luscious creaminess to them that no other fruit can quite attain.
And just for good measure (and a little color!) I added some more fruit on top.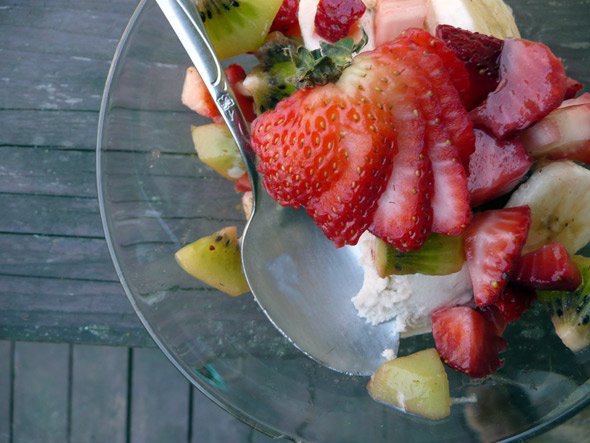 Banana Colada Ice Cream
2 cups fat free half and half
1/4 cup sugar
1 egg
1 teaspoon vanilla extract
2 frozen bananas
1/2 of a can of light coconut juice
1/4 cup pineapple orange juice concentrate
3 Tablespoons of coconut rum
Directions:
In a medium saucepan, mix half & half & sugar. Heat, stirring frequently, until small bubbles form at the edge of the pan.
In a separate bowl, beat the egg with a whisk or mixer until frothy.
Slowly drizzle a stream of the hot cream mixture (about 1 cup of it) into the egg, whisking or beating constantly.
Gradually add the egg mixture back into the remaining hot cream mixture in the saucepan, whisking as you go.
Cook over medium-low heat, whisking constantly, until mixture thickens slightly and is thick enough to coat the back of a spoon–roughly 5 minutes.
Pour the hot mixture into a blender with the vanilla, frozen bananas, pineapple orange juice concentrate and coconut rum. Blend until smooth.
Put the mixture in the fridge until cool. Freeze in an ice cream maker according to the manufacturer's instructions.
Serve topped with the honey spiced fruit compote
Honey Spiced Fruit Compote
This makes a small batch of fruit compote, just enough for about 2-3 servings, depending on how much fruit you pile on and how big your servings are. Mix up the fruits if you like — pineapple or mango would be wonderful too.
1 kiwi fruit, peeled and chopped
5 – 7 strawberries, tops removed and chopped
1/2 Tablespoon honey
1/2 teaspoon vanilla
A dash of each: nutmeg and ground ginger
1 banana, peeled and sliced
Mix all the ingredients and let sit for 15 minutes or so or until the fruits start juicing a bit. Pour over the frozen ice cream.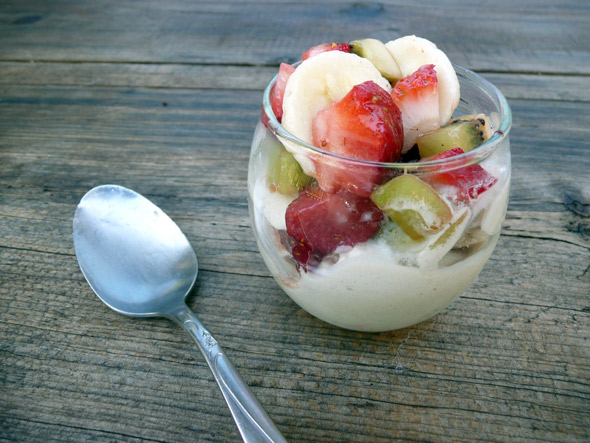 This recipe was shared on Newlyweds Recipe Linky, Melt in your Mouth Mondays, Full Plate Thursdays, A Crafty Cook's April Link Party, and Fit & Fabulous Fridays.