Black Bean, Corn & Avocado Confetti Pizza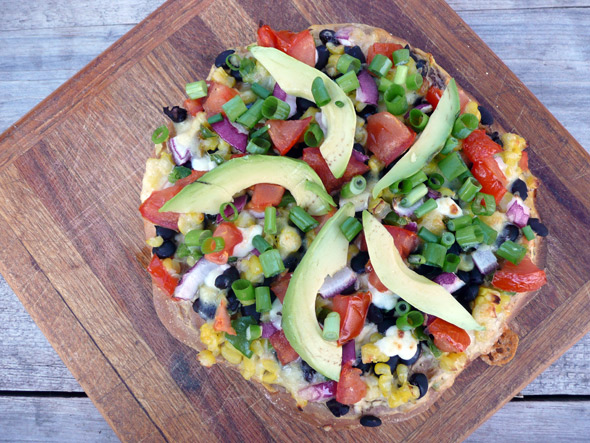 Yesterday was another dance competition day. Dance competition days are always SO busy … I'm surprised I had time to do anything with food. But I did! While my daughter was getting ready, I had a little time to make myself some lunch. I pulled out a pizza crust from the freezer (one of my sunflower rosemary flatbreads) and started topping it. I went a little crazy with the toppings, but it was fun. And filling. And delicious. A fiesta on a pizza. I had to stop in the middle of it to go help my girl with her hair. Then I had to get my sewing machine out to fix the strap on her costume. But somehow I managed to get my belly happy and full before we left, and that was good.
I even found time to make lunch and a little food care package for my daughter to eat at the competition … they never seem to have any healthy food at dance competitions. I packed her a PB&J on a fresh bun, a package of strawberries and an apple … it was a VERY good thing to have along. Everyone else was eating greasy, over-salted popcorn, donuts, candy, soda and brownies — or fast food they ran out and bought. Some of these dancers were there for over 12 hours. Next time we decided we need to bring a cooler full of food so our kids have something good to eat.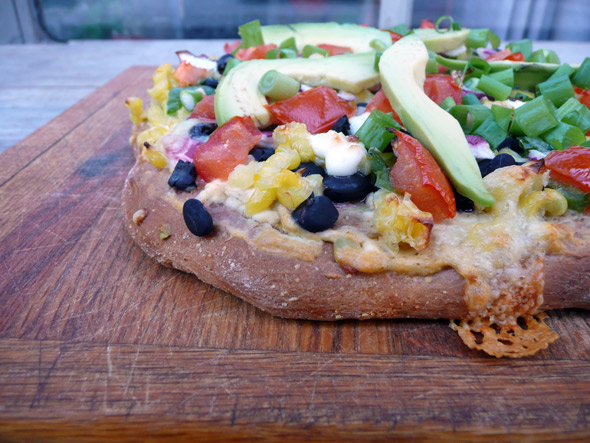 Black Bean, Corn & Avocado Confetti Pizza
Makes one individual-sized pizza. If you want a bigger pizza, double the 'sauce'
1 oz. light cream cheese
1/4 of a ripe avocado
1 1/2 tablespoons of salsa
1 pizza crust
Black beans, cooked
Corn, cooked
Red onions, thinly sliced
Finely chopped jalapeno (or bell pepper, chopped, if you don't want it so spicy)
Chopped fresh tomato
Goat cheese crumbles
A few slices of sharp cheddar cheese
Slices of avocado
Green onions, snipped
Directions:
In a small bowl, smash the avocado with a fork, then mix with the cream cheese and salsa. Spread it all over the pizza crust. If you have any left, use it as a dip with corn chips (oh SO good … Or you could just make extra for dip).
Top with black beans, corn, red onions, jalapeno and tomato.
Dot the pizza with goat cheese crumbles, then add bits of cheddar cheese here and there.
Bake (on a pizza stone, if you have one) at 450 for about 10 – 15 minutes or until the pizza is nice and hot all the way through and the cheddar cheese is melted.
Top with slices of avocado and green onion … and cilantro, if you have it. I didn't. I wanted some, but they were all out at the store.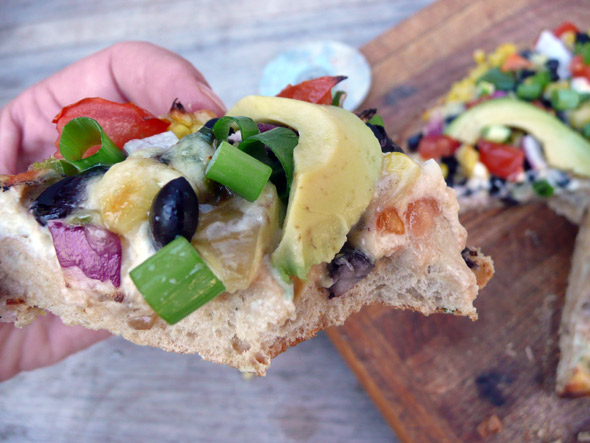 This recipe was shared at Everyday Mom's Meals, Talent Show Tuesdays, Thursday's Treasures and Recipe of the Week-Secret Ingredient: Corn, Katherine Martinelli's Bean Blog Hop and Cinco de Mayo Fiesta.