Black Magic Cat Cookies for Halloween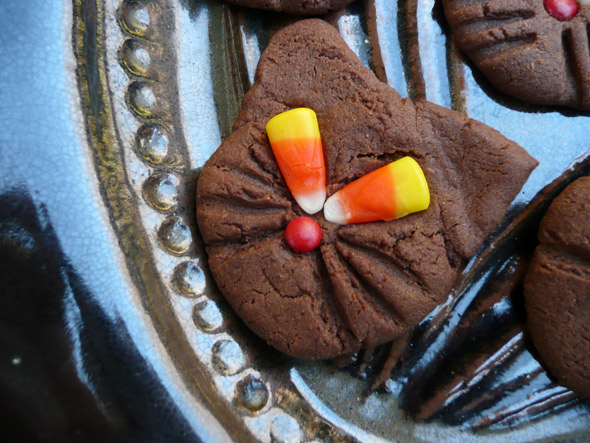 Warning: these black magic cat cookies are NOT healthy. But they are SO good. And quite fun and easy to make.
They are a cross between Lick the Bowl Good's Black Cat Cookies and the Sisters Cafe's Magic in the Middle Cookies.
These cookies are a great project to do with your kids. We made them while my parents were here and grandma joined in on the fun too. My teenage son didn't help but just had to complain that we weren't making the regular Magic in the Middle Cookies, which are about the most sinfully delicious cookies on the planet, if you are into chocolate and peanut butter.
We didn't use the creamy peanut butter filling that we normally use for the Magic in the Middle Cookies, but I think you certainly could. That would add a whole extra layer of magic and surprise to these cookies! Pop on over to the Sisters Cafe for directions on the filling and how to hide the peanut butter inside the chocolate cookies.
Black Magic Cat Cookies
1 cup granulated sugar
1 cup brown sugar
1 cup (2 sticks) butter, softened
1/2 cup smooth peanut butter
2 teaspoons vanilla extract
3 large eggs
1 1/2 c. white flour
1 1/2 c. whole wheat flour
1 cup unsweetened cocoa powder
1 teaspoon baking soda
1/2 teaspoon salt
Candy corn (for the eyes)
Mini-M&M's (for the noses)
Directions:
Preheat the oven to 375°F. Spray cookie sheets with cooking spray.
In a large mixing bowl, beat together the sugars, butter, and peanut butter until light and fluffy. Add the vanilla and the egg, beating to combine, then stir in the dry ingredients, blending well.
To shape the cookies: Take a large tablespoon of dough, form it into a ball, then place it on the cookie sheet and flatten it with the bottom of your glass (or your hand).
Pinch the top of the cookie in two places to form ears. For whiskers, press a fork twice into each cookie.
Bake the cookies for 7 to 9 minutes, or until they're set and you can smell chocolate. Remove them from the oven, and cool on a rack.
Remove from the oven and immediately press on candy corn for eyes and m&m's for the noses.
We ran out of  mini-M&Ms and ended up using broken pieces of candy corn and peanut butter chips for some of the cat noses. They all looked pretty cute.
Except the first batch I cooked where I put the candy corn eyes on the cookies BEFORE I baked them. Those came out looking like psycho black cat cookies. Don't do that. Unless you WANT psycho cat cookies!
Here are the Psycho Black Cat Cookies with Melted Candy Corn Eyes: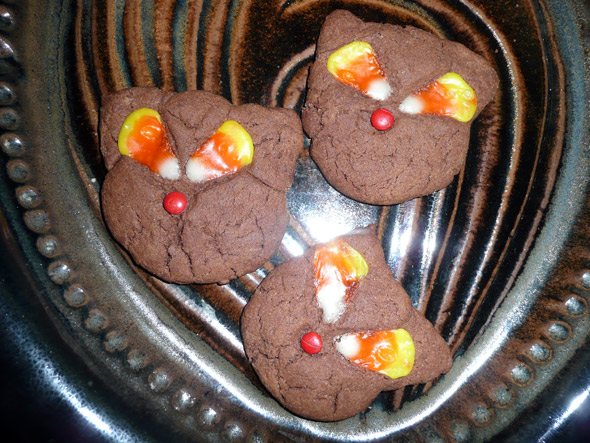 This recipe was shared at Show & Tell Saturday, Inspiration Monday-Spooky Projects, Halloween Blog Party, Katherine Martinelli's Halloween Bloghop, Foodie Friends Friday Halloween Party & Life Scoops Cookie Party.