Blogger Awards and Thank You's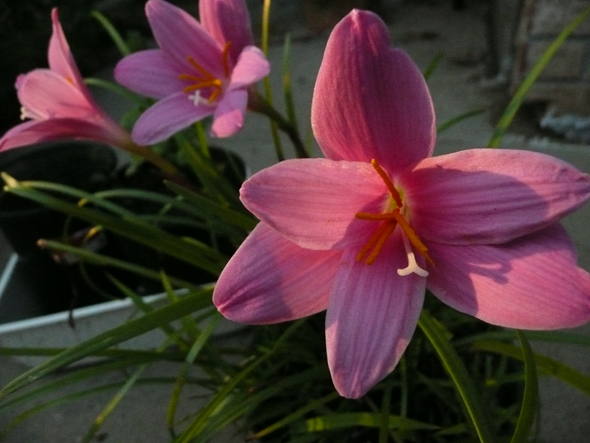 A while ago The Pocket Farmer awarded me the Versatile Blogger award. And then yesterday Melissa at ChinDeep awarded me the Kreativ Blogger Award … and then Home Heart "Tagged me" in a question/answer sort of game. Thank you my sweet friends! I feel so honored …
I am not so good at remembering to do these things so I'm going to attempt to do them all in one post. Bear with me here …
The RULES for the Versatile Blogger Award
Add the award to your blog.
Thank the blogger who gave it to you.
Mention 7 random things about yourself. (see below)
List the rules.
Award to 15 bloggers.
Inform each of those 15 by leaving a comment on their blog.
The Rules for the Kreativ Blogger Award
List 10 random facts about yourself
Give the award to 6 other bloggers
So that means hmm … 17 random facts and 21 bloggers get an award? Or can I just do 10 random facts and 7 of them get to do double duty? Let's see how many random facts I can come up with here …
17 Random Facts about Me
I work from home, on my table. Because my office is too small. I like the open-ness of my living area and being close to the kitchen and being able to see out the window.
We have 3 cats.
My daughter's cat's name is Mouse.
I often have two cats "working" with me … on a chair on each side of me.
I tried to grow a pineapple and it's not working so well.
We have way too many books in our house.
My son drinks about a gallon of milk per day. He uses very large glassware. Do you know how hard it is to find glasses that hold 1/2 gallon of liquid? I had to resort to beer steins.
Both my kids are taller than me. My son is over a foot taller … sigh.
My black cat's name is Ginka. He was named after a cat in a children's book: Dorrie the little witch's cat Gink.
Ginka used to be a great hunter, and now he's afraid to go outside.
I love to sing. Music and the sounds of things are very important to me.
I listen to a cat's meow before I adopt it. I want cats with sweet voices.
I drink five or more cups of chai tea every day.
I love nice glassware. In fact, I just decided I'm switching out all the "ordinary" glassware in the house with glasses that "sing" (with finds from the thrift store).
I am a total daddy's girl. Always have been.
I am very into yoga. I go three times a week now. It makes me feel strong, young, at peace and beautiful.
My very favorite thing to do after yoga? Have a glass of wine.
Whew! I did it! I deserve a cookie, don't you think? or two? with ice cream … mmm …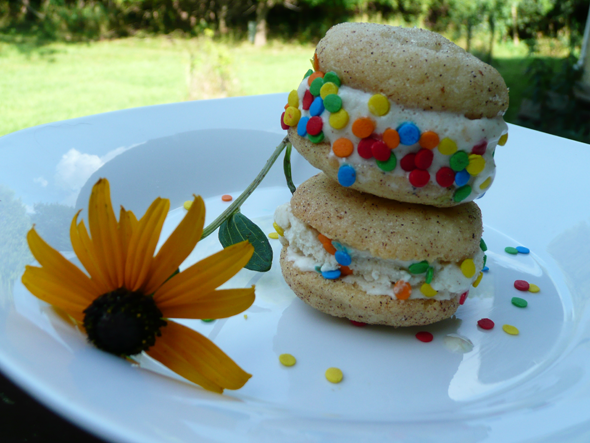 Oh wait, the game of Tag …
Oh and then there is the game of tag! I was posed 11 questions to answer and then I'm supposed to tag 11 other bloggers to answer 11 other questions. I think I'm running out of steam here … can I just answer the questions?
If  you could have been born during any other time, when would it be? Hmm, probably during the Renaissance? I love Ren Fests.
What are your five favorite CD's? Gosh, I have all my music on my phone now … so can I just list some of my favorite artists? Melissa Etheridge, Vienna Teng, Gary Moore, Colbie Caillat, Queen, Journey, and AC/DC.
What Muppet best describes you? Hmm Gonzo because he's short and purple? No, probably the Swedish Chef because I love to have fun in the kitchen.
What is your favorite genre and medium? of books? Science Fiction/Fantasy.
If you could be an animal, which would you choose? Probably a cat of some kind.
Who is your celebrity look-alike? I forgot her name …
Describe yourself in six words or less. My daughter says this: "Awesome epic food blogger mom" … I think I'll keep that description.
If you could change one thing about yourself, what would it be? I would like to be neater. I hate how my house is so messy …
Where is your favorite vacation spot? Europe. Or any National Park with Mountains. Beaches are good too.
If you were given a year off with pay, what would you do? Travel.
If you were on a deserted island, list three essentials you'd want to have with you. A good boat with a working motor and a lot of gas!  … and my kids.
Okay now it's my turn to award some other bloggers! Here we go … let's do the Versatile Blogger one first.
The Versatile Blogger awards go to … (drumroll please!)

And Now … for the Kreativ Blogger Awards! These go to …
Okay, I hope you don't mind if I quit there … I've got to run off to yoga now … have a great night my friends!