Blogger Inspiration ~ Sunshine Award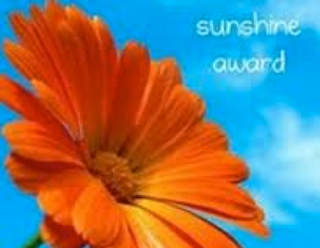 If you have been reading my posts this week, you might have seen my little rant about facebook and how all of us food bloggers who met on facebook and depend on it to keep in touch are feeling rather torn apart right now.
Right after that, I got an award from one of my facebook foodie friends … and then another one … and then one more. Isn't it funny how  right when you need a little cheering up, your friends just seem to know? I want to sincerely thank Krista at Everyday Mom's Meals, Bobbie at Bobbi's Kozy Kitchen and Lisa at Lisa's Dinnertime Dish for the award, but more importantly for your friendship.
The Sunshine Blog award is an award given to bloggers by other bloggers. It is given to "bloggers who are positive and creatively inspire others in the blogosphere".
How the Sunshine Award Works
Thank the person who gave you the award and link back to them. Answer 10 questions about yourself. Select 10 of your favorite bloggers, link their blogs to your post and let them know they have been awarded the Sunshine Award! Don't forget to copy and paste the award on your blog!
Thank you to Krista, Bobbi, and Lisa
Thank you to each of you who gave me this award. I feel so honored and special.
Krista, Everyday Mom's Meals: your energetic spirit and the way you share and lift up everyone around you is amazing. Thank you so much for this award and for all that you do.
Bobbi, Bobbi's Kozy Kitchen: You are so sweet and full of sunshine. Your posts always make me smile. Thank you for introducing me to so many fun foods and for this special sunshine award. It just suits your personality so well!
Lisa, Lisa's Dinnertime Dish: I love how thorough you are, taking photos of every step of every recipe. I admire you because I just can't get that many good photos! I love your fresh approach to cooking and look forward to seeing your posts. Thank you for giving me this award.
Ten Questions About Me
1) Your favorite color? PURPLE!
2) Favorite animal? I like a lot of animals, but I think I would have to say cats. We have three pet cats. Let me introduce you to them …
Ginka is our black cat and he is my constant companion. He hangs out all day on the chair next to me while I work, he nudges me, rubs his face in my hair, kisses me, nibbles on me, sleeps right next to me. He panics at loud noises.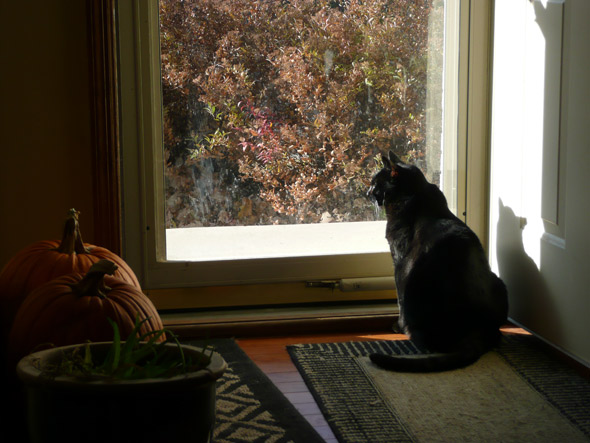 This is my son's cat Jupiter. He's a fuzzy butt–yes, that's his nickname. He talks a lot and loves to have his fuzzy fat belly rubbed.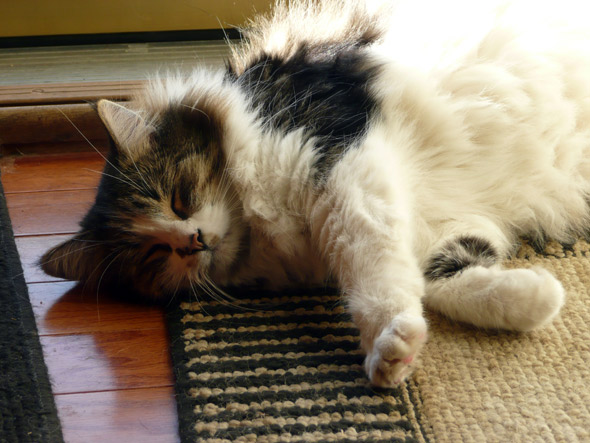 And this is my daughter's cat Mouse, the huntress. She brings us lots of interesting "presents". She is the most liquid cat I've ever met; when she relaxes, her entire body goes completely limp.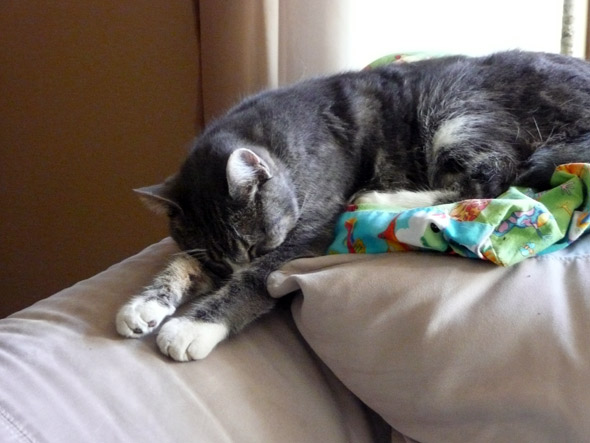 3) Favorite number? Seven.
4) Favorite drink? Beer, deep dark beer. The thicker the better, like this Wake Up Call Coffee Porter from the Grand Teton Brewing Company. Oh I love wine too, both white and red, a nice Malbec or Pinot Grigio. I also love chai; that's my morning beverage. 🙂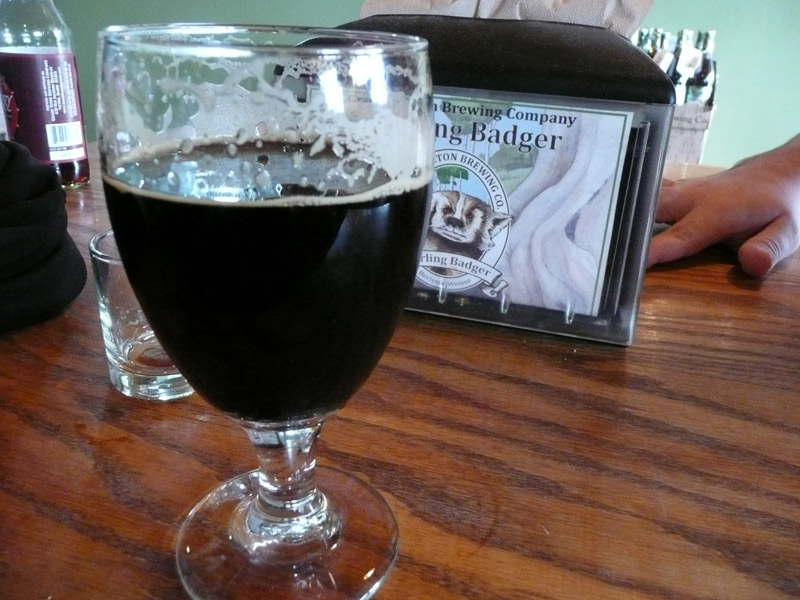 5) Facebook or Twitter? Facebook, but I'm a little upset with facebook lately.
6) Good movie or good book? If I am alone a good book, but love a good movie with family and friends.
7) My passion? DUH! Cooking. I love creating healthy foods that taste delicious.
8) Giving or getting presents? Giving. Totally. I love to give presents and see the joy in their eyes when they open it. But if someone gives me a lovely bowl or placemat, a pretty plate or a fork, that is a treasure to me.
9) What is your favorite day of the year? Do I have to pick just one? I love them all. Every season has its own joy … I love the spring for the awakening of the world after the winter's "sleep", the flowers, the berries and asparagus. I love summer for playing at the lake, freedom from school schedules, camping, music festivals, watermelon and salads and fresh foods from the garden. I love fall for the warm colors, the chill of the evenings, pumpkins, hot tea, harvest time, Thanksgiving and Halloween. I love winter for the quiet white solitude, the beauty of the bare tree limbs against the sky or covered with ice crystals, sledding, hot soups and baking fresh bread.
10) Favorite flowers? Lilacs … they are PURPLE … and I've loved them since I was a child when we had this huge lilac bush in our back yard. But I also love lilies … and roses. Roses are so romantic. Especially double delight tea roses. They smell so wonderful.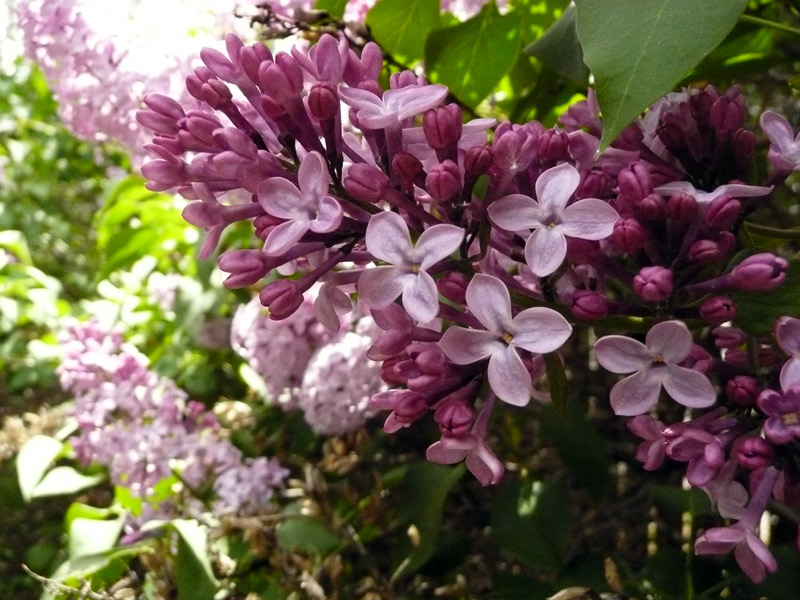 Ten Bloggers who Inspire Me
And now I get to award this sunshine award to ten other bloggers who inspire me. It's not easy picking just ten because I am very blessed to have SO many people who inspire me everyday, but here goes … every one of these ten people is so special to me.  I hope you will go visit their blogs, follow them on facebook and pinterest and twitter because they are all beautiful talented people who inspire and teach me new things every day.