Brandied Pumpkin Maple Spice Ice Cream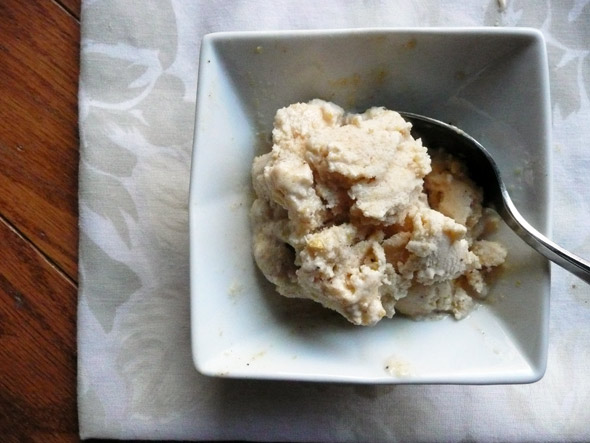 I know it might seem a little odd to be making ice cream in the fall when the weather is starting to get chilly, but think about it. This is the time of year when people are baking pies and apple crisp and don't you always want a scoop of ice cream on top? Why use plain old vanilla ice cream when you can have something much more exciting?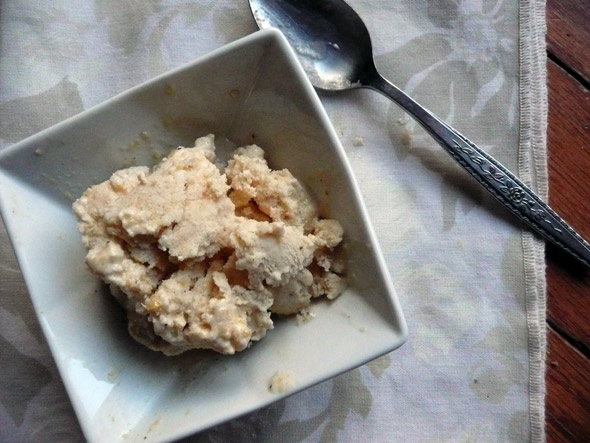 Brandied Pumpkin Maple Spice Ice Cream
I think next time I make this, I will use some whipping cream in place of the fat free half & half to get a more creamy texture. The flavor was amazing, the texture could have been a bit creamier.
Ingredients:
2 c. fat-free half & half
1 c. buttermilk
1/4 c. brown sugar
Several pieces of candied ginger (I think I used 5 pieces.)
1 egg, beaten
1 c. of cooked pumpkin or butternut squash puree
2 t. vanilla
1/4 t. nutmeg
1/4 t. cinnamon
1/4 t. cardamom
1/8 c. maple syrup
1/4 c. brandy …  (Optional, but if you leave out the alcohol, the ice cream will get much harder in the freezer. The alcohol keeps it from freezing too hard.)
Directions:
In a medium saucepan, mix half & half, buttermilk & brown sugar. Add the candied ginger. Heat, stirring frequently, until small bubbles form at the edge of the pan.
In a separate bowl, beat the egg with a whisk or mixer until frothy.
Slowly drizzle a stream of the hot cream mixture (about 1 cup of it) into the egg, whisking or beating constantly.
Gradually add the egg mixture back into the remaining hot cream mixture in the saucepan, whisking as you go.
Cook over medium-low heat, stirring frequently, until mixture thickens slightly and is thick enough to coat the back of a spoon–roughly 5 minutes.
Remove from heat, transfer into a glass jar and refrigerate until thoroughly chilled–at least 2 hours.
Meanwhile, stir together the pumpkin or butternut squash in a bowl with the spices, vanilla, maple syrup and the brandy till smooth. If there are any chunks in the squash, run it through a blender, food processor, or handi chopper to get a smooth mixture.
Once the cream mixture is cool, pull it out of the fridge and strain out and discard the candied ginger chunks.
Mix together the pureed pumpkin mixture with the cooled cream mixture till they are well blended.
Freeze in your ice cream maker till good and frozen. With my little Cuisinart ice cream maker, it takes about 20 minutes.
Use this ice cream atop your favorite pie or autumn dessert …  or by itself, drizzled with a little maple syrup, caramel sauce or sprinkled with a bit of chopped candied ginger. But today I'm enjoying my ice cream "plain", just like this and it's delicious … it has enough depth of flavor to be an elegant dessert all by itself.