Bread and White Bean Salad with Feta & Basil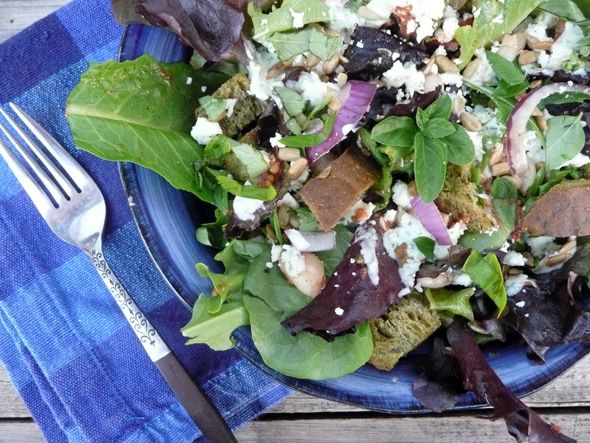 Yesterday my little blog reached a new milestone: 5,000 "likes" on my facebook page. I was so excited I took a screenshot! … I have met sooo many wonderful foodie friends through this blog. It has been an incredibly rewarding journey for me. My foodie friends take me on culinary journeys all over the world, but not only that, they lift me up when I am down, they always have a cheery good morning and a good night, a cup of hot coffee, and oh the amazing foods we share. We have parties together, share stories, food, music, drinks … They are my inspiration, but more than that, they are my friends … I want to do something to celebrate and thank all of you but I wasn't quite sure what to do. One of my friends suggested "5 different things" … we tossed around some ideas for that … at first I was thinking party foods, but I think I will go with 5 favorite foods.
First of Five Favorites: Salad. One of my very favorite foods is salad. I loooove salad! I think I could eat salad every day. Salads are often meals for me. I dress them up with all sorts of things, and I love to make my own salad dressings. And I love sharing my salads with my foodie friends.
For this salad, I wanted to do something like an Italian Bread Salad with my sunflower spinach parmesan bread, but I didn't follow a recipe. This salad just sort of "happened", like a lot of recipes in my kitchen do. I just wing it. Most of the time it turns out pretty good. This one was really good, but I'll warn you it's super garlicky. Personally I like that. One of the things I want to do before I die is to get to the garlic festival in Gilroy, CA. I already have two garlic cookbooks from there and they are very well used. We drove through Gilroy once. You can smell the amazing garlic from inside the car. For a couple minutes, our car smelled like an Italian kitchen. I bet everyone in Gilroy cooks with a LOT of garlic. I think I'd fit right in …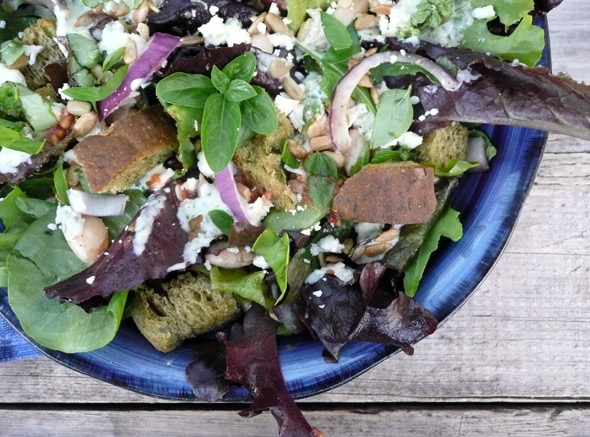 Bread and White Bean Salad with Feta & Basil
Makes 1 "meal-sized" salad or 2-3 side salads. Multiple if you are cooking for more people!
Croutons
Beans
1/2 cup cooked Great Northern, Cannellini or other white beans
2 whole canned tomatoes
Granulated garlic
Red Robin seasoning (or seasoned salt)
Italian seasoning
Salad
Mixed greens
Red onions, thinly sliced
Feta cheese crumbles
Fresh basil leaves
Sunflower seeds, toasted
Lowfat garlic ranch dressing (I used this one) … or I think a garlicky balsamic vinaigrette would be nice on this salad too …
Directions:
In a small bowl, mix the olive oil and granulated garlic. Cut the bread into cubes, and brush lightly with the olive oil. Bake at 400 degrees for about 5 – 10 minutes or until the bread is toasted and crunchy.
While the croutons are baking, put the beans in a small bowl and crush the tomatoes over them, allowing the juices to drip into the beans, then add the tomatoes. Season to taste with garlic, Red Robin seasoning and Italian seasoning. Heat the beans in the microwave or a small pan till they are hot.
Assemble the salad: in a salad bowl, toss the greens with the onions, beans, and croutons. Sprinkle with feta, basil leaves, and sunflower seeds and drizzle with the dressing.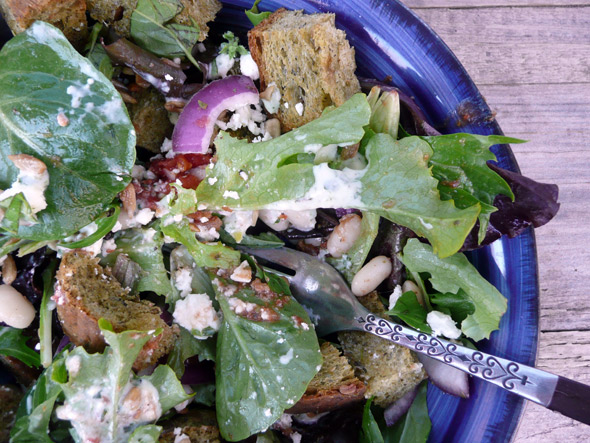 This recipe was shared at Totally Tasty Tuesdays, Midweek Fiesta, Cast Party Wednesday, Tastetastic Thursdays, Fit & Fabulous Fridays and Weekend Potluck.
This post is a #greenslove post, powered by Linky Tools.
Click here to see the other great #greenslove posts.