Cajun Shrimp & Sausage Jambalaya Pizza
Post #5 of 5 in my Five Favorite Things for my Five Thousand Foodie Friends series …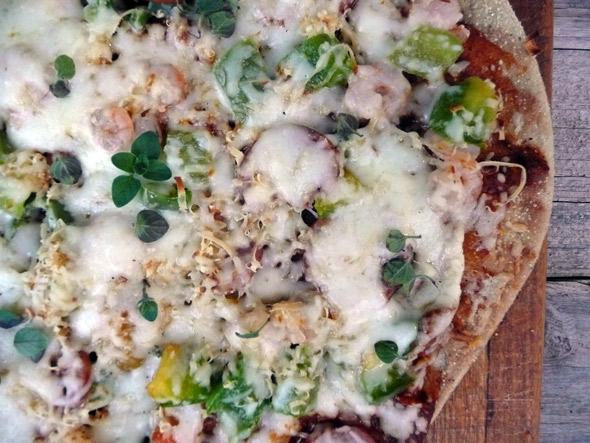 #1 was salad. #2 was dip. #3 was bread. and #4 was chocolate. #5 is PIZZA! on the grill. Because grilling is fun. And pizza on the grill is double fun.
I made my daughter a plain cheese one and she ate the WHOLE thing. Holey moley girl! I think she's going through a growth spurt again because I could only eat about half of mine. She eats like crazy when she's growing.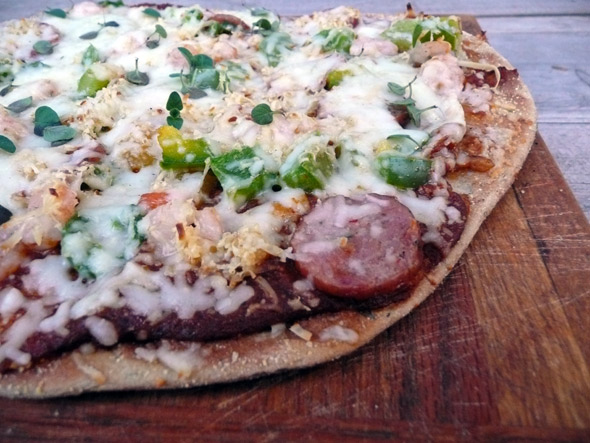 First I got the dough started in the bread machine. I used my beer pizza dough, the same one I used in the thai chicken pizza. Recipe for the crust is here.
Then I got to work on the sauce.
Homemade Pizza / Pasta Sauce, Two Ways
2 small onions
8 cloves of garlic
1 Tablespoon of extra virgin olive oil
1/4 cup of red wine (I used Pinot Noir)
1 quart of canned tomatoes
1 cup chopped roasted eggplant (I know what you're thinking: Eggplant? Trust me … it thickens the sauce and gives it a nice buttery taste. Spray with cooking spray or brush with olive oil and roast in the oven at 400 for about 5 – 10 minutes or until it's soft. Use the tender little ones if you can find them. If you have a big one, peel it first before you roast it. I had some that I froze last summer so I used that.)
For the Italian version:
2 teaspoons Italian seasoning
Salt & pepper & fresh herbs to taste (I didn't use anything but the Italian seasoning and my daughter said it was delicious just like that!)
For the Cajun version:
2 – 4 teaspoons Cajun seasoning (to your taste)
Fresh basil & oregano
1/4 teaspoon smoked paprika
1/4 teaspoon cayenne pepper (optional)
Salt & pepper to taste
Directions:
Peel the onion and garlic, chop the onion into large hunks and put in a food processor or handi chopper with the garlic to chop it finely. (Or chop it the old fashioned way, with a knife.)
Heat the olive oil in a large skillet pan over medium heat, then add the onion and garlic and sautee for about 5 – 10 minutes until the onion is very soft and starting to sweeten/caramelize. Add the wine and cook until the liquid from the wine has mostly evaporated.
Add the tomatoes and eggplant and cook over medium heat, stirring frequently, for about 30 minutes, or until the liquid from the tomatoes has cooked down and the sauce is getting to be about the consistency of a tomato sauce. You don't have to stand over it stirring the whole time, but you do want to make sure you stir it fairly often.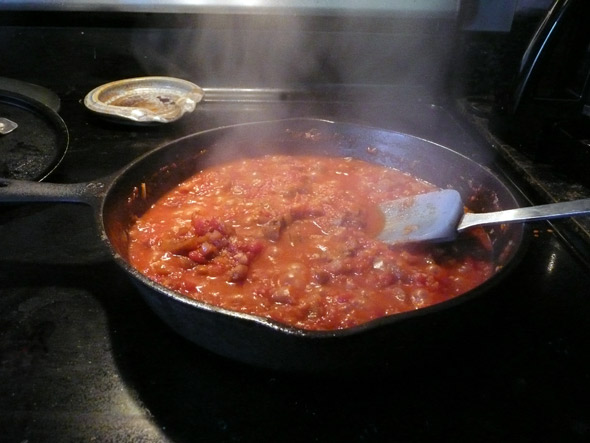 Put the sauce into a blender and blend till smooth. It will turn out this lovely orangey red color.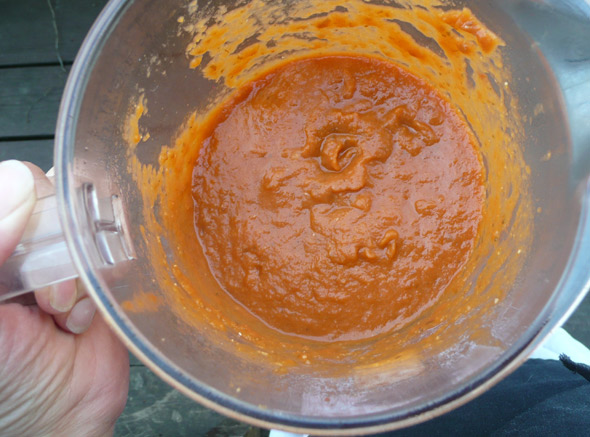 Now you have a choice. You can make one or both of the sauces. I divided mine up in half so I could make my daughter her Italian cheese pizza and me my spicy Cajun one.
So for the Italian sauce, I added Italian seasoning and asked my girl to taste it. She said it was perfect just like that (and I agreed).
For the cajun version, I added cajun seasoning, some fresh basil and oregano, some smoked paprika, and then just to kick it up a little more, some cayenne and a bit of salt.
Now it's time to assemble the 'za!
Cajun Shrimp & Andouille Sausage Jambalaya Pizza
Pizza crust, pre-made or fresh (I used my beer pizza crust and made this on the grill … see this grilled thai pizza post for the crust recipe and grilling instructions)
Tiny shrimps … I thawed some frozen ones
Andouille sausage, sliced thin
Bell pepper, chopped (or sliced)
Red onion, sliced or chopped
Jalapeno pepper, sliced (optional … if you haven't noticed, I'm a bit of a pepper-head … I like things VERY spicy)
Smoked gouda cheese, shredded
Italian blend of shredded cheese
Oregano leaves, for garnish … I think some chopped green onions would go well on top too.
Slather the crust with the cajun sauce, then sprinkle with the toppings and top with cheese. Cook the pizza in the oven or the grill till the cheese is melted and bubbly, then top with fresh oregano leaves and … it's time to EAT!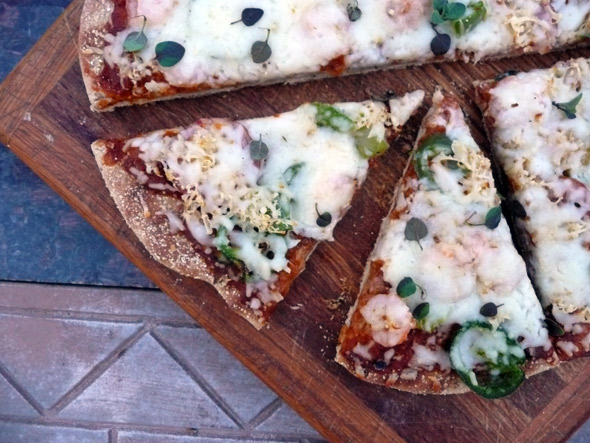 I'm thinking some of this Cajun Lemonade from La Belle Cuisine would be fabulous with this spicy pizza …
This recipe was shared at Successful Saturday, Trick or Treat Tuesdays, and Midweek Fiesta.