Cashew Salmon with Apricot Cranberry Quinoa
with a ginger, cumin & cilantro scented yogurt sauce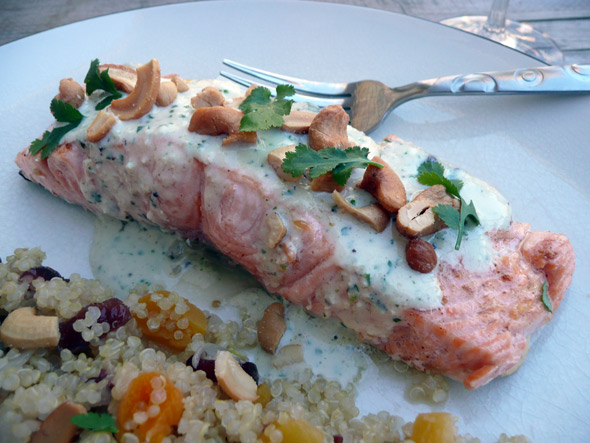 One of the most romantic meals of my life was on a Friday night when my date and I cooked this together. We drank wine as we cooked, I chopped the apricots & garlic & ginger and mixed up the sauce, he made the quinoa and broiled the salmon. When the salmon was done, he plated the salmon and quinoa in front of me, drizzled that heavenly sauce over it, and sprinkled on the toasted cashews … then refilled my wine glass before he plated his own. Just the way he did that totally melted my heart. Later I asked him for the recipe … and he gladly gave me the printout. I loved this meal so much I just had to make this again, wanted to share it with all of you here on the blog, and so I decided I would try making it for my children for a special Valentine's meal. They both love salmon (my daughter moreso than my son, but he will eat salmon). I wasn't so sure about the quinoa or the yogurt ginger sauce, but I thought I would give it a shot.
It was as I thought … while I was photographing the meal, my kids got in a fight. My daughter ran into her room. Our cat persistently tried to eat the salmon I was "shooting" and I had to push her out of the picture several times …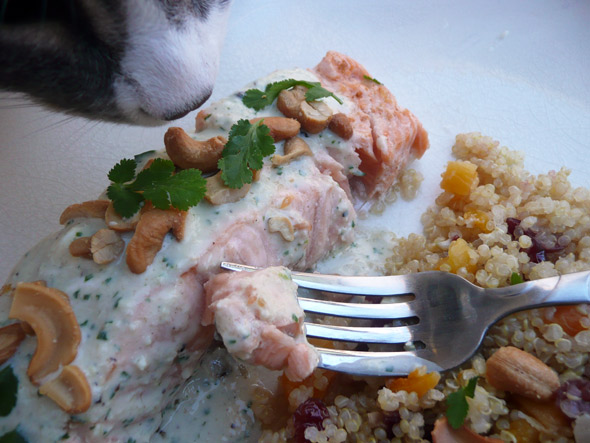 We managed to coax my daughter out of her room to join the meal. They both tried the salmon. My son immediately asked for garlic toast, saying "don't we have some bread?" So I ended up cooking up some quick garlic toast for both of them. My daughter gobbled her salmon up before I could even glance over at her. My son inhaled the garlic toast, ate a few bites of the salmon, and then declared that his sister could have the rest of his. She said, "I can't eat all of this …", but she did eat some of his. Neither of them touched the quinoa or would even taste the sauce.
But they were happy that I had Valentine's chocolates for them. My son said he would have been happier with smaller pieces of chocolate since I got him the BIG Reese's peanut butter hearts (honestly, I would too … I like my chocolates in little bites!) So he's trading in his chocolate for some licorice. LOL. My daughter was totally entranced with her heart-shaped Dove truffles in the fancy swirly tin. At least I got one thing right!
All in all, I would say this meal is probably much better suited for a romantic dinner with your sweetheart or for a fancy dinner party than for a Valentine's lunch with a couple picky eating teenagers. But hey, I have some delicious leftovers. And now I can share the recipe with you … frankly, I think my kids are crazy. The tastes in this meal are phenomenal.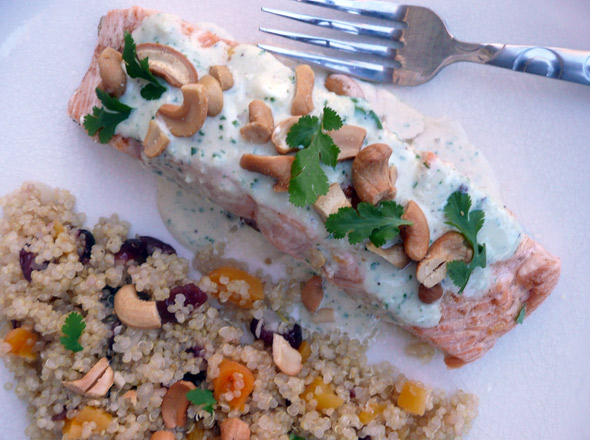 Cashew Salmon with Apricot Cranberry Quinoa
Adapted from Eating Well
You could shortcut the prep time by making up the sauce ahead of time, toasting the cashews and pre-chopping the garlic and apricot and things. Salmon cooks in a matter of minutes, so in the time it takes you to cook the quinoa, you could have dinner on the table.
Sauce ingredients:
1/2 cup nonfat plain yogurt
1 5-oz. container plain greek yogurt
1/2 cup fresh cilantro leaves
1/4 cup onion, chopped fine
2  cloves of garlic, peeled and chopped fine
1/2 teaspoon salt (or less … I don't think it needs quite this much salt)
1/2 teaspoon cumin
1/2 teaspoon freshly ground pepper
1 Tablespoon of honey
1 Tablespoon finely grated fresh ginger
Juice of 1/2 a lime (or lemon)
Quinoa ingredients:
1/4 cup chopped dried apricots
1/4 cup dried cranberries (or add an extra 1/4 cup of apricots … I only used cranberries because I ran out of apricots! But they did add a pretty splash of red color … and I liked the taste too)
2 cloves of garlic
1 Tablespoon finely grated fresh ginger
1/4 cup chopped onion
1 Tablespoon olive oil
1/2 teaspoon salt
2 cups water
1 cup quinoa
Salmon ingredients:
Salmon, cut into portions of 1/4 lb for each person. (You should have plenty of sauce and quinoa for up to 4 people. If you're serving more, increase the recipe.)
Old Bay seasoning (I used this seasoning only because I expected my kids would skip the sauce and thought the fish could use a little flavor on its own … you really don't need it at all.)
Salt & pepper
For garnish:
Roasted, salted cashews, toasted and chopped
Extra cilantro leaves
To prepare:
First, make the sauce: Stir together all the sauce ingredients in a bowl. Don't use your handi chopper to whir it all together–it destroys the thickness of the yogurt. You could use all plain yogurt instead of the greek yogurt if you actually STIR the sauce rather than whirring it like I did.
 Next, heat the olive oil in a saucepan over medium heat. Add the apricots, garlic, onion, ginger, and salt and sautee until softened, about 2 minutes. Add the water and bring to a boil, then stir in the quinoa. Cover, lower the heat to low, and cook until the water is absorbed and the quinoa is cooked through.
Meanwhile rub the salmon with salt and pepper, sprinkle with seasoning (if using) and broil or grill until the salmon is lightly brown and just cooked through, about 3 minutes on each side.
Serve the salmon drizzled with sauce, topped with cashews and a sprinkle of cilantro leaves, with the quinoa on the side.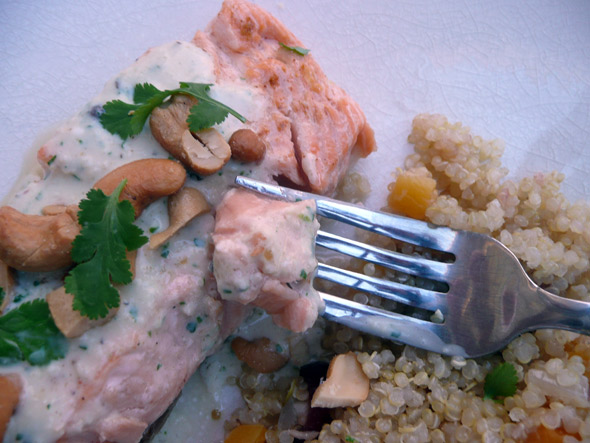 This recipe was shared at Totally Tasty Tuesdays, Love your Heart Month, Cast Party Wednesday, These Chicks Cooked Recipe Swap, Midweek Fiesta, Newlyweds Recipe Linky, Thursday's Treasures, Fit and Fabulous Fridays, Katherine Martinelli's Nut Bloghop, Keep Calm & Cook On Valentine's Day and Freaky Friday.