Cheddar & Smoked Gouda Roasted Vegie-wich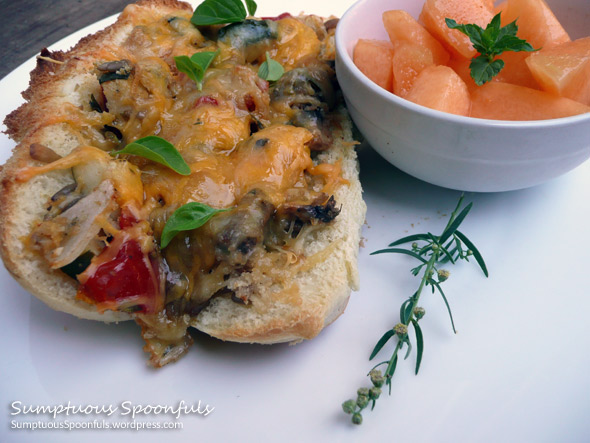 Do you want to know a secret? Those Tarragon & Sunflower Roasted Vegetables that I shared the other day? There's a way to make them even better … I didn't think it was possible, but my gosh they make an incredible sandwich. Put them on a good bun and then melt smoked cheese over the top and oh my gosh it's heaven. I'm telling you, you really need to try this.
It was Ann at the Fountain Avenue Kitchen that gave me the idea when she posted her Grilled Pesto Veggiewich, which looks totally yummy, and I LOVE that word: vegiewich! I didn't have any of that gorgeous multi-grain bread, and I don't have a panini maker, but I have some really good hot dog buns left over from our camping trip and I have a fridge drawer full of gourmet cheeses from Dofino cheeses that are just dying to be made into something delicious.
And thus a new sandwich is born. I have made this sandwich twice already and I'm going to have another one for lunch today. If you really must, you could add some chicken or something, but trust me, you won't miss the meat. The vegies and cheese are just divine. It tastes like there's some magical sauce in there, but I didn't add any sauce.
 Cheddar & Smoked Gouda Roasted Vegie-wich
Good quality homemade or bakery buns (white or whole wheat … whole wheat of course is healthier)
A bunch of Tarragon & Sunflower Roasted Vegetables
Smoked gouda cheese, shredded
Sharp cheddar cheese, shredded
Directions:
Take your bun and pile a bunch of the roasted vegetables on it. Shred and mix the cheeses, then cover the vegies with the lovely cheese.
Set the bun on a baking sheet, set it in the oven (or toaster oven) and bake at 350 for 10 minutes or so or until the cheese is nicely melted, the bun is toasted, and the vegies are hot.
Take the vegiewich and put it on your plate and gobble it up while it's still hot. A little bowl of melon is a lovely accompaniment. Have napkins handy because it might get a little messy …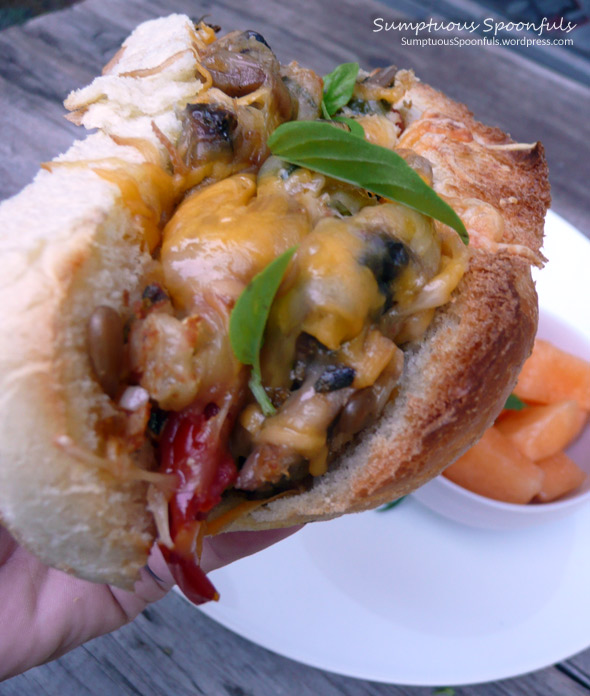 This recipe was shared at Thursday's Treasures, Everyday Mom's Meals and Share It Saturdays.