Cheesy Beef n Rice Stuffed Mini-Peppers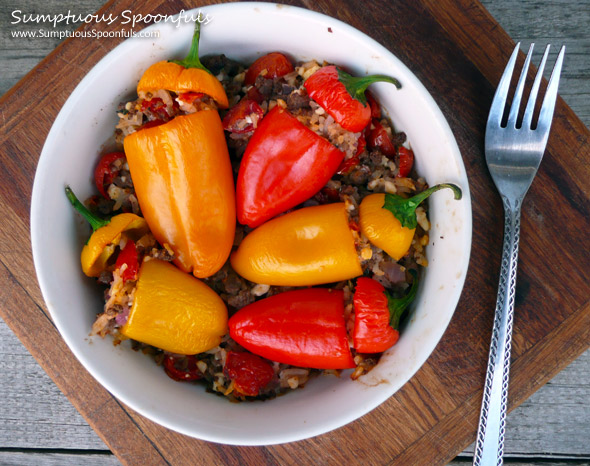 This recipe was shared at Melt in your Mouth Monday.
I was in the middle of baking these pretty little stuffed peppers when my daughter came upstairs and announced she was hungry. Of course she wanted a pizza, so I told her I'd put it in for her once my peppers were done. I took the peppers out a little prematurely to get her food going … really, the peppers should be a little more done than the picture. Bubbly skin, dark brown, almost burned spots on top. While her pizza was baking, I took these shots, but I did stick my peppers back in the oven once her pizza was done and cooked them for a few more minutes to get them to the roasted pepper perfection that I just adore.
These peppers are so little, it's hard to fit much stuffing in them … so it's nice to serve them on a bed of the stuffing so you can get a good bit of stuffing with each bite. Yeah, I know, you could just use larger peppers for stuffing, but I just wanted to try this with my colorful little sweet peppers. I didn't have enough peppers left to use up very much of the filling, however, so I'm going to have to find another use for that … or get more peppers. I'm thinking I'll probably re-purpose the rest of the filling into a cheesy beef n rice casserole maybe?
I think these lil stuffed peppers could serve as either a nice appetizer or dinner: either way they're cute, colorful, and healthy.
Cheesy Beef n Rice Stuffed Mini-Peppers
Ingredients
1/2 lb very lean ground beef, lamb or venison
1/2 of a red onion, chopped (about 2/3 cup)
3 cloves of garlic, peeled and chopped fine
1 cup cooked brown or white Basmati rice
1 cup cherry tomatoes, cut in quarters (or you can substitute canned tomatoes)
About 2 tablespoons of fresh herbs, chopped fine (I used basil, rosemary & thyme this time ... but use whatever herbs you prefer or have on hand)
3/4 cup lowfat cottage cheese
1/4 cup tomato-basil-flavored feta cheese
1/4 cup shredded Asiago cheese
Fresh ground pepper and salt, to taste
Several small sweet peppers
Instructions
In a saucepan or skillet, brown the ground beef over medium heat. Add the onion and garlic about half-way through and cook until the onion is soft and translucent.
Stir in the cooked rice, tomato, herbs, and cheeses. Add fresh ground pepper and salt to taste.
Cut the tops off the little peppers and remove any seeds or ribs from the center of the pepper.
Spray an oven-safe bowl or rimmed baking dish with cooking spray and line the bottom with some of the beefy rice stuffing.
Use a small spoon to stuff as much of the filling inside each pepper as possible. Arrange the peppers over the rice mixture, setting the top back on each one.
Set a piece of aluminum foil over top of the peppers, bake at 400 F for 15 minutes, then remove the foil and bake for 10 - 20 more minutes or until the peppers are soft and the skin begins to bubble and brown.
Notes
Cook the peppers a little more than the pics shown here ... till the skins are bubbled and browning in spots.
http://www.sumptuousspoonfuls.com/cheesy-beef-n-rice-stuffed-mini-peppers/
Copyright 2012 by Sumptuous Spoonfuls. Recipes are meant to be shared! Nothing makes me happier than to hear about someone who has tried one of my recipes. All I ask is that if you are going to share my recipe online, give me credit and a link. And if you want to use one of my photos, please ask first. You can contact me at http://www.SumptuousSpoonfuls.com/contact/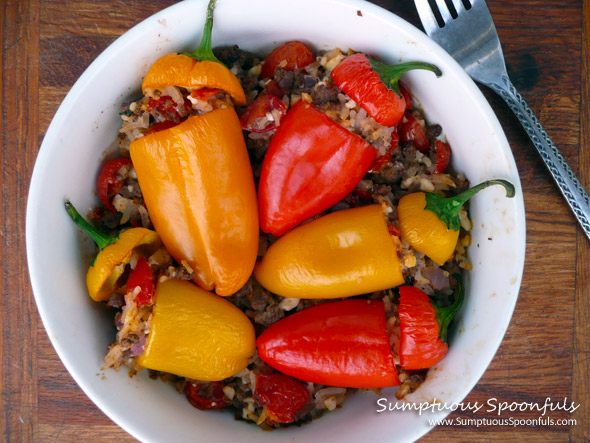 This recipe was shared at What'd You Do this Weekend?, Try a New Recipe Tuesday, Tuesday Talent Show, Totally Tasty Tuesday, Wednesday Extravaganza, All my Bloggy Friends, Tasty Thursday, Full Plate Thursday, Ladies Night and Clever Chicks Bloghop.