Chile Lime Spiced Popcorn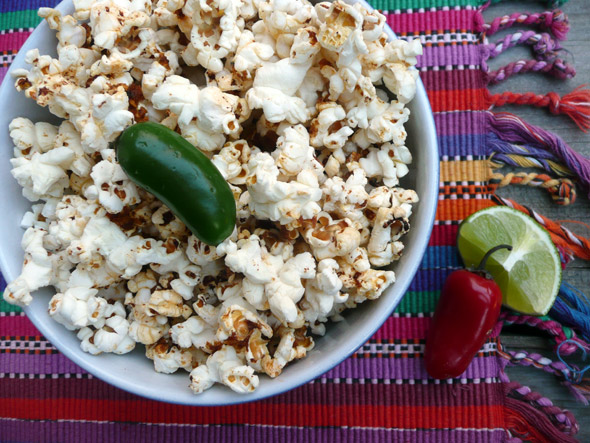 I often put green chile powder and granulated garlic in the butter for my popcorn, but today I wanted a little more flavor, something extra special you could even give as a gift to your chile-head friends. Baking it in the oven takes out the juiciness from the lime, but leaves in the lime flavor and makes the popcorn extra-crunchy.
If you want a flavorful popcorn with less heat, just leave out the jalapeno.
I am a bit of a popcorn fanatic, so for me to say I could eat a big bowl of this for dinner is not all that unusual, but this popcorn has such a great crunch, kick and flavor, I did eat the whole bowl for a mid-afternoon snack. All by myself. And I am really wishing it wasn't all gone … Sorry friends! I'm gonna have to make a new batch for you … good thing it's so easy!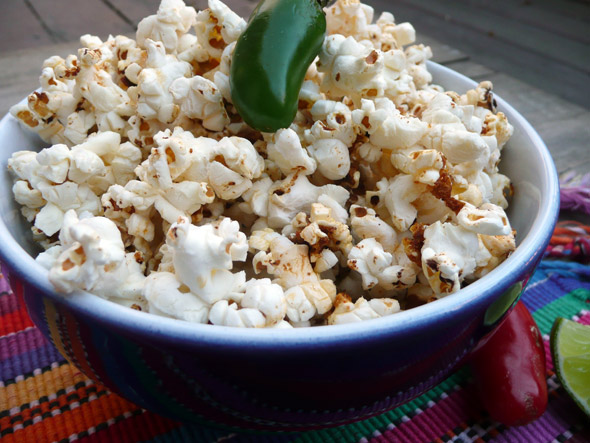 Chile Lime Spiced Popcorn
For a fun holiday gift, package this spicy popcorn in a Mason jar or decorated tin, along with a few good Mexican beers (or favorite non-alcoholic drinks) nestled in a colorful basket or bowl.
2 Tablespoons butter
1/2 teaspoon cumin
1/4 teaspoon granulated garlic
1/2 teaspoon chili powder
1/4 teaspoon smoked paprika
1/4 teaspoon onion powder
1 teaspoon finely chopped jalapeno pepper
1/2 teaspoon Red Robin seasoning or your favorite seasoned salt
10 – 12 cups of popped popcorn (I used an air popper for popping my popcorn)
Directions:
Put all the ingredients except for the lime juice and popcorn in a small microwaveable cup or bowl. I usually cover the butter to prevent it from splattering all over the place. Microwave the butter-spice mix on medium for about 2 minutes or until the butter is fully melted.
Add the lime juice to the spiced butter and stir well.
Prepare a bowl of popcorn (I use an air popper to make mine), and spread the popcorn in a large flat pan at least  1 inch deep. With a spoon, drizzle the chile lime butter all over the popcorn, then stir lightly. Sprinkle lightly with Red Robin Seasoning or salt.
Bake at 300 degrees F. for about 5 to 7 minutes or longer … until the popcorn is good and crispy! Sprinkle with salt or seasoned salt to taste.
Serve warm!–or store in an airtight container or mason jar to give to your popcorn-loving friends. If you give it as a gift, you can tell your friends if they want the popcorn hot to warm it in the oven at 300 for 3 – 5 minutes before eating.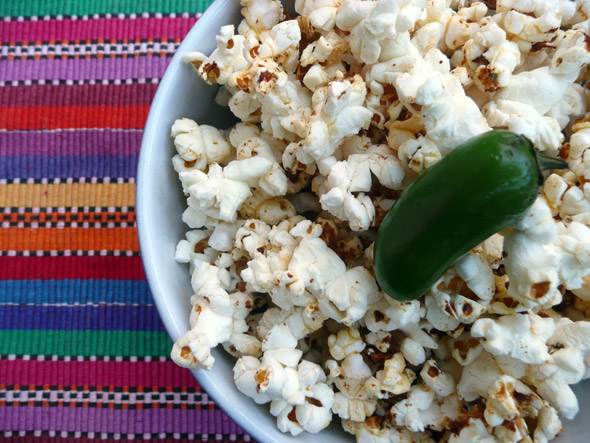 This recipe was shared at Newlyweds Blog Recipe Linky, Frugal Days, Sustainable Ways, TasteTastic Thursdays, This Chick Cooks, and Katherine Martinelli's Mexican Blog Hop.