Chocolate Cherry Cabernet Talking Truffles
These truffles are very noisy. They keep talking to me. Waking me up in the middle of the night. Interrupting me while I'm trying to work.
Maybe they got lonely after I dipped them in chocolate on Friday evening, then we went away for the weekend, but my gosh, now they won't STOP talking!
Hush you noisy things. Let me work. No, I can't eat truffles all day long. I must have lunch sometime. And in the deep dark depths of night I should be SLEEPING for gosh sakes! I have to work in the morning!
No, I haven't time for a truffle now … I have to run to the store … can't you wait?
Gosh such pester-some truffles these are. So insistent on making me eat them! Are you sure you want them in your kitchen?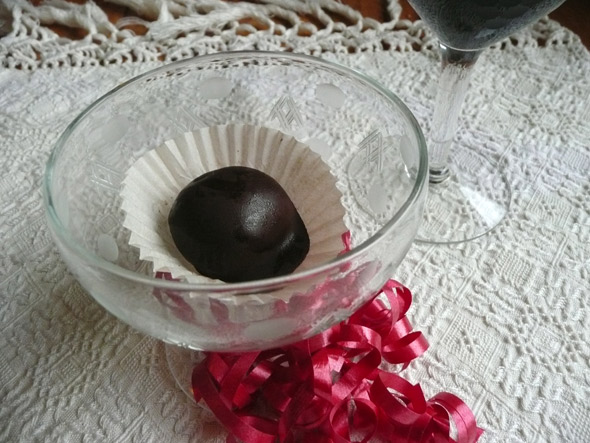 Yes, you do. You really do. With a nice glass of red wine. Honestly, right now I feel like I never want to live without them. I am savoring every little bite, slowly, deliberately, holding it on my tongue to make that creamy dark chocolate cherry taste last as long as I possibly can … they can just keep on talking …
Chocolate Cherry Cabernet Talking Truffles
Truffle Filling:
2.5 oz. of good quality dark chocolate, melted (I used Ghirardelli 70% dark chocolate for the filling)
5 chocolate graham crackers
1/2 cup sour cherries, pitted (I thawed some cherries that my dad had frozen from his cherry tree … so they were kind of soft and small and squished down into the cup a lot. I suppose you could use sweet cherries as well, but I like the tartness with the dark chocolate … if you use fresh ones, you may want to increase the amount.)
3 oz. light cream cheese
1/4 cup cabernet (I think it would also work well with shiraz or merlot or malbec or some other dark, dry red wine)
1/4 teaspoon cinnamon
1/8 teaspoon cayenne pepper (yes, trust me, the cayenne adds just a tiny bite that goes SO well with the chocolate, the wine, and the cherries …)
1/8 teaspoon nutmeg
1 teaspoon vanilla
3 teaspoons of dark unsweetened cocoa powder
For dipping:
1 and 1/4 bars of good quality dark chocolate, for dipping (I used Green & Black's Organic 70% chocolate bars.)
Directions:
First make the filling. Put the graham crackers in a handi chopper or food processor and process until they are powdered. Add the cherries and process until the cherries and crackers form a paste.
Put the cherry mixture in a bowl and stir in the remaining filling ingredients. Cover the bowl and set it in the refrigerator (or set it outside if it's frigid outside like it is here!) for a couple hours to chill well.
Spray your hands with cooking spray and form the sticky mixture into balls. This is a little tricky and sticky, and you may have to wash your hands and re-apply the cooking spray a few times. (I am thinking I may have to invest in some truffle molds one of these days … ) Set them on a tray as you finish the balls.
Chill the truffle filling balls in a freezer (or outside!) for at least a couple hours or overnight.
Time for the dipping! Line a tray or baking sheet with waxed paper. Melt the dipping chocolate over a double boiler or in the microwave. To melt it in the microwave, break the chocolate into small chunks in a bowl. Microwave on high for 60 seconds. Stir. Microwave for 30 seconds. Stir. A lot. If it's not melted yet, microwave another 30 seconds, then stir again.
Carefully roll the truffle balls in the melted chocolate with a spoon, then set them gently on the waxed paper, leaving a little space between your truffles.
Once the chocolate has set, transfer the truffles into a covered containers and store in the fridge, somewhere in the back. Set something in front of them to hide them because you might have a hard time resisting these little chocolates.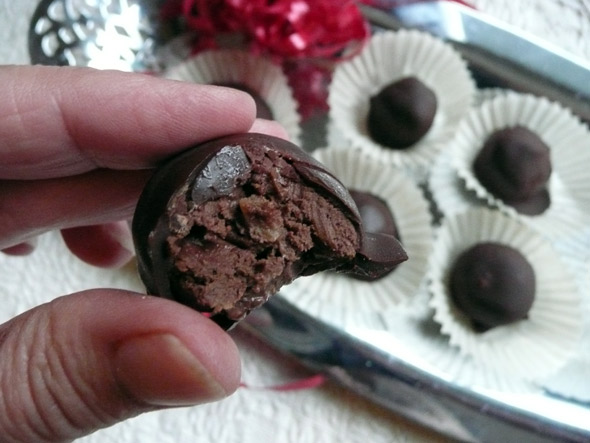 This recipe was shared at Trick or Treat Tuesdays, Totally Tasty Tuesdays, It's a Keeper Thursdays, Tastetastic Thursdays and Full Plate Thursdays.