Chocolate Peanut Butter BonBons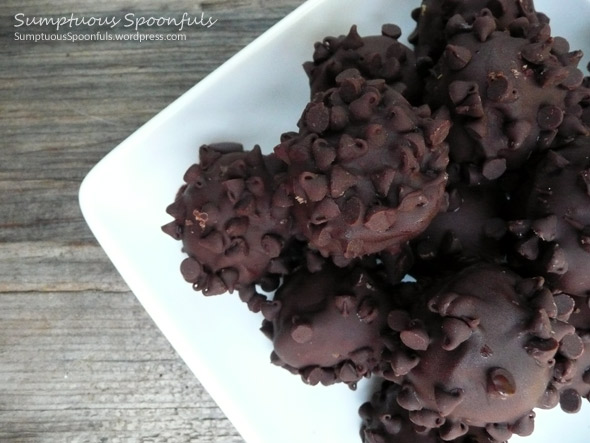 Craving. Chocolate. Peanut butter. Nagging, nagging. Helllooooo. Chocolate. NEED Chocolate! Peanut butter. Mmm. Peanut butter. Nagging. Craving. Peanut Butter. Chocolate. CHOCOLATE!
Bonbons … Mmm. Bonbons. Yes. Chocolate. Peanut butter. Yes, yes, yes. Ah! Better.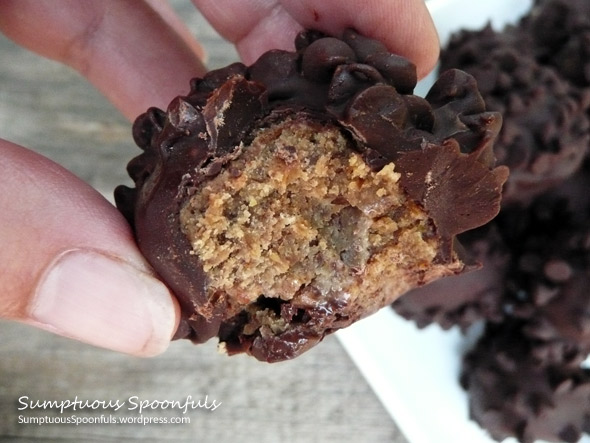 I feed my cravings with high quality ingredients and then I also try to lighten up my favorite decadent treats.  If they taste really good, I find I don't need to eat large quantities of them. These are sort of like a Reese's peanut butter cup, except they're healthier.
Chocolate Peanut Butter BonBons
Heavily adapted from Baby Gizmo Blog. To reduce the fat, I used PB2 in place of half of the peanut butter, which is a powdered form of peanut butter with 85% of the fat removed. If you can't find it at your local grocery store (in the health food section), you can order it online.
1 1/4 cup graham cracker crumbs (chocolate or regular … whatever you prefer/have on hand … I used a mix of both)
1/4 cup flaxmeal
1/2 cup PB2 (chocolate or regular or a mix of both … I used half chocolate/half regular)
1/4 cup fat free half & half
1/2 cup natural peanut butter
1/4 cup honey
1/4 cup light cream cheese
For dipping: good quality dark chocolate and mini chocolate chips … I am not sure how much I used because I grabbed some bar chocolate then added chips to it, but I would guess it would be about 1 – 1 1/2 cups of dark chocolate chips plus a cup of mini chocolate chips
In a handi chopper or food processor, grind the graham crackers into fine crumbs. Pour them into a bowl and mix with the remaining ingredients. Form the mixture into balls (makes about 24 or so), set the balls on a tray and set in the freezer for an hour or longer.
Set the mini chocolate chips in a separate bowl, then melt some dark chocolate in the microwave or a double boiler. To melt it in the microwave, microwave on high for 1 minute, then stir, then microwave 30 seconds longer and stir again. If it's still not melted, microwave another 30 seconds and stir.
Lay out a section of waxed paper on a baking pan to set the chocolates on once you've dipped them.
To dip the bonbons: roll a ball around in the melted chocolate with a spoon, then poke it with a toothpick and shake gently to remove some of the chocolate. Hold the ball by the toothpick over the bowl of mini-chops and sprinkle with mini chips, then set on the waxed paper. Let the bonbons sit until the chocolate is set (in the fridge, if needed). Store in an airtight container in the fridge.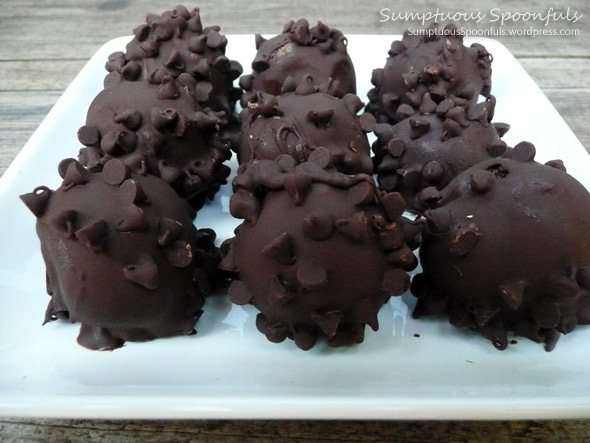 This recipe was shared at Melt in your Mouth Mondays, Manic Mondays, Fit & Fabulous Fridays, Foodie Friends Friday, Iron Chef Mom (Peanut Butter) and Newlyweds Recipe Linky.