Chocolate Peanut Butter Granola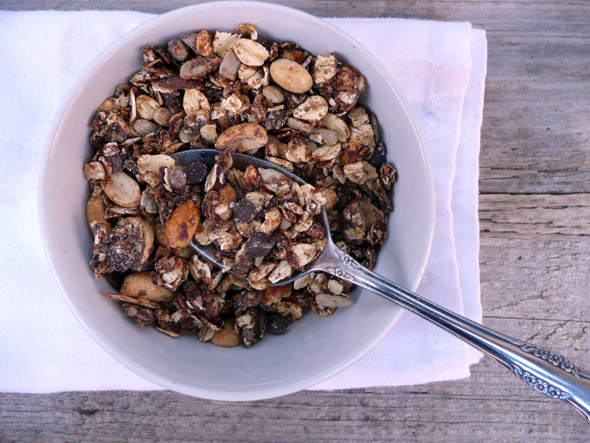 I've seen a bunch of chocolate granola in the foodie world lately and oh I ached to do one myself. Because I really really love eating chocolate for breakfast.
I looked at all their recipes and they were all different. Each foodie did their own take on chocolatizing granola, and each one looked perfectly marvelous.
So naturally, I did my own take on it. It's a little of this recipe, a little of that one, a little of my own inspiration.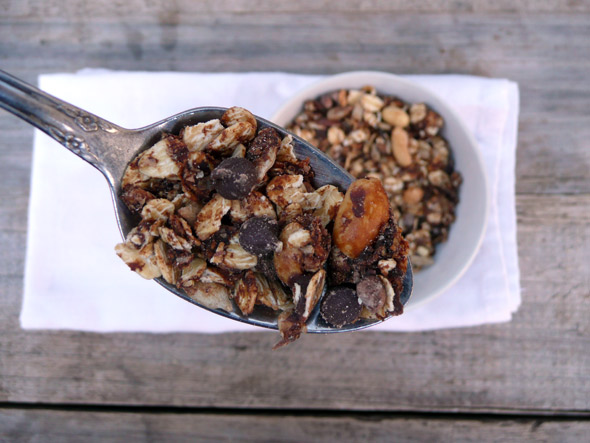 Chocolate Peanut Butter Granola
Dry ingredients:
4 cups of old-fashioned oats
1/2 cup of sunflower seeds
1 cup of dry roasted peanuts
1/4 cup flaxmeal
1/4 cup wheat bran
1/4 cup sliced almonds
Wet ingredients:
1/4 cup applesauce
1 1/2 Tablespoons of dark unsweetened cocoa powder
2 – 4 Tablespoons maple syrup (depending on how sweet you want it)
2 – 4 Tablespoons honey
1/2 teaspoon coarse sea salt
2 Tablespoons peanut buttter
1 teaspoon real vanilla extract
Add-ins:
3/4 cup mini chocolate chips
Directions:
Preheat oven to 325 degrees. In a large mixing bowl, mix the dry ingredients.
In a small saucepan, heat the wet ingredients over medium-low heat, stirring until well mixed and nicely warmed.
Combine the wet mixture with the dry mixture until completely incorporated and everything is evenly mixed.
Spread the granola out onto a large jellyroll pan. Bake for about an hour, stirring every 10 – 15 minutes until the granola is a deep golden brown.
Remove from oven. Cool completely. Mix in the chocolate chips. Store in an airtight container. Keeps up to one month.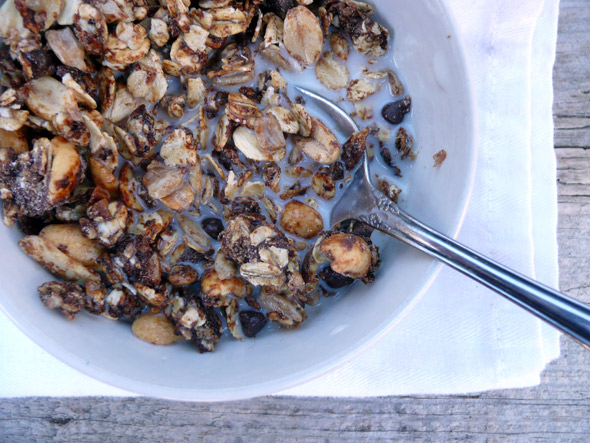 This recipe was shared at Weekend Potluck, Real Housewives Recipe Roundup, and Totally Tasty Tuesdays.