Chocolate Peppermint Pretzel Munch
One of our favorite treats at Christmas is to dip pretzels. I like mine with white chocolate and peppermint. My daughter likes just white chocolate, or sometimes we will drizzle the white chocolate pretzels with milk chocolate or sprinkles.
I meant to make lots of treats to bring on my trip for my friends at the office, but I was running out of time. So I had to simplify.
This is so much faster than dipping all the pretzels individually. You just spread them in a pan, drizzle them with melted white almond bark, and then sprinkle with crushed candy canes. I threw in some chocolate graham cracker pieces. Result: the same sweet and salty, chocolate minty taste, but without all the work–and it's a great way to use up broken graham crackers and pretzels.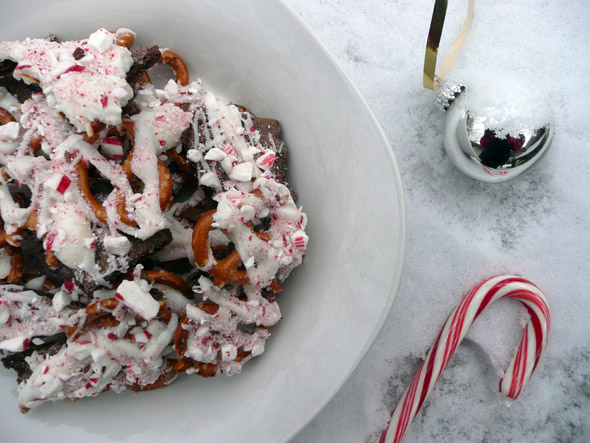 Peppermint Pretzel Munch
Chocolate Graham Crackers, broken into pieces
Pretzels
Almond Bark (I used 6 squares for my batch)
Peppermint Candy Canes, crushed
Directions:
Spray a large baking sheet with cooking spray and lay out broken chocolate graham crackers randomly across the pan.
Add the pretzels, interspersing amongst the crackers to create a blanket of crackers and pretzels.
Melt the almond bark or white chocolate chips. I used a plastic spoon to stir them so I could make a peppermint spoon.
Drizzle across the cracker/pretzel blanket.
Immediately sprinkle with crushed candy canes.
Allow the mixture to cool, then break into pieces.
Dip the spoon you used to stir the almond bark into the crushed candy canes and allow to sit until the chocolate has hardened. The spoon is great to include in a gift basket with some hot chocolate mix or coffee and a nice mug. I think it would be REALLY cool to do this with some funky antique real spoons.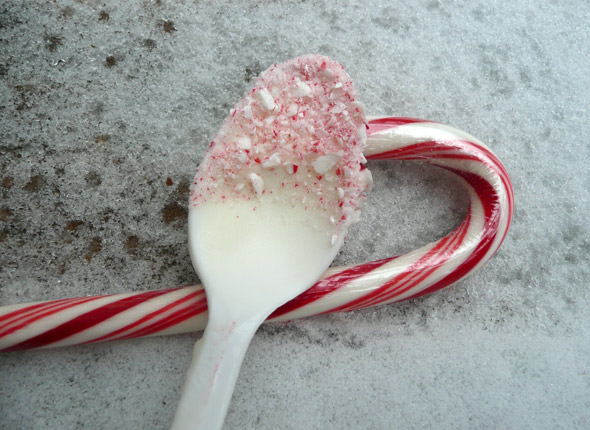 This recipe was shared on Favorite Holiday Recipes, Totally Tasty Tuesdays, Wonka Wednesdays, Holiday Treats Week, Katherine Martinelli's Mint Blog Hop and EveryDay Mom's Meals.