Country Cranberry Kumquat Coffeecake
Adapted from Lark's Country Heart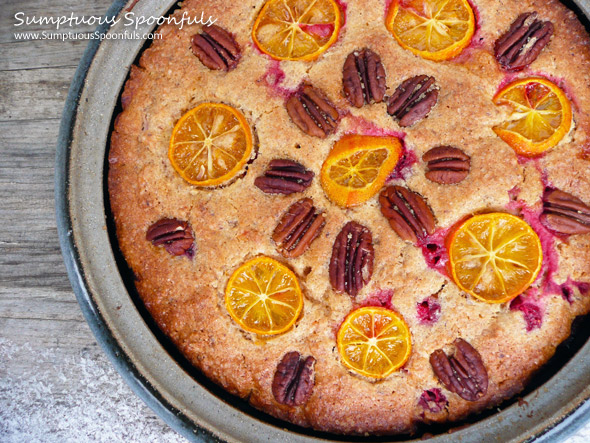 It's funny how things happen. Today I woke up and was checking my facebook. I stumbled across this lovely cranberry coffee cake from my sweet foodie friend Lark (at Lark's Country Heart) and I felt this strong urge to make it. Today is supposed to be soup and bread day, not coffee cake day, but I just couldn't help wondering how this coffee cake would taste with some pureed kumquats in it. I HAD to make it.
So I went in the kitchen and made the coffee cake. I was quite hungry, though, and couldn't wait long enough for it to bake to eat breakfast, so I found something else to eat while the cake was baking. Shortly after I'd pulled it out of the oven, my daughter (who doesn't like cranberries or kumquats or pecans) came out and said "what's for breakfast?" … and then "what's that lovely smell?" … I told her I had made a coffee cake (neglecting to mention the kumquats and cranberries … she could certainly see them, right?)
Much to my surprise, she decided she was going to have a piece. She waited for me to photograph it, then she ate a whole piece and went back for seconds. It wasn't until the second piece that she complained about the cranberries. She says she loves the cake, just not the cranberries. And she even said she LIKES the nuts. She says I should make the cake without the berries. I asked if perhaps I could use a different kind of berry? At first she said no berries at all, but then she settled on strawberries. Of course, strawberries. Her favorite favorite berry.
Well, I think the cake is wonderful with cranberries. I love the tart taste of cranberries … and with the citrus-y kumquats and the sweet moist cake, it's just lovely. I did make quite a few changes to the recipe: I cut the butter and sugar in half, added yogurt and used kumquat puree in place of the milk. I also added a teaspoon of baking powder because it just felt like there ought to be some baking powder to make it rise properly. I used white whole wheat flour and flaxmeal in place of some of the flour. I only had 1 cup of berries, but I figured with the kumquats in there, that would be enough fruit. (It was … if it had any more cranberries or kumquats, you would need more sugar to combat the tartness.)
Country Cranberry Kumquat Coffeecake
Ingredients
1 cup sugar
1/4 cup butter, softened
1/4 cup plain nonfat yogurt
2 eggs
1/4 cup pureed kumquats (cut the fruit, remove any large seeds, and puree the whole fruit, peel and all, in a food processor or handi chopper)
1 teaspoon almond extract
1 teaspoon salt
1/2 teaspoon cinnamon
1/4 teaspoon cardamom
1/8 teaspoon cloves
1 cup white whole wheat flour
3/4 cup all purpose flour
1/4 cup flax meal
1 teaspoon baking powder
1 cup fresh or frozen cranberries
3 Tablespoons of white whole wheat flour
For the top: thin slices of kumquats, pecan halves, plus about 2 Tablespoons raw sugar
Instructions
Preheat oven to 350 F.
In a large mixing bowl, cream together the sugar and butter until creamy, then add in the yogurt and stir to mix well. Add the eggs and beat until smooth.
Stir in the pureed kumquats, almond extract, cinnamon, cardamom and cloves.
Add the flours, flaxmeal and baking powder and stir to mix well.
In a small bowl, toss the cranberries with a few tablespoons of whole wheat flour. Fold the dusted cranberries into the batter.
Spray a 10" spring form pan with cooking spray (or pie pan or something like that ... I actually used my pottery tortilla warmer because it has a nice lid for covering the cake). Evenly spread batter into the greased pan.
Top with kumquat slices and pecans, then sprinkle raw sugar over everything.
Bake at 350 for 50 - 60 minutes or until a wooden pick inserted in the center comes out clean.
http://www.sumptuousspoonfuls.com/country-cranberry-kumquat-coffeecake/
Copyright 2012 by Sumptuous Spoonfuls. Recipes are meant to be shared! Nothing makes me happier than to hear about someone who has tried one of my recipes. All I ask is that if you are going to share my recipe online, give me credit and a link. And if you want to use one of my photos, please ask first. You can contact me at http://www.SumptuousSpoonfuls.com/contact/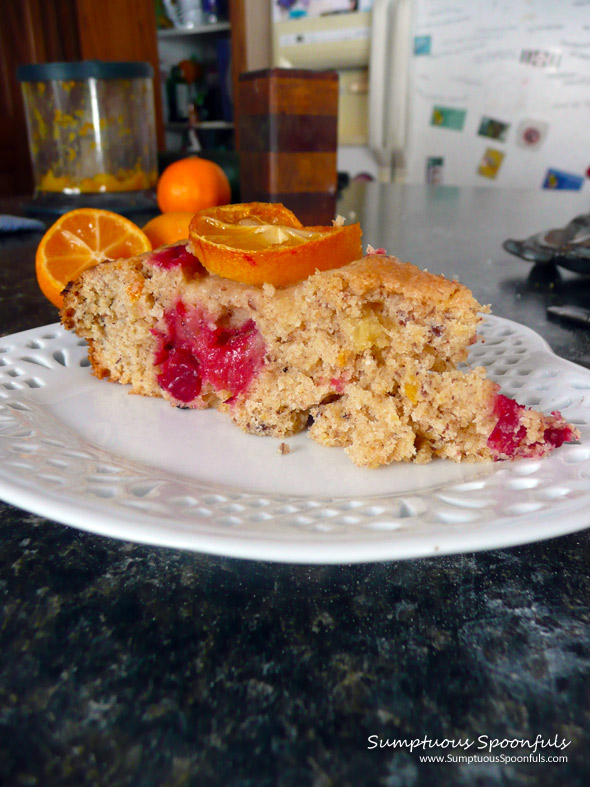 This recipe was shared at Wednesday Extravaganza, Thursday's Treasures, Full Plate Thursday, Weekend Potluck and Clever Chicks Bloghop.