Creamy Blueberry FroYo for One w Zoku & Noosa Reviews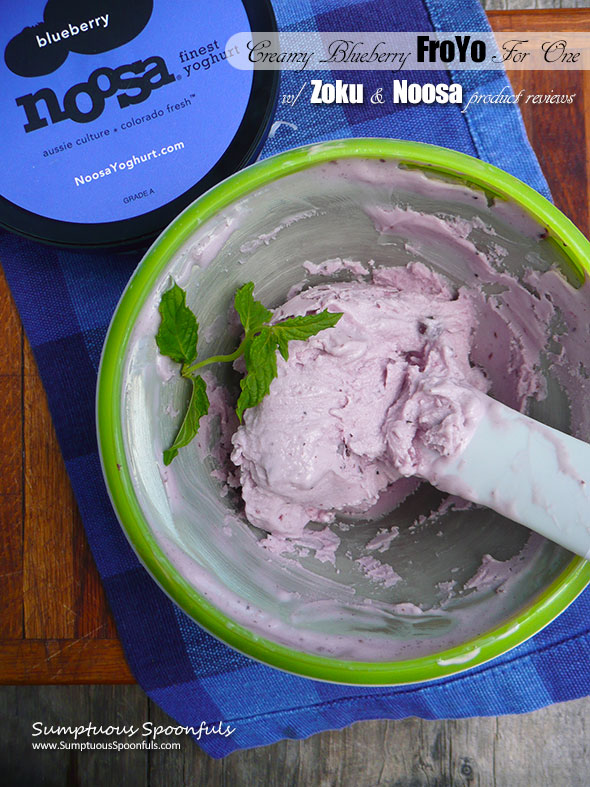 Did you know that July is National Ice Cream Month? On top of that, it's been scorching hot outside for weeks and I don't think I've posted a single ice cream recipe yet this summer. What kind of food blogger am I? Seriously, I better get a move on!
Well, I was lucky in that regard because last week the stars and moon and sun aligned just perfectly and showered gifts down upon me. It felt like Christmas in July! First I received the Black Cube frying pan and that was awesome. And then along came this fun little single serving ice cream maker called a Zoku. And then after that I got a box full of different flavored yogurts from the sweet folks at Noosa Yoghurt. I was feeling on top of the world, eager to play with my new toys and go on a new taste adventure.
First, let me say that we absolutely LOVE the Noosa yoghurt! My son was the first adventurous soul to try the yoghurt … he loves everything lemon so he opened up one of the lemon ones one night and we all tasted it and oh my gosh … we were all totally smitten with this yogurt! It's sooo amazingly creamy! My daughter (who is not a fan of things lemon) describes it as "lemon cream". Then we tried the cherry and here's my daughter's comment "everything is so wonderful and creamy. I like it." We tasted the honey flavor too … very good. The rich, thick creaminess of Noosa yoghurt is really soul satisfying. I am completely content with just a tiny dish of this yoghurt. We all agreed it will be a regular happening in our home from this moment forward.
As for the Zoku, I have to tell you, it took us a few tries to get this Zoku thing right. We did everything wrong it seemed. My first attempt was a frozen yogurt, but I put too much in the Zoku and I also noticed the bowl wasn't frozen completely. My mixture never got beyond the cold slush state. I rinsed the little Zoku out and stuck it back in the freezer and left it there for well over a day to make sure it would get totally frozen. The second time we tried to make Italian ice and the recipe specified that you had to let the liquid get partially frozen before trying to put it in the ice cream maker–well, we didn't and again had slushie results. Sigh. AND my kids left out the Zoku so we were back to square one with the freezing. Dang it! I was starting to get frustrated, but not ready to give up YET! The third time I pulled our little Zoku out of the freezer to try, I poured in some of the blueberry Noosa yoghurt (just 4 oz., half a container) and it started freezing immediately! I started scraping and stirring and before I knew it, I had a really lovely bowl of the creamiest frozen yogurt I think I'd ever tasted–not overly sweet, but so rich and creamy and only 150 calories. Gotta love that! My FroYo was definitely harder than soft serve, but not quite as frozen as the kind you buy at the grocery store.
So here are my tips for success making yourself a single serving of frozen yogurt or ice cream with a Zoku:
Make sure the Zoku is COMPLETELY frozen before you begin. You shouldn't feel any liquid sloshing around in the bowl when you take it out of the freezer.
Limit the amount of yogurt or ice cream mixture that you put in your Zoku to no more than 5 oz. Four oz. (1/2 cup) works nicely. Make sure it's really nice and cold before you start making ice cream.
If you're making FroYo, use a really nice creamy yogurt that has some milk fat in it. Noosa is perfect–the cream in the yoghurt makes such a huge difference. If you use nonfat yogurt, it won't be as creamy.
Eat your frozen treat straight out of the bowl right away when it's done. It keeps your ice cream nice and cold.
Immediately after you finish eating, rinse the inner bowl with hot water and/or give it a quick hand wash, then stick it right back in the freezer. This time it will freeze much faster because it never thawed out completely, so you can be back in business again in an hour or two, rather than waiting another day before you can make ice cream again. You can hand wash the spoon and the outer bowl or stick them in the dishwasher.
Now that I've got the method of making ice cream down, I'm very pleased with my little Zoku … and loving the creamy taste adventures we're having with Noosa yoghurt. Even though we have several containers left in the fridge, I'm already scouring the stores for this yummy yoghurt, just to make sure we can replenish our supply.
I was given the Zoku and several containers of Noosa Yoghurt to sample, but the opinions stated here are my own.
Creamy Blueberry Frozen Yoghurt
Ingredients
4 oz. (half of an 8-oz. container) Noosa blueberry yoghurt
Instructions
Make sure your Zoku insert is completely frozen--this takes at least 12 hours the first time. Set the frozen bowl in the outer bowl provided with the Zoku.
Stir up the blueberry yoghurt in the container, then put 4 oz. (half the container) into your Zoku and begin to scrape and stir immediately with your Zoku spoon.
Keep stirring and scraping, using the sides of the Zoku to scrape frozen ice cream off of the spoon, for about 10 minutes.
Enjoy right out of the bowl! The Zoku ice cream maker keeps your frozen yoghurt super chilled while you eat it. Then you can hand wash your Zoku bowl and stick it right back in the freezer, still cold, so it's ready for next time. It will freeze much faster this time.
http://www.sumptuousspoonfuls.com/creamy-blueberry-froyo-for-one-w-zoku-noosa-reviews/
Copyright 2012 by Sumptuous Spoonfuls. Recipes are meant to be shared! Nothing makes me happier than to hear about someone who has tried one of my recipes. All I ask is that if you are going to share my recipe online, give me credit and a link. And if you want to use one of my photos, please ask first. You can contact me at http://www.SumptuousSpoonfuls.com/contact/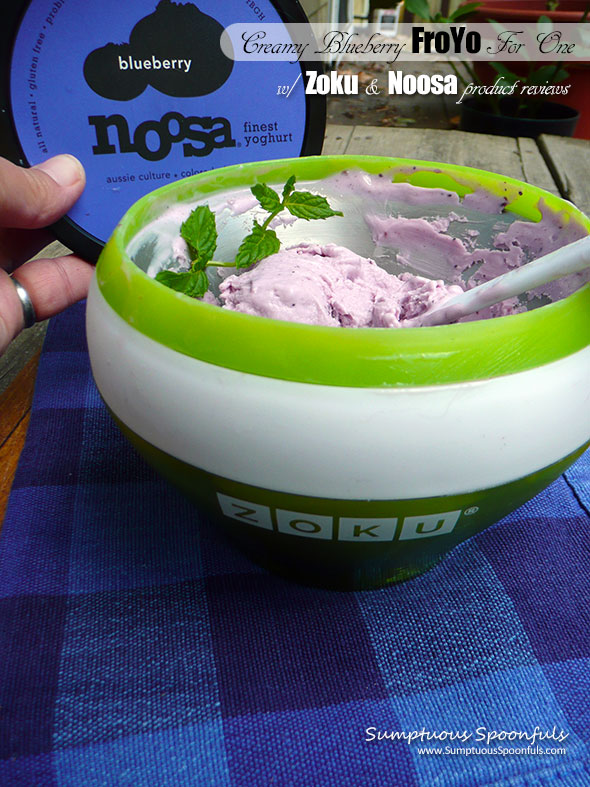 To find a store near you that sells the Noosa yoghurt, visit Noosa online here or:
Zoku Ice Cream Makers are available in lots of fun colors on Amazon, or you can find them online:
This recipe was shared at: Weekend Potluck, Munching Monday, Simple Supper Tuesday, Tuesday's Table, Treasure Box Tuesday, Wordless Wednesday, Thursday Favorite Things, Moonlight & Mason Jars and The Hearth & Soul Bloghop.