Creamy Cheesy Chicken Wild Rice Soup

It is September … the weather is starting to cool down. I was really loving the cooler weather … until my allergies kicked in …
Ah but I am lucky! I "inherited" some wild rice from my sister. She said it was too salty and brought it along up to my parents' place last weekend for us to "fix" for her. Well we didn't get around to making anything with it, she left and my other sister left and there was still the wild rice in the fridge, so my mom asked if I would take it. Sure, I said. Then I can make soup!
So yes, I made soup. And what's better than soup in the fall when there's a little chill in the air and your allergies are in overdrive? Soup is just the thing to make you feel better … it's so warm and comforting and wonderful.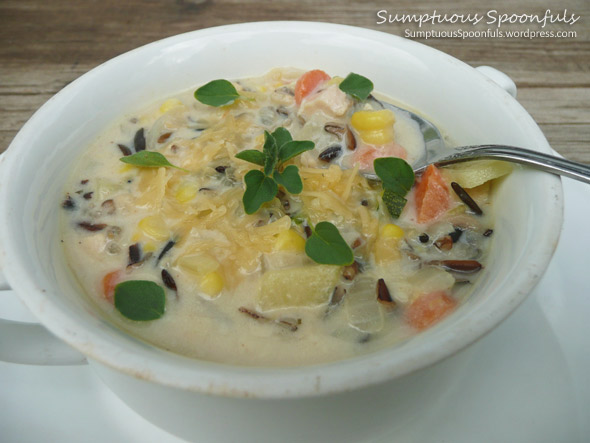 Creamy Cheesy Chicken Wild Rice Soup
This is a very thick and chunky soup. Feel free to adjust the amounts of vegies, rice and meats to your liking … if you want more of the delicious cheesy broth, put in fewer vegies and rice. Like many soups, it is really better the next day. If you want a vegetarian soup, leave out the meat and use vegetable broth in place of the chicken broth
1/2 Tablespoon extra virgin olive oil
1/2 cup chopped celery (reserve the leaves!)
3/4 cup chopped onion
1/2 cup chopped carrots
1/2 cup chopped zucchini
2 – 3 cloves of garlic, peeled and finely chopped
1/4 cup flour
2 cups milk (I used 1%)
1 bay leaf
1 cup shredded Edam cheese (I used some Dofino Edam cheese that Dofino sent to me as a "sample")
1/4 cup Asiago cheese (or other sharp cheese such as parmesan or romano)
1/2 – 1 cup chicken broth
1/2 cup corn
2 cups cooked wild rice (use the wild Minnesota wild rice if you can find it … it's SO much better!)
3/4 cup cooked leftover chicken (or more if you want a meatier soup)
1/2 cup corn (frozen, thawed or pre-cooked fresh)
1 teaspoon Red Robin Seasoning or your favorite seasoned salt
The leaves from a few sprigs of fresh oregano and parsley
Salt & freshly ground pepper, to taste
For garnish: shredded cheese and oregano or parsley leaves
Directions:
Heat a saucepan or your soup pot over medium heat and add the olive oil and swirl it around.
Pour the celery, onions, carrots, zucchini and garlic into the pot. Over medium-high heat, sautee the vegies until the onions are soft and translucent and the zucchini is tender.
Add the flour to the pan and stir, coating all your little vegetables and garlic bits in flour. Do this quickly before the flour starts to brown.
Add the milk and bay leaf and cook over medium heat, stirring often, for about 5 – 10 minutes or so or until the mixture thickens.
Add the shredded cheeses and cook for a few minutes longer until the cheese melts, then stir in the broth, rice, chicken, corn, and lower the heat to a simmer (on medium low to low) and cook for 15 – 20 minutes to let the flavors meld. Stir in the reserved celery leaves, oregano, parsley and Red Robin Seasoning. Add salt and pepper to taste.
Serve hot, garnished with a bit more shredded edam cheese and a few fresh oregano or parsley leaves. Store leftovers in a covered container in the fridge.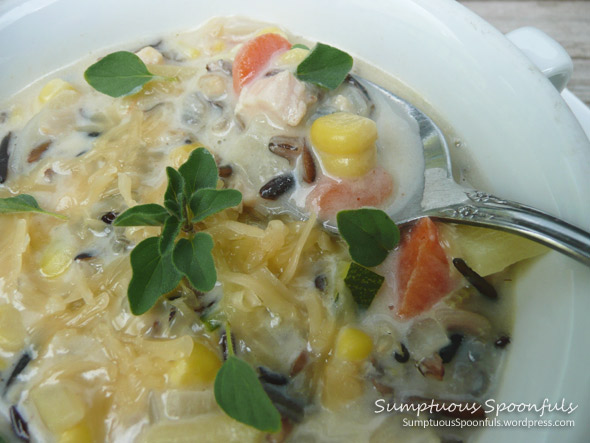 This recipe was shared at Share it Saturday, Manic Monday, Totally Tasty Tuesday, Katherine Martinelli's Rice Bloghop and Talent Show Tuesday.