Cucumber Pesto Buttermilk Salad
This is one of those salads that came to me in the middle of the night.  I was trying to think of something different to do with cucumbers beyond the regular cucumber salads … hadn't come up with anything, but then about 3 a.m., I woke up and thought "Pesto! Pesto would be awesome on cucumbers!" So yeah, I guess I never stop thinking about food, even when I'm sleeping.
I have a bunch of English cucumbers my mom gave me from her garden. They are the BEST cucumbers, so crunchy and sweet, tiny little seeds that are never too big, and no sharp bitter taste at all. She had brought in a box of them and said to me "this is today's pick … tomorrow we will have another bunch like this. So you may as well take them all."
I found a bit of buttermilk in my fridge and thought I should use that up, so I mixed it with the pesto along with some yogurt to make the dressing. Together they made this lovely creamy blend that made me smile. I had actually intended to put some chickpeas in this salad as well, but I completely forgot about them until the salad was gone. Oh well, the chickpeas will go into something else!

Cucumber Pesto Buttermilk Salad
with Tomato, Feta Cheese and Pinons
Salad:
2  cups chopped English cucumber (or other fresh garden cucumber … )
1  cup cherry tomatoes, halved, or chopped fresh tomato
Feta cheese crumbles
Pinons, toasted
Fresh basil leaves, for garnish (if desired)
Dressing:
2 Tablespoons buttermilk
2 Tablespoons nonfat plain yogurt
2 Tablespoons pesto (my recipe is here)
Chop up the cucumber and toss them in a bowl with the tomatoes, saving a few tomatoes for garnish on top of the salad. Mix up the buttermilk, yogurt and pesto till smooth and then toss the cucumber/tomato mixture with enough dressing to just coat the vegies. Top with feta cheese crumbles, pinons, the reserved tomatoes and fresh basil leaves and serve.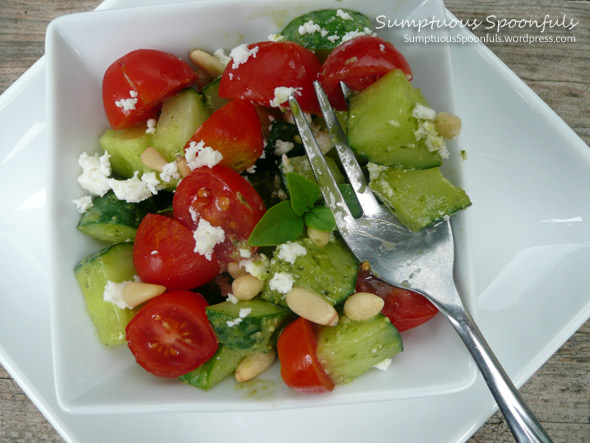 This recipe was shared at Fit & Fabulous Fridays, Summer Salad Sundays and Raw Food Recipes.