Curried Chicken Salad in Crispy Wonton Cups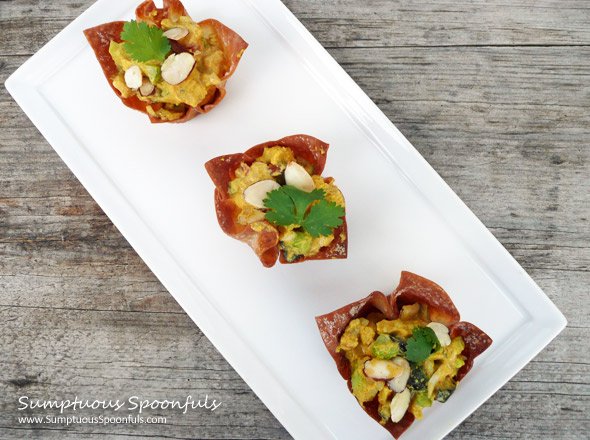 I went to a New Year's Eve party one year, and one of my friends there had brought these amazing little appetizers! They have been stuck in my head ever since … It was a curried chicken  salad with grapes in it, served in these pretty crispy little wonton cups. I asked her for the recipe more than once since then, and each time she would just tell me verbally what was in them … well, I have a terrible memory if I don't write it down (and we never seemed to be close to a pen/paper!), so I finally just made something up that mimics the taste of her lovely appetizers pretty well I think … except mine have a little more kick. If you don't want that extra "kick", use sweet bell pepper in place of the serrano pepper and cut down or omit the Sriracha.
Curried Chicken Salad in Crispy Wonton Cups
Ingredients
12 - 16 wonton wrappers & cooking spray

For the Salad:

1 large cooked chicken breast, chopped or shredded ... about 1 cup of chicken
2 ribs of celery, chopped (about 3/4 cup)
1/3 cup chopped water chestnuts
1/3 cup sliced, toasted almonds
2 Tablespoons finely chopped serrano or jalapeno pepper (or bell pepper if you don't want it too spicy)
1/3 cup chopped onion
1/2 - 3/4 cup chopped sweet, crunchy seedless grapes (I used black grapes, but I think red or green would be fine too)

For the dressing:

1/4 cup Thai Peanut Sauce
1/4 cup plain nonfat Greek yogurt
2 Tablespoons light mayonnaise
1 - 3 teaspoons curry powder (start with 1, add more to taste)
1/2 teaspoon Sriracha or other hot sauce (optional)

To make the Thai Peanut Sauce:

1/2 of a 15-oz. can of light coconut milk
1/4 cup natural peanut butter
1 Tablespoon fish sauce
2 Tablespoons red or green Thai-style curry paste (I had some green open, so I used green, but red would probably be better …)
2 Tablespoons brown sugar
1/2 teaspoon white vinegar
1 teaspoon freshly grated ginger root
1/4 – 1/2 teaspoon cayenne or Sriracha (optional)
Garnish: toasted almond slices and fresh cilantro or parsley leaves
Instructions
Make the Thai Peanut Sauce by whisking all ingredients together in a bowl till smooth. Set aside.
Preheat the oven to 350, spray a muffin tin with cooking spray and put one wonton wrapper in each cup, pushing it down into the cup to make a pretty ruffled cup shape. Spray with cooking spray and bake for 8 - 10 minutes or until they are nicely browned and crisp.
While the wontons are baking, prepare the dressing by whisking together 1/4 cup of the Thai peanut sauce, the greek yogurt, mayonnaise, curry powder and Sriracha (if using) until smooth. Taste and add more curry powder or Sriracha to taste. (Store the remaining Thai Peanut Sauce in the fridge ... use it on noodles or as a unique sauce on pizza or chicken.)
In a small mixing bowl, mix together the salad ingredients. Stir in the dressing to coat all the pieces.
Shortly before serving time, spoon the curried chicken salad into the wonton cups. Garnish with cilantro leaves and toasted almond slices.
Notes
You can make the wonton cups and chicken salad up ahead of time and assemble the appetizers just before the party. Store the wonton cups in a dry, tightly covered container at room temperature. Store the chicken salad in a covered container in the fridge.
The chicken salad can also be eaten as a salad or served with crackers or as a tasty sandwich or wrap.
http://www.sumptuousspoonfuls.com/curried-chicken-salad-in-crispy-wonton-cups/
Copyright 2012 by Sumptuous Spoonfuls. Recipes are meant to be shared! Nothing makes me happier than to hear about someone who has tried one of my recipes. All I ask is that if you are going to share my recipe online, give me credit and a link. And if you want to use one of my photos, please ask first. You can contact me at http://www.SumptuousSpoonfuls.com/contact/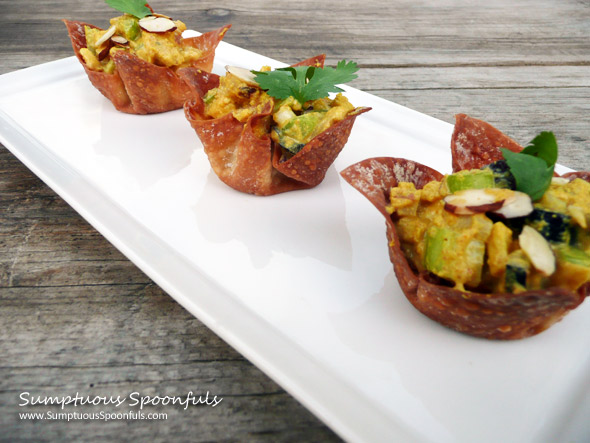 This recipe was shared at Cast Party Wednesday, Tasty Thursdays, Fantastic Thursday, and Gala Extravaganza Dinner Party.