Curried Red Pepper Aubergine Soup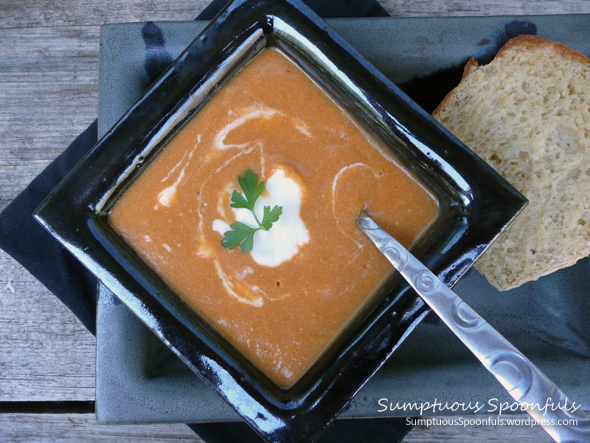 I've been toying with the idea of making a thai-style curry soup with my aubergines … aubergine, isn't that a fabulous word? It sounds so fancy and cultured to me. Usually I just use the word "eggplant", but it doesn't carry the same elegance that these beautiful purple vegetables really deserve.
Anyway, I came home from yoga class the other night STARVING and decided to begin the creation of the Thai curry soup. Somehow thought this would be a quick thing to do … I started up the grill because I'm really loving the smoky flavor from the grill and set a bunch of lovely vegetables on there for their "fire" roasting. Yes, I really did start up the grill just to roast vegetables. It didn't take long to roast them … but then I got busy with other things and with the kids.
Hours later (just before bedtime), I finally sat down to enjoy a cup of my curried red pepper aubergine soup. It's not that the soup really takes that long to make … it's just that … well, I'm a mom … and I'm easily distracted (look! facebook!) … and my kitchen was already a mess so there was a bit of work to do there too … oh well, it got done eventually and I did get a bowl of soup and now I have a delicious soup I can quickly reheat for lunches this week.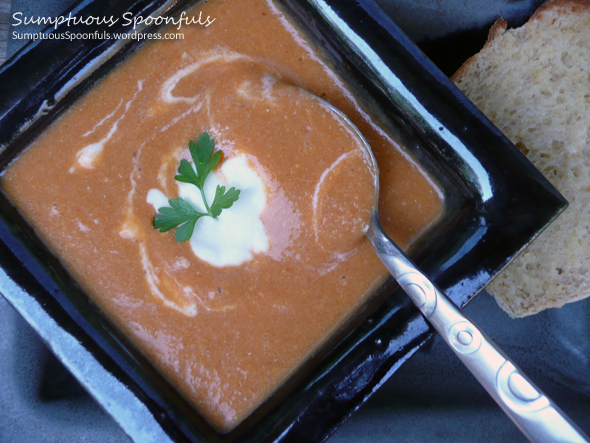 Curried Red Pepper Aubergine Soup
Yields a little over a quart of soup.
3 good-size Japanese Eggplant (the long skinny dark black purple kind of eggplant … or 1 large globe eggplant) … yielding about a cup of eggplant after roasting (a little more or less is fine)
1 red bell pepper
1 hot red pepper (or if you don't want your soup to be spicy, use a bell pepper in place of the hot pepper)
2 cloves of garlic, peeled, chopped
1/2 of an onion, peeled, chopped
2 teaspoons extra virgin olive oil
2 cups of chicken or vegetable broth
1 – 2 Tablespoons Thai red curry paste (to taste)
1 – 2 Tablespoons brown sugar (or other sweetener of your choice … to taste)
1 Tablespoon fish sauce
1 Tablespoon natural peanut butter
1 can light coconut milk
1 teaspoon ground ginger
Garnish: plain lowfat yogurt (or Greek yogurt) and fresh parsley or better yet, cilantro!
Directions:
Poke the eggplant all around with a fork. Light up the grill and when the coals are hot, set the eggplant and the peppers right over the hot coals to roast. (A gas grill would work fine too … you COULD even roast them in the oven if you prefer …) Here's a shot of my eggplant and peppers on the grill. I used these 3 eggplant, the red bell pepper, and one of the hot peppers in this soup. The other two peppers I'm going to put in a salsa (I think …)

You don't want to burn them, but the skins of the eggplant will turn dark and the pepper skins should turn black. Turn the peppers and eggplant over to make sure you roast all sides. The peppers will be done very quickly. Pull the peppers off the grill and let them cool while you finish cooking the eggplant. Cook the eggplant until it is limp and soft.
The peel on the peppers and the eggplant should come right off after roasting. Pull off the peel, chop off the top stems from the eggplant, and put the "good parts" of the peppers and the eggplant in a blender or handi chopper. Puree them until smooth.
In a saucepan, sautee the onion and garlic until the onion is translucent, soft and starting to brown. Stir in the eggplant/pepper paste and the remaining ingredients. Stir everything together till it's well mixed, bring to a gentle boil, then reduce heat to medium low and simmer for 15 – 20 minutes or until the flavors have had time to "meld".
When the soup is done, puree it in a blender (or use an immersion blender). I've heard of people cracking the glass of a glass blender with hot soup, so you might want to let it cool a bit before blending it if you are using a glass blender.
Garnish with a dollop of plain yogurt and a sprig of fresh parsley and serve hot. Store any leftovers in a covered container in the fridge. This soup reheats nicely in the microwave.
This recipe was shared at Cast Party Wednesday, Thursday's Treasures, Foodie Friends Friday, Fit & Fabulous Friday, the Ultimate Soup Recipe Linky and Newlyweds Recipe Linky.