Double Chocolate Banana-Berry Bites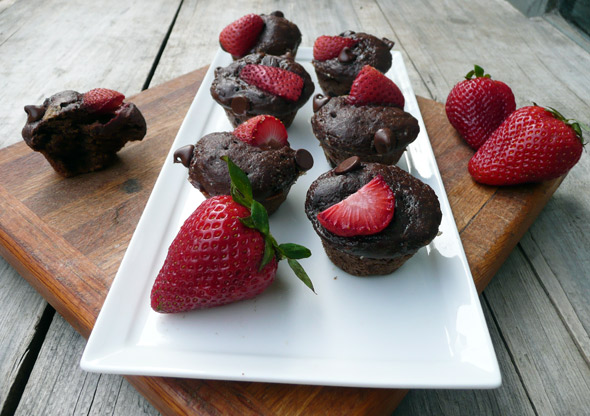 This is my favorite banana bread recipe, chocolatized. With strawberries. My daughter didn't want me to go there. But the chocolate fiend in me just couldn't help it. I was so intrigued with making a chocolate strawberry muffin-ette … I just HAD to have them.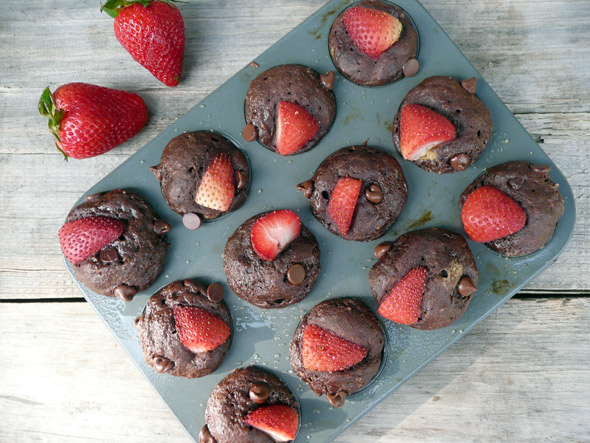 I made my daughter some of our regular chocolate chip banana bread so she would be happy too. She wants to use the berries in crepes. I wonder if they'll last that long … I'm guessing not … strawberries don't last very long at our house.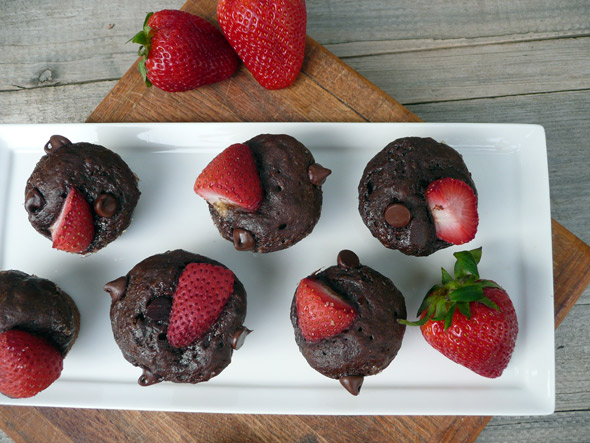 Double Chocolate Banana-Berry Bites
Adapted from Cooking Light
3 mashed ripe bananas (about 1 cup)
1/2 cup sugar
1/2 cup vanilla non-fat yogurt
1/4 cup canola oil
1 egg
2 teaspoons vanilla
3/4 cup all-purpose flour
3/4 cup whole-wheat flour
1/2 cup dark cocoa powder (add more or less, depending on how chocolatey you want your muffin-ettes)
1/4 cup flaxseed meal
1 teaspoon baking powder
1/2 teaspoon salt
1/2 teaspoon baking soda
3/4 cup quality chocolate chips (I used Ghirardelli semi-sweet)
Strawberries, cleaned, tops cut off and halved or quartered
Raw sugar, for sprinkling the tops
Cooking spray
Directions:
Preheat oven to 325°.
In a large mixing bowl, stir together the bananas, sugar, yogurt, canola oil, egg and vanilla until smooth.
Add the dry ingredients and stir until the batter is thoroughly mixed. Stir in the chocolate chips, reserving a few for the tops of your little muffin-lings. If you want, you could add some chunks of strawberry to the batter.
Spoon the batter into mini-muffin pans coated with cooking spray. Top each muffin with a berry piece, sprinkle whatever batter is still "exposed" with a bit of raw sugar, and add a couple chocolate chips.
Bake at 325° until a wooden pick inserted into the center comes out clean, about 20 – 25 minutes.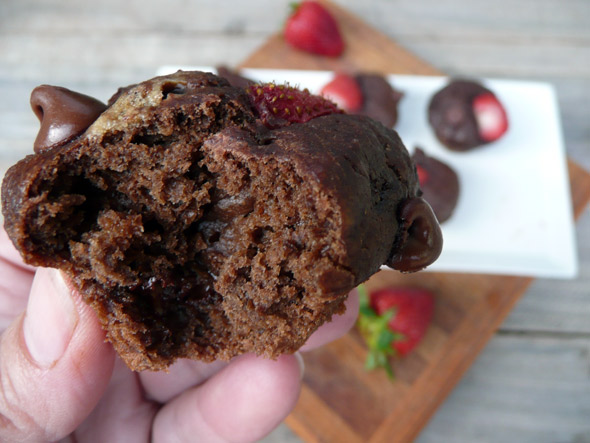 (And oh by the way, if you want some dang good banana bread that's NOT chocolatized or berrified, just leave out the cocoa powder and the strawberries and bake in a 9×5 inch bread loaf pan for about 1 hr 15 min.)
This is a #berrylove post … Powered by Linky Tools
Click here to see all the other wonderful #berrylove posts!
This post was also shared at Thursday's Treasures, Weekend Potluck, Everyday Mom's Meals, Trick or Treat Tuesdays, Totally Tasty Tuesdays, Foodie Friends Friday Chocolate Cupcake Party, Saturday Dishes: Pastries & Baked Goods and A Crafty Cook's April Link Party.