Double Dark Chocolate Ginger Scones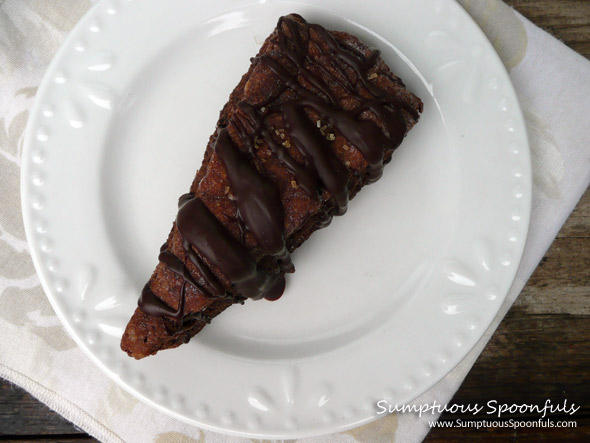 If you have never had chocolate with ginger (not the powdered kind … I mean fresh or crystallized ginger root), you must try this.
There is a market here in town called The Pomegranate Market. I went there for the first time over a lunch hour last week just because I was curious to see what it's like. It was a quaint little market, full of all sorts of interesting things. They have a huge "bulk" section where you can buy everything from flours to snack mixes to herbs and teas … I was really excited about that, but my other favorite section of the store was the chocolate section. It helped that they were having a sale on chocolate, of course, so I bought three bars that really caught my eye: one that was dark chocolate with crystallized ginger, one that was milk chocolate with chai essence and ginger, and another dark chocolate with mint.
I have an ongoing love affair with ginger, but had never tried it with chocolate, and the first two bars (especially, surprisingly, the milk chocolate chai one) really struck me. As I sampled the dark chocolate one, though, over several days, something made me think of scones …
And I wondered, suddenly, why have I never made chocolate scones? The ginger chocolate combination was totally haunting me and I HAD to try it … I got up early to get them in the oven before my shower, took them out, got dressed and did my hair while they were cooling, then I melted the chocolate and did the drizzle right before I left for work. I had to let the drizzle "set" in my car for a bit because it was still totally melted when I got to work, but it worked.
I wanted to get this typed up for you before Valentine's Day as  my Valentine's gift to YOU, my dear foodie friends. I don't have a "Valentine" this year, but this year it's by choice. It's not that I don't want one … I just have more important things to worry about this year. Besides, I have plenty of people to love that love me … that's what really counts. Happy Valentine's Day, my foodie friends!
Double Dark Chocolate Ginger Scones
Ingredients
1 cup all-purpose flour
1 cup good quality white whole wheat flour
3 teaspoons baking powder
1/2 teaspoon baking soda
1/2 teaspoon table salt
1/2 teaspoon ground ginger
1/4 cup granulated sugar
7 Tablespoons dark unsweetened cocoa powder
6 tablespoons chilled butter, cut into little pieces
1 egg
3/4 cup + 2 Tablespoons vanilla yogurt (or plain yogurt)
2 teaspoons finely grated ginger root
1 t. vanilla extract
about 1/2 c. dark chocolate chips
For the top: about 2 tablespoons coarse turbinado (raw) sugar + 1/2 cup dark chocolate chips, melted (to drizzle over the scones)
Instructions
Preheat the oven to 400 degrees. Spray a large baking sheet with cooking spray.
In a bowl combine the flours, baking powder, baking soda and salt. Stir in the ginger, sugar and cocoa.
Add the little pieces of butter and work it into the flour mixture with a pastry cutter or your fingers until the butter chunks are all broken down and the mixture resembles a coarse meal. (I start with the pastry cutter, then I use my fingers--it's messy, but fun!)
In a separate bowl combine the egg and yogurt and mix until blended. Stir in the ginger root and vanilla extract.
Stir the egg/yogurt mixture into the flour mixture and mix until just blended (dough will be soft and wet).
Spray a baking sheet with cooking spray. Turn the dough onto a floured surface and knead lightly 3-4 times. Pat or roll the dough into a circle about 1/2 inch thick. Cut it into fourths, then cut each fourth into three wedges (making 12 scones) and place on the baking sheet. Sprinkle your chocolatey scones lightly with the coarse sugar.
Bake for about 12-14 minutes or until golden brown.
Let the scones cool. Melt the chocolate chips in a double boiler or in the microwave. (Microwave oh high for 1 minute, stir, then for 30 seconds, stir. If still not melted, microwave another 30 seconds and stir again.)
Set the scones on a silicone baking mat or waxed paper and drizzle with the melted chocolate. Let the scones rest until the chocolate is set (unless you don't care if you get melted chocolate all over you ... ) ... once the chocolate is set, heat up a cup of chai or coffee and enjoy 🙂
http://www.sumptuousspoonfuls.com/double-dark-chocolate-ginger-scones/
Copyright 2012 by Sumptuous Spoonfuls. Recipes are meant to be shared! Nothing makes me happier than to hear about someone who has tried one of my recipes. All I ask is that if you are going to share my recipe online, give me credit and a link. And if you want to use one of my photos, please ask first. You can contact me at http://www.SumptuousSpoonfuls.com/contact/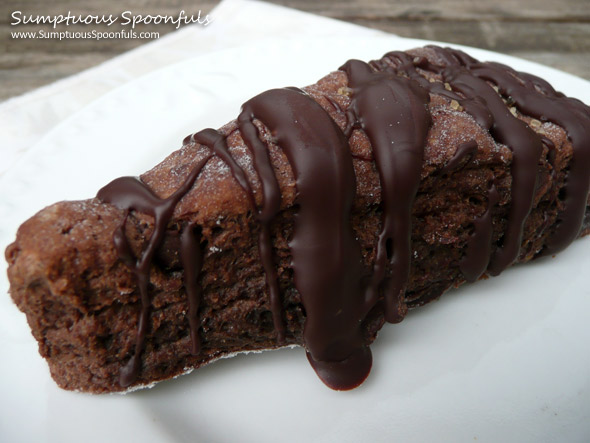 This recipe was shared at Tuesday's Table, Wednesday Extravaganza, Show & Share Wednesday, Tasty Thursdays, Show & Tell Saturdays, Weekend Potluck and Ladies Night.