Elvis' Favorite Muffins
Chocolate, Peanut Butter, & Banana Muffins … with a Peanut Butter Filling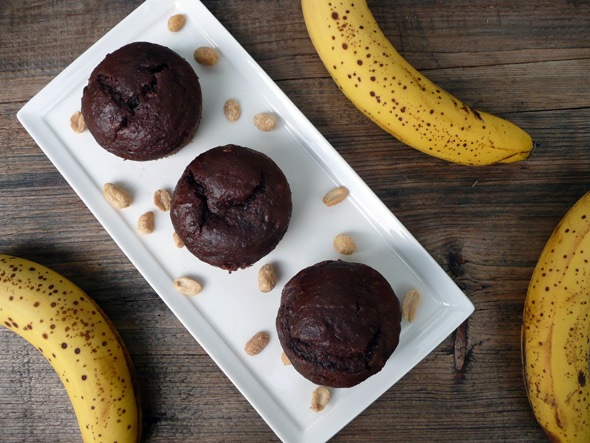 Okay, Elvis never really tried these muffins. But he should have! He would have loved them.
But then again, who wouldn't love chocolate banana muffins with a peanut butter filling? Maybe my mother. She's not into chocolate. I will never ever in a million years understand that. (But I still love you, Mom!)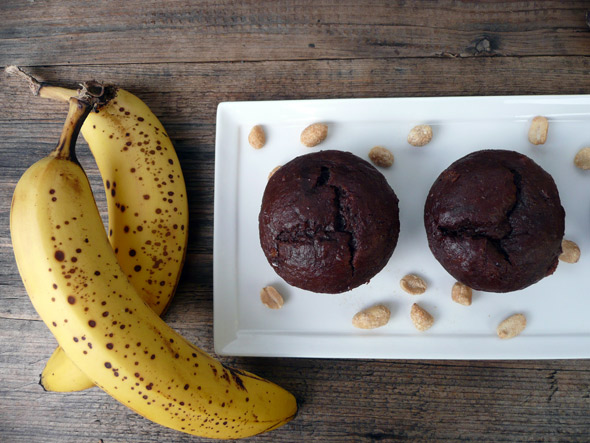 Elvis' Favorite Muffins
Chocolate, Peanut Butter, & Banana … with a Peanut Butter Filling
Makes 18 muffins
3 mashed ripe bananas (about 1 cup)
1/2 cup sugar
1/2 cup non-fat greek yogurt
2 Tablespoons oil
1/4 cup natural peanut butter
1/4 cup lowfat milk (I used 1%)
1 egg
2 teaspoons vanilla
3/4 cup all-purpose flour
3/4 cup whole-wheat flour
1/2 cup dark cocoa powder (add more or less, depending on how chocolatey you want your muffins)
1/4 cup flaxseed meal
1 teaspoon baking powder
1/2 teaspoon salt
1/2 teaspoon baking soda
Filling:
1/3 cup peanut butter
1/4 cup powdered sugar
1/4 cup plain non-fat greek yogurt
Directions:
Preheat oven to 325°.
In a large mixing bowl, stir together the bananas, sugar, yogurt, canola oil, egg and vanilla until smooth.
Add the dry ingredients and stir until the batter is thoroughly mixed.
Mix the filling ingredients together. Add a little more PB or sugar according to your taste.
Spray your muffin pans with cooking spray. Spoon a spoonful of batter into the bottom of each muffin pan to cover the bottom of the muffin. Top with a small spoonful (about a teaspoon) of the peanut butter filling, then cover the filling up with another spoonful of the chocolate batter.
Bake at 325° for about 20 – 25 minutes or until the muffins spring back when touched.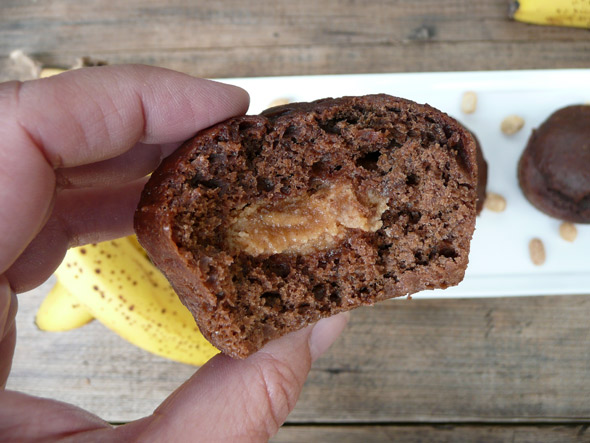 Now … what should I do with these other three bananas? Hmm …
This recipe was shared at Tastetastic Thursdays, Full Plate Thursdays, Foodie Friends Friday Chocolate Cupcake Party and Weekend Potluck.