Fairy Tale Purple Pesto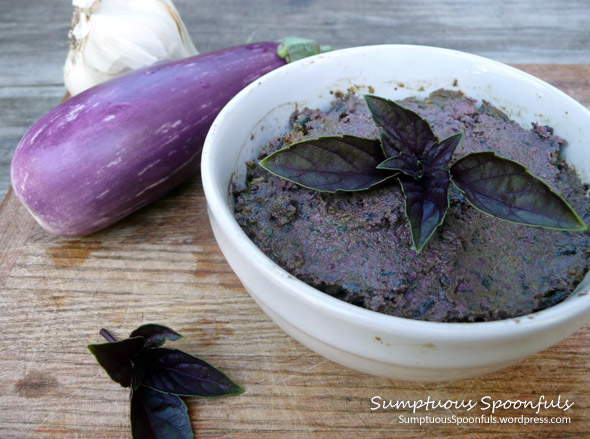 My mother grows both green and purple basil every year. This year she gave me a purple basil plant. Mine grew to about 6 inches tall, enough to snip off a couple leaves or sprigs here and there to season a dish. Her basil plant grew to the size of a bush.
If you don't trim basil plants, they will go to seed and die, having finished their purpose in life. If you trim them, they grow bigger. I went out to trim Mom's basil plants for her and came in with quite enough basil to make pesto. So I put it in a bag, stuck it in my cooler, brought it home and decided to make purple pesto.
In my box of goodies from the garden, I also had some of these pretty purple Fairy tale eggplant, and since it IS purple, I thought that would be lovely in the pesto. As I was blending up the pesto, it was a bit too thick, so I was looking for a liquid to thin it so that I didn't have to add too much oil (I want my pesto to be lower in fat too!) and wouldn't ruin the color. It just so happens I had a bottle of red wine sitting there, so I added a bit of wine too.
I'm freezing my purple pesto for safe keeping. I have plans in my mind to make purple pizzas and purple pasta, purple pesto salad dressings and purple pesto potatoes.
Have I mentioned that my favorite color is purple?
Purple Pesto
6 cups of purple basil leaves
1/3 cup pinons (pine nuts)
1/3 cup almonds
1 cup shredded asiago cheese
1/3 cup olive oil
5 cloves of garlic, peeled
1 small fairy tale eggplant, roasted (or 1/2 cup of a larger eggplant)
1/3 cup dry red wine
Slice the eggplant lengthwise, set it on a baking sheet and roast it in the oven (or toaster oven) at 350 for about 10 minutes or until it's tender. Cut it up into chunks and measure it. You should have about 1/2 cup of eggplant.
In a blender or food processor, blend up all the ingredients until you have a fine puree. Whatever you are not going to use immediately, freeze in small containers or ice cube trays.
Use this purple pesto just like you would any other pesto: mix with some pasta water and toss with pasta, spread it on pizza or sandwiches or little toasts.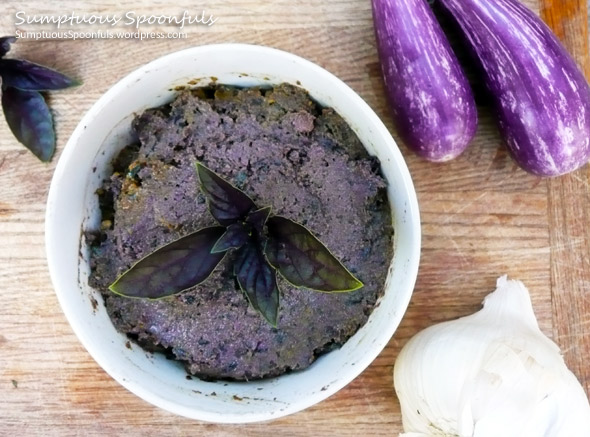 This recipe was shared at Talent Show Tuesday and Cast Party Wednesday.