Favorite Flavors of 2017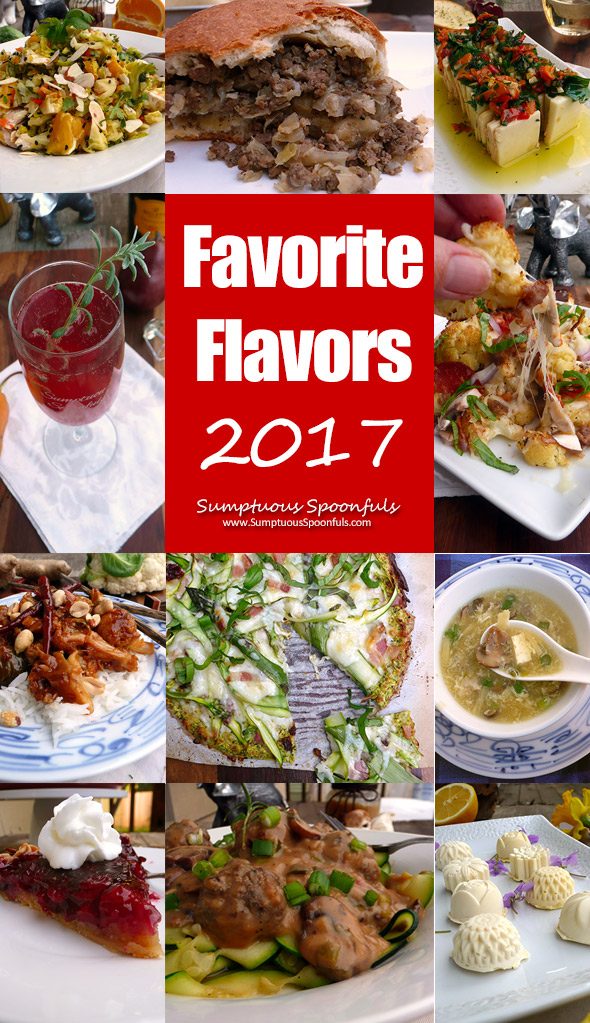 It's New Years Day. a time of looking forward and reflecting back on the past year. 2017 was a really good year for me. I went to yoga teacher training from July through November. I had to put blogging … and a lot of other things in my life … on hold while I did that.
It was hard, but SO worth it. It wasn't just learning about yoga, it was a journey into myself and how I connect with the world around me. I discovered so much more than the poses. We studied, discussed, cried, laughed, shared things from inside ourselves that we didn't even know were there. I discovered my voice and a sense of inner trust and confidence that I never had before. I've come out of it with a sense of joy and wonder in the world and everything around me.
Culinarily, I grew too. Let's travel back in time for a culinary tour of my 2017 …
In January, my kids made me a wine-apple for my birthday. It was the first time in their lives that they took the initiative to create a present for me (rather than choosing something for me while we were out shopping … that I bought for myself as a present from them). They wanted it to be a surprise … they were going to go over to their dad's house to make it, but things didn't work out and we ended up making it at home. I told them that's okay, this way I got to experience the creative process, take pictures and share it with all of you. (Click on any of the pictures below to see the post.)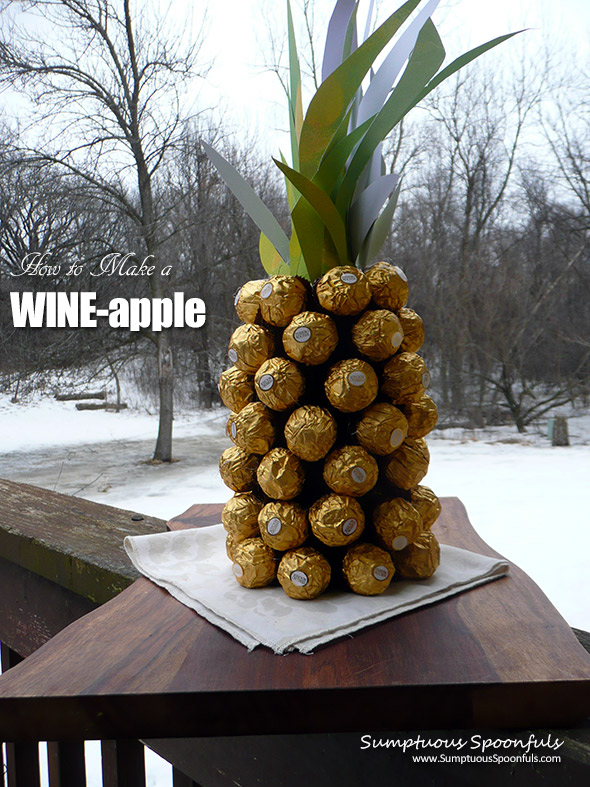 2016 was the year I lost 20 lb. and in 2017 I was determined to keep it off, so I kept looking for ways to eat light and still enjoy food. I learned that cauliflower is so amazing for lightening up dishes without sacrificing flavor, like in this Kung Pao Cauliflower. We made it for a cooking class and everyone LOVED it. In fact, at the last class I did, someone remarked that this was one of the best we've ever done.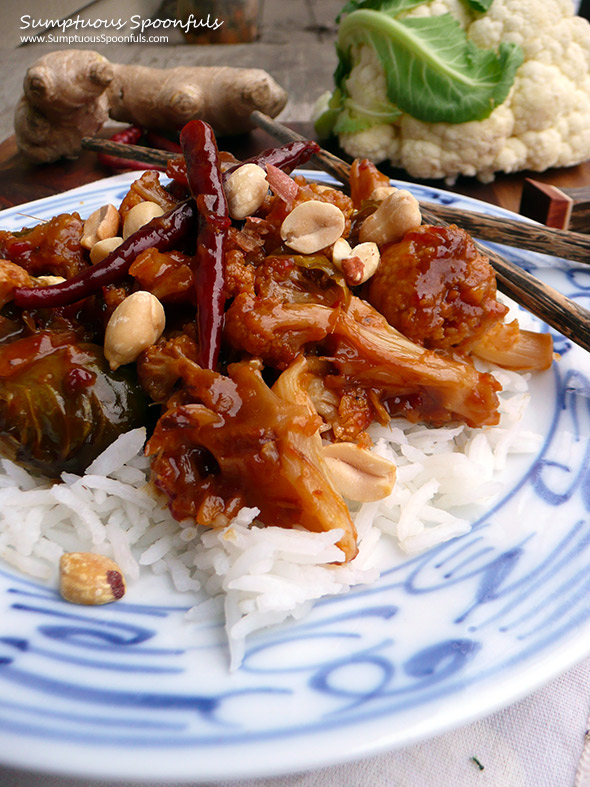 I also made Italian Cauliflower Nachos! Oh those were gooood.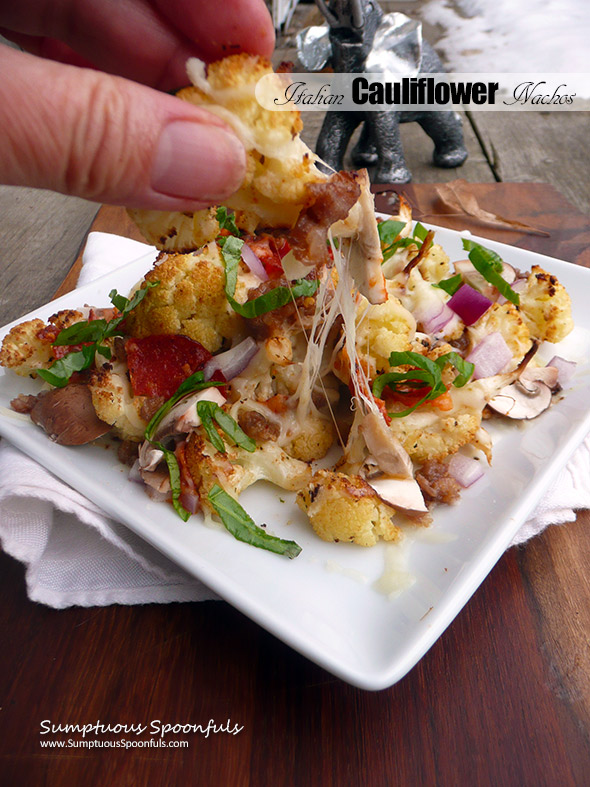 I discovered too that cauliflower is great for lightening up Spinach Artichoke Dip! You still get that creamy goodness from the richer dips, but the calories are greatly reduced and seriously, you wouldn't even know the cauliflower is there. AND I made Cashew Shrimp Cauli-fried Rice. Nom nom nom.
Okay, enough about cauliflower … let's talk about cocktails.
In 2017 I played with lavender in cocktails. I created this Lavender Pear Bellini that is seriously so amazing. I keep going back to it again and again for celebrations because it's so easy and so good. The syrup for the cocktail is produced by way of poaching pears in wine, and if you've never experienced a poached pear, you are in for a treat!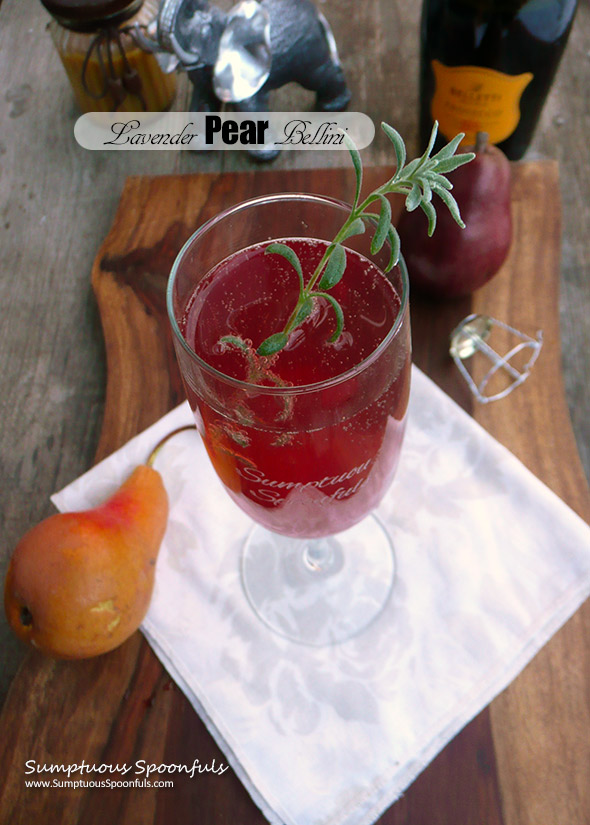 I also made a blueberry lavender syrup that made it's way into a lovely Blueberry Lavender Rum Fizz … and some Blueberry Lavender Limoncello that I gave my sister for Christmas.
Then I played with the flavors of spiced rum and mango nectar. This Spicy Mango Dark & Stormy was delightful! I received the lovely mug from Gifts.com.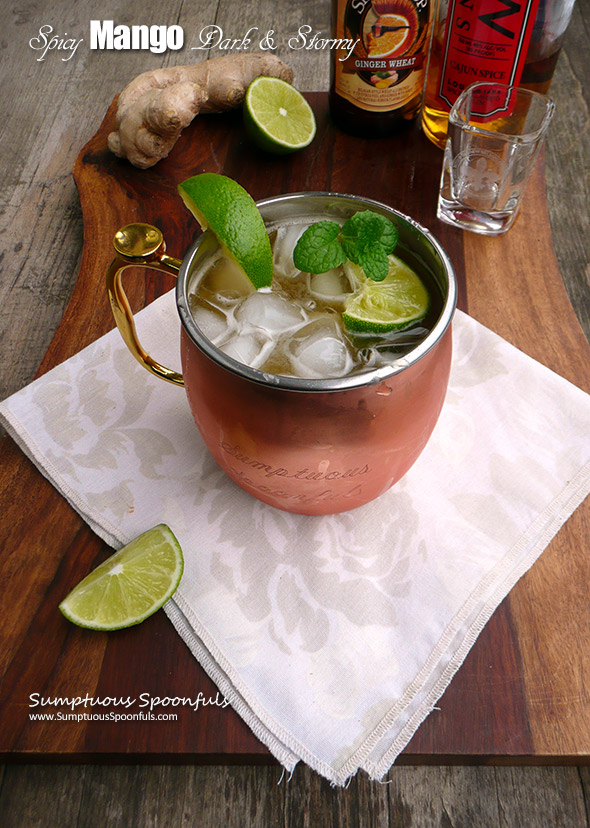 … and that spicy mango flavor was so good, it also made its way into a Spicy Mango Passionfruit Hurricane for Mardi Gras.
Speaking of Mardi Gras, I also made Eggplant Pontchartrain for the occasion. It was a recipe I was dying to try after seeing it on the menu when I was in New Orleans, but I just didn't have time to try everything I wanted to eat in New Orleans, so I made it at home. It was fabulous!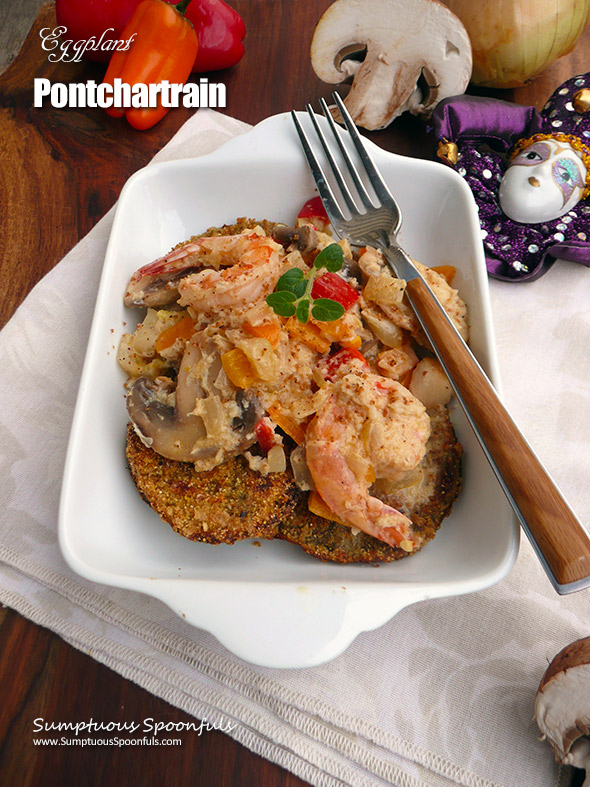 I also went on kind of a meatball kick in 2017. It started with Sausage White Cheddar Spinach Balls, and then I made "meatballs" out of mushrooms with zoodles: Mushroom Parmesan Meatballs. That was yummy, so then I decided to take that concept and add some actual meat and so my Mushroom Ricotta Meatballs were born.
Then I had leftover meatballs and I was getting a little tired of spaghetti and meatballs so I made a meatball stroganoff that was super popular … and super easy!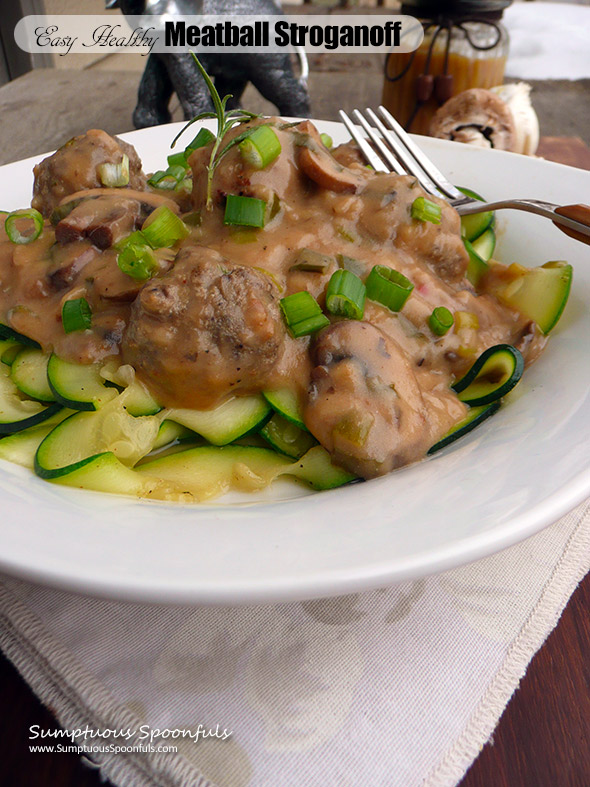 My kids got tired of the same old chicken dishes that we always make, so we tried this Lemon Garlic Butter Chicken from Moore or Less Cooking. It was SO good!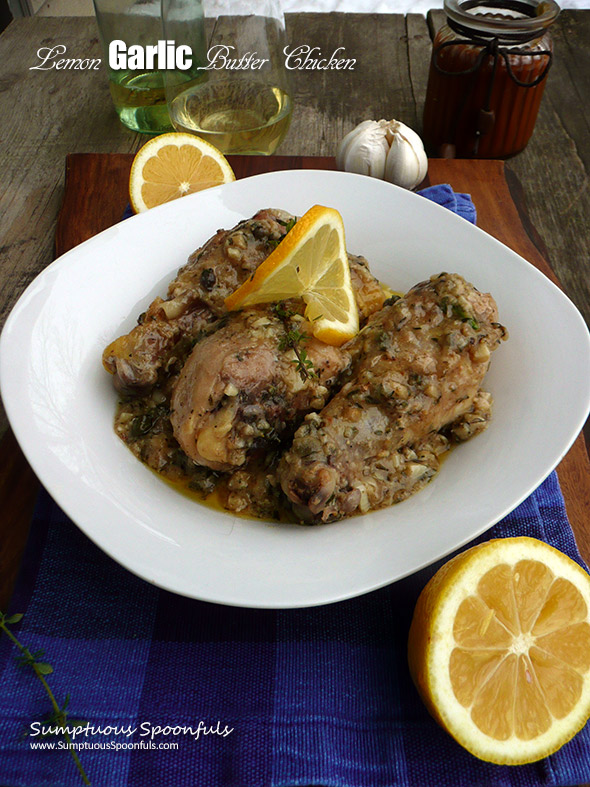 I also discovered Runzas for the first time in 2017. If you don't know what a Runza is, it's a Nebraskan pocket sandwich filled with a beef/cabbage mixture. Nebraskans are kind of fanatical about them. After making them, I was too! And then we made Runzas for a cooking class. I provided the dough and the beefy cabbage filling and lots of fun toppings and then I sat back and watched as everyone topped their own runza. I also gave each person a little piece of dough to put on the top to identify their runza when it came out of the oven. Some people did their initial, some did a symbol, and one person made an adorable little teddy bear! I made a mistake that day, though. When I divided up the dough for the 12 participants, I forgot about myself! When I pulled the runzas out of the oven and everyone was eating theirs, I was insanely jealous. It's a good thing I had a runza in the freezer that I could heat up for myself.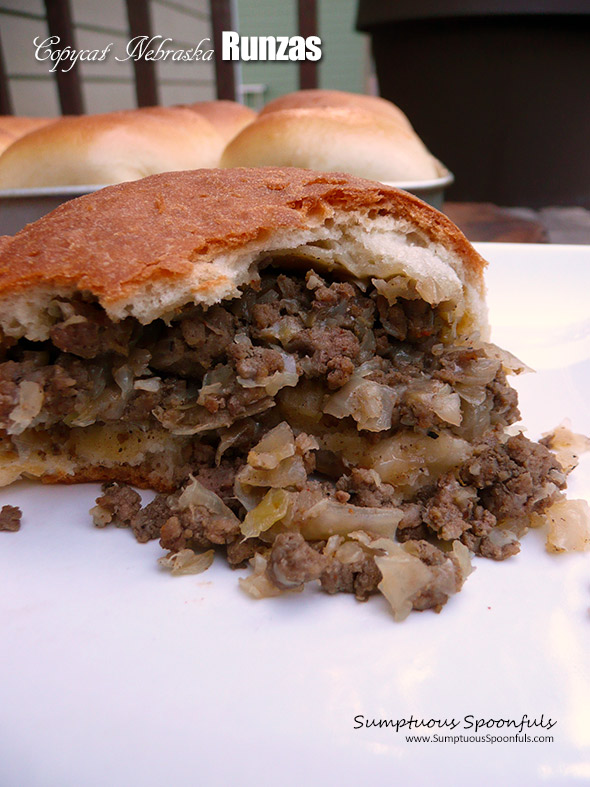 I reunited with my love for pizza in 2017 when I discovered a spinach crust! 300 calories for the ENTIRE pizza! And then I tried making a zucchini crust and that was even better, especially when topped with bacon, sun dried tomatoes and asparagus ribbons in THIS beauty: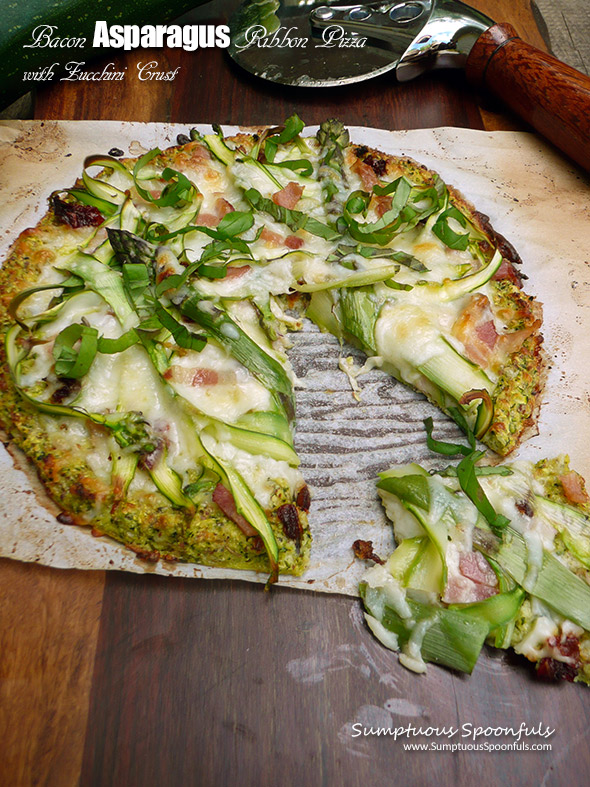 I was so in love with pizza that I decided to do a cooking class on grilled pizza, which is where I put together my Spinach Artichoke Sun Dried Tomato Pizza. It then found its way onto the menu for our Wine & Design event (along with several other more boring pizzas) and was a huge hit with the pizza lovers. One of my eaters said it was the best pizza she'd ever tasted.
Oh and there were salads! Such lovely salads. This Asian Orange Chicken Brussels Sprouts Salad was a favorite for me and all my salad-eating yoga friends.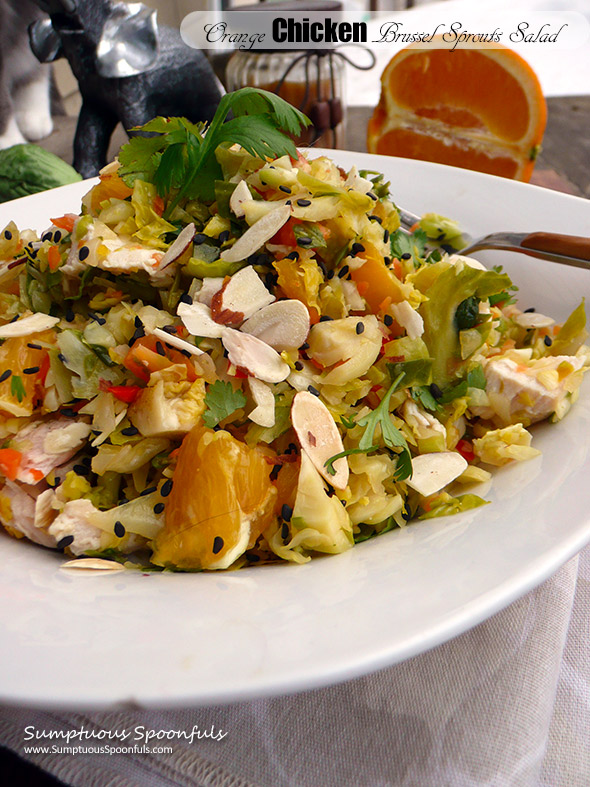 I also fell in love with Spiralized Rainbow Pad Thai, Shrimp & Smoked Salmon Sushi Bowl, Lemony Asparagus and Kale Quinoa Salad with crumbled feta and toasted pecans, Bacon Asparagus Sun Dried Tomato Salad with Bacon Ranch (oh my gosh that bacon ranch! I could practically drink that stuff) and this Shrimp & Roasted Asparagus Salad with Lemon Avocado Crema.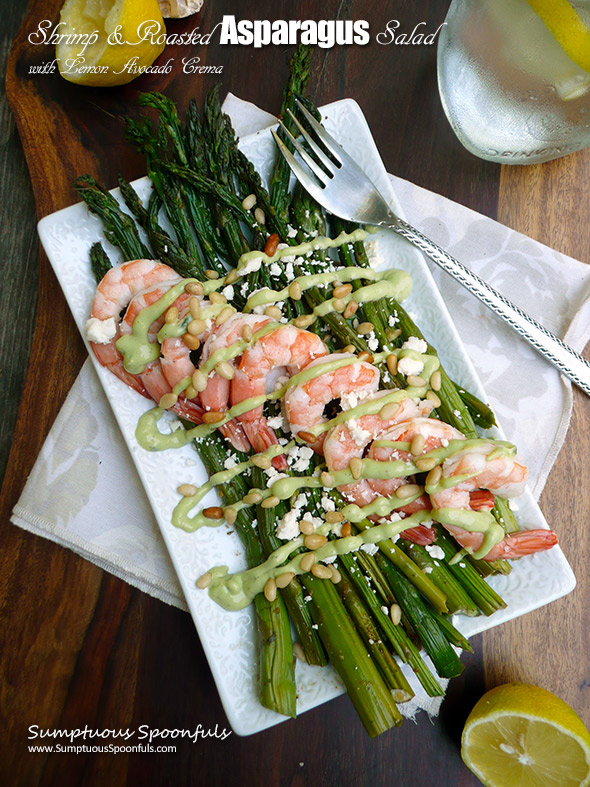 Oh and then there was the Cheesy Bliss Salad that spoke to the cheese lover in me with lots of different marinated cheeses and my sister's Holiday Quinoa Kale Salad with apples, dried cranberries, toasted pecans, pomegranate arils and a light white wine vinaigrette.
For little bites this year, I munched on Honey Orange Thyme Marinated Cheddar, Marinated Havarti and Festive Marinated Cheddar (have I mentioned I love cheese?).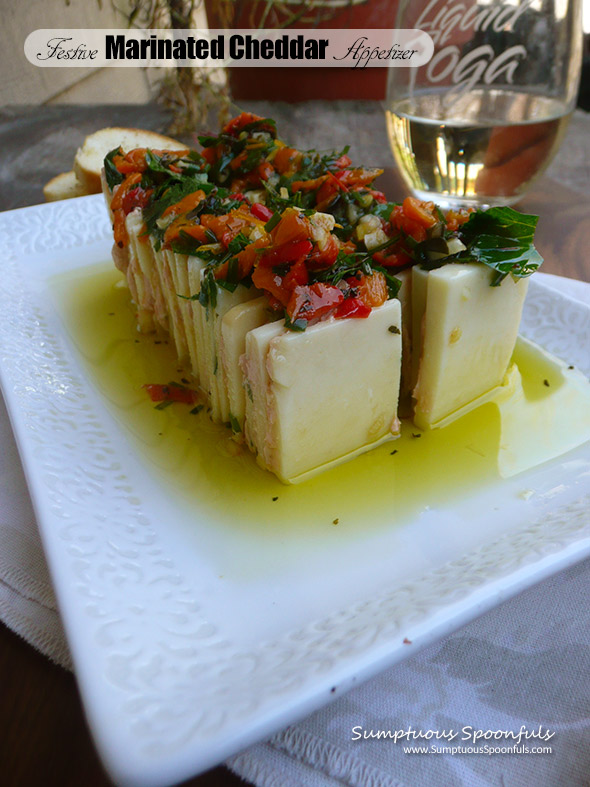 And fries! I made baked Sriracha Ranch Asparagus Fries (SO good!), Hushpuppy Chicken Nuggets with Pineapple Voodoo Sauce, Green Bean Fries, Curly Zucchini Fries (are you sensing a theme here?) and some delightful Zucchini Bruschetta.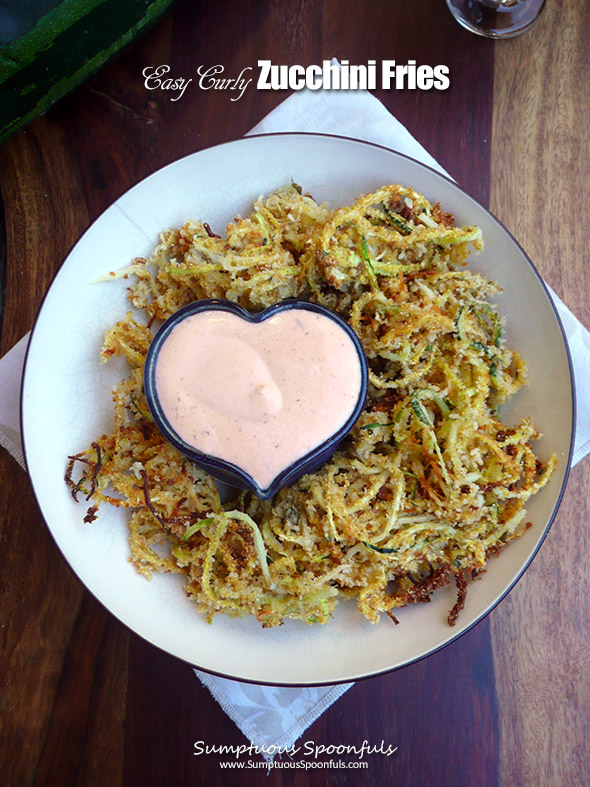 Oh and there was an amazing Peach Avocado Salsa! And Bacon Dill French Onion Dip. Mmmm …
Let's not forget my other love: Soups. In 2017, I made Smoky Broccoli Beer Cheese Soup, Chinese Hot & Sour Soup (so easy to make … and SO good!) and White Cheddar Broccoli Potato Soup.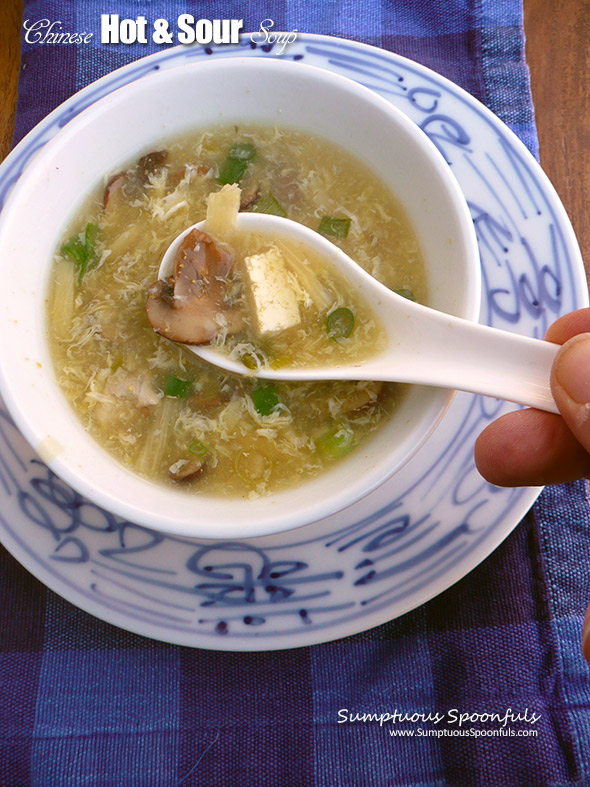 Then there was Ham Bone & Chickpea Soup, Louisiana Seafood Gumbo, Sherried Tomato Basil Soup, a hearty Smoky Supper Soup and my year-end masterpiece: Feast of the Seven Fishes Chowder.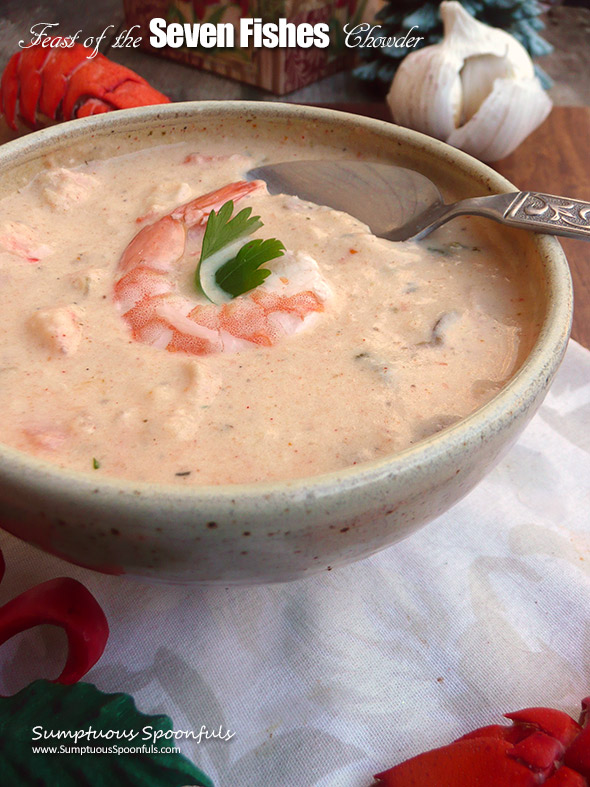 And last but not least, dessert! Oh I had fun with desserts in 2017. For Pi Day, there was a pretty Lemon Blueberry Meringue Pie (for me), a Wild Blueberry Pie for my daughter, the BEST Pumpkin Pie ever for my son, Chocolate Irish Cream Mini Cupcakes with Bailey's Cream Cheese frosting (that frosting was SO good!)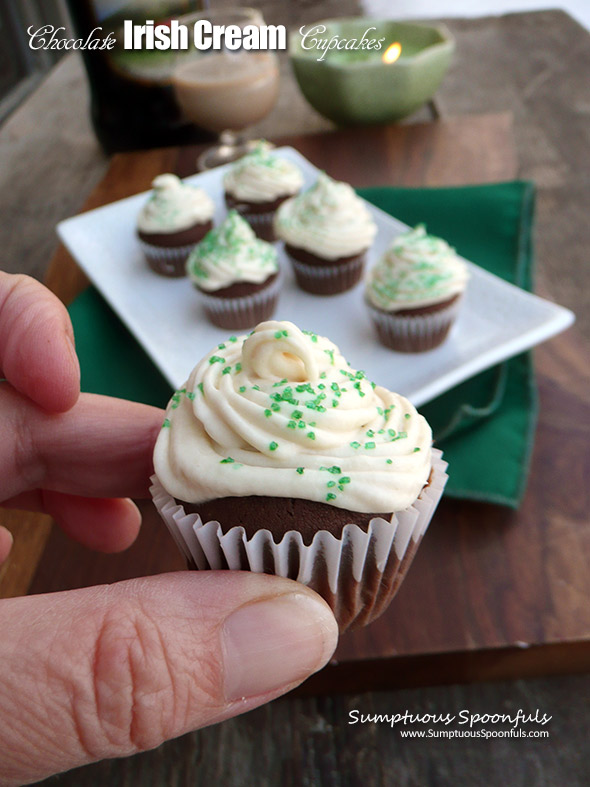 And I made Jeri's fabulous Almond Torte which I just adored, Lemon Cream Cheese Truffles (so pretty!), Blueberry Lavender Truffles (cuz, you know, blueberries and lavender are awesome together), Blueberry Rhubarb Crisp (surprisingly wonderful … and such a gorgeous color), Red White & Blue Berry Cheesecake Bites for the 4th of July, and a stunning Apricot Blueberry Coffee Cake.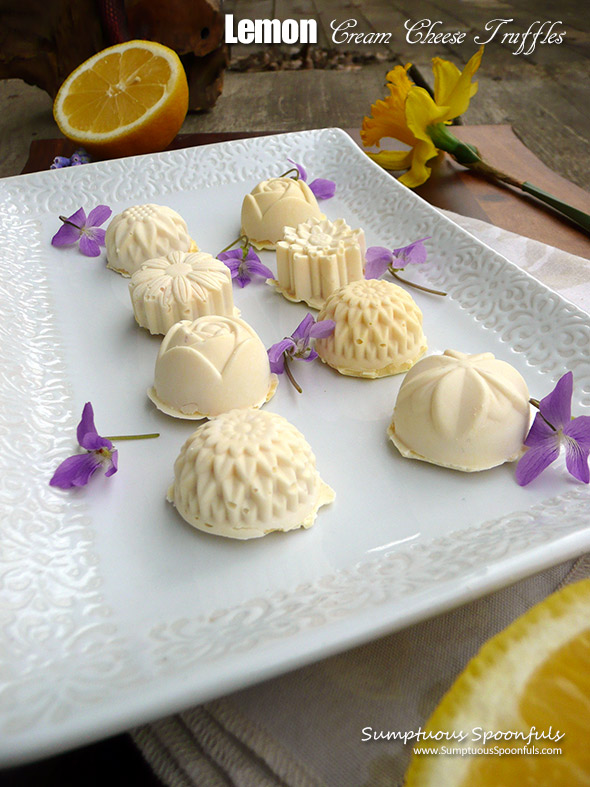 I got a surprise gift of sour cherries from my friend's mom's cherry tree, so I made Maple Cherry Galette with Ginger Frangipane and a sumptuous Brandied Cherry Sauce.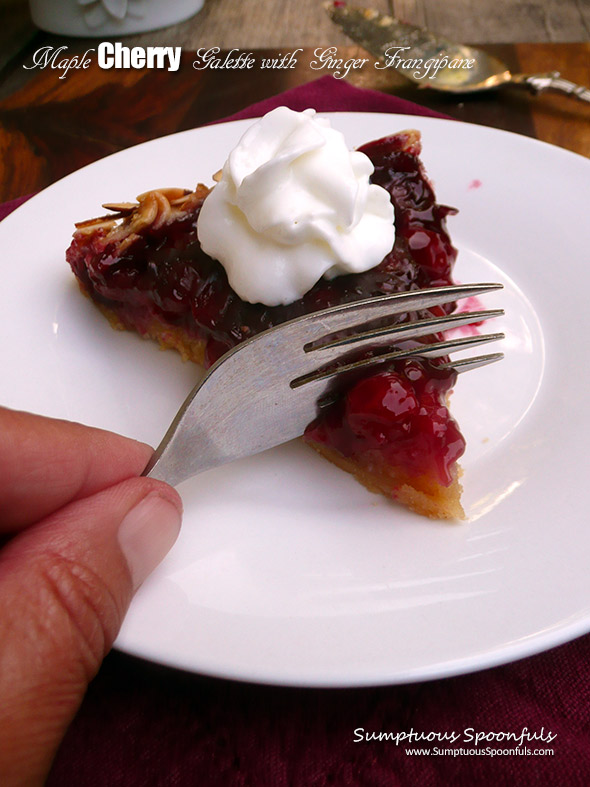 I almost forgot about the Peanut Butter Zucchini Cake that everyone raved about when I brought it to work! And the Limoncello Apple Pie that my kids both loved. Friends, family and coworkers loved the Autumn Bliss Savasana Bars and the melt in your mouth Peanut Butter Fudge too.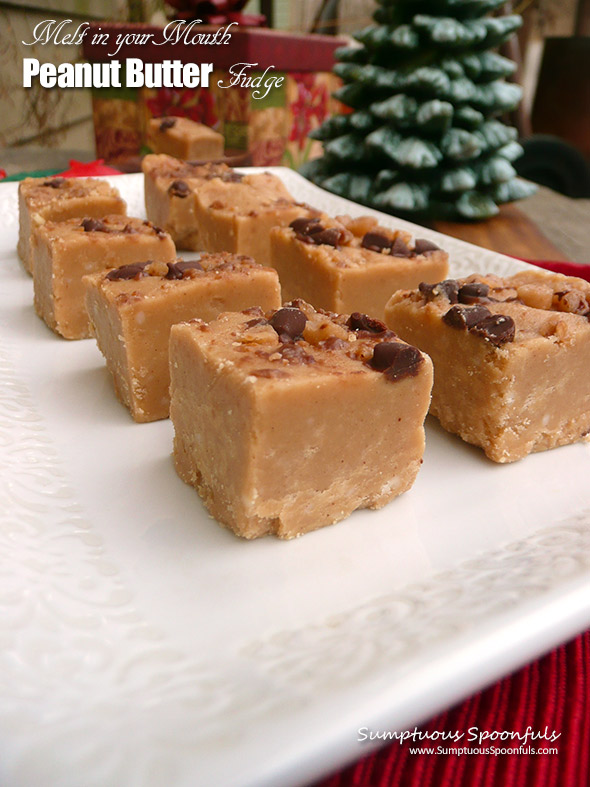 Oh 2017 was such a delicious year. I'm excited to embark on another culinary journey and to begin teaching yoga … and combining my love of food and yoga together. I have plans for yoga dinners and yoga brunches, and yoga with snacks and wine afterwards. I can't wait to see what 2018 has in store!