Fermented Heirloom Tomato Salsa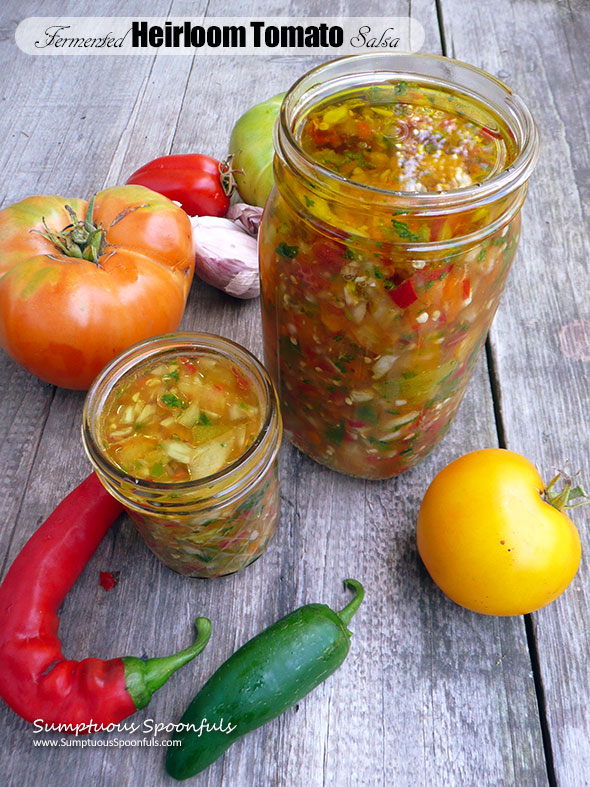 Last month I convinced my parents to come down to visit me. I know they are busy with all of their garden things and grandchildren things and their projects, but I needed their help. They also brought me a big box of lovely veggies from their garden and Dad brought me a container of his fermented salsa. He learned about this from my sister, and he made me taste it. I wasn't so sure I wanted to taste fermented salsa … yeah, I like kimchee, but I'm not into sauerkraut or some of the other fermentations I see. But Dad got it out and made me taste it … and … I LOVED it! This was seriously one of the best salsas I have ever tasted. Dad's salsas are never very spicy … but even though it wasn't spicy, it had such a gooood flavor. The fermentation added a touch of sour and tingle to the salsa that I really loved. It was insanely delicious. I HAD to make this!
To give you a little background on the "why" of fermented foods: my sister is the one who is encouraging all of us to try fermented foods … her husband has some health issues and she makes fermented foods to help with his health. The probiotics in fermented foods act much like yogurt in helping your GI tract stay healthy by contributing to the good bacteria … which also helps just about every other system in your body. Here are a few great "whys" from Wellness Mama if I've not convinced you yet:
Probiotics– Eating fermented foods and drinking fermented drinks like Kefir and Kombucha will introduce beneficial bacteria into your digestive system and help the balance of bacteria in your digestive system. Probiotics have also been shown to help slow or reverse some diseases, improve bowel health, aid digestion, and improve immunity!
Absorb Food Better– Having the proper balance of gut bacteria and enough digestive enzymes helps you absorb more of the nutrients in the foods you eat. Pair this with your healthy real food diet, and you will absorb many more nutrients from the foods you eat. You won't need as many supplements and vitamins, and you'll be absorbing more of the live nutrients in your foods.
Budget Friendly– Incorporating healthy foods into your diet can get expensive, but not so with fermented foods. You can make your own whey at home for a couple of dollars, and using that and sea salt, ferment many foods very inexpensively. Drinks like Water Kefir and Kombucha can be made at home also and cost only pennies per serving. Adding these things to your diet can also cut down on the number of supplements you need, helping the budget further.
Preserves Food Easily– Homemade salsa only lasts a few days in the fridge- Fermented homemade salsa lasts months! The same goes for sauerkraut, pickles, beets and other garden foods. Lacto-fermentation allows you to store these foods for longer periods of time without losing the nutrients like you would with traditional canning.
Some of my friends that I've told about this method of making salsa have wondered "what about botulism?" … I didn't have an answer at the time, so I looked it up and discovered that, although botulism is very rare even in canned foods, it is almost unheard of in fermented vegetables because fermented foods specifically create an environment where botulism does not grow. Read the article here to learn more, but here's an excerpt:
Fermenting foods creates an environment that is antagonistic to botulism. It's what scientists call "competitive exclusion." Beneficial bacteria begin to acidify the food, a condition C. botulinum doesn't like. Adding salt to a ferment also reduces C. botulinum's ability to grow, and encourages beneficial bacteria to take over. There are also other "competitive factors" that beneficial bacteria and fungi create in smaller quantities to exclude pathogenic varieties.
It's insanely easy to make this salsa and something I really love about it is I can make it on my countertop! Just leave it sit on your counter for 1 – 3 days, until it gets to the level of sourness that fits with your tastebuds. Personally, I like about 1 1/2 days worth of sour.
Make sure to use canning and pickling salt, not iodized salt, in this recipe. That's important for the fermentation process.
Fermented Heirloom Tomato Salsa
Ingredients
1 medium onion, peeled & chopped (about 1 1/2 cups)
1 cup finely chopped hot peppers (or a mix of hot & sweet peppers-I used jalapeno, salsa & carrot peppers)
4 - 6 cloves garlic, peeled & chopped fine
a handful of fresh cilantro leaves, chopped
Juice of 1 lime
2 teaspoons canning/pickling salt or sea salt (NOT iodized salt)
1/2 teaspoon cumin
3 cups fresh mixed garden heirloom tomatoes, chopped
Extra virgin olive oil OR avocado oil
Instructions
Put all ingredients except the oil into a mini food processor and pulse or whir until you have the desired level of chunkiness. I like mine pretty well blended.
Pour into jar(s), leaving a bit of space at the top. Pour oil over the salsa so that it is fully covered by about 1/2 inch of oil.
Let sit on the counter for 1 - 3 days. Taste it each day and once it has reached a flavor that you really love, put it in the fridge.
Notes
This salsa will keep for much longer than normal salsa because of the probiotics in the salsa. I prefer to use avocado oil because it doesn't emulsify in the fridge like olive oil does.
RECIPE SOURCE: http://www.sumptuousspoonfuls.com/
© Copyright 2016, Sumptuous Spoonfuls. All images & content are copyright protected. Please do not use my images without prior permission. If you want to publish any of my images, please ask first. If you want to republish this recipe as your own, please re-write the recipe in your own words or link back to this post for the recipe.
http://www.sumptuousspoonfuls.com/fermented-heirloom-tomato-salsa/
Copyright 2012 by Sumptuous Spoonfuls. Recipes are meant to be shared! Nothing makes me happier than to hear about someone who has tried one of my recipes. All I ask is that if you are going to share my recipe online, give me credit and a link. And if you want to use one of my photos, please ask first. You can contact me at http://www.SumptuousSpoonfuls.com/contact/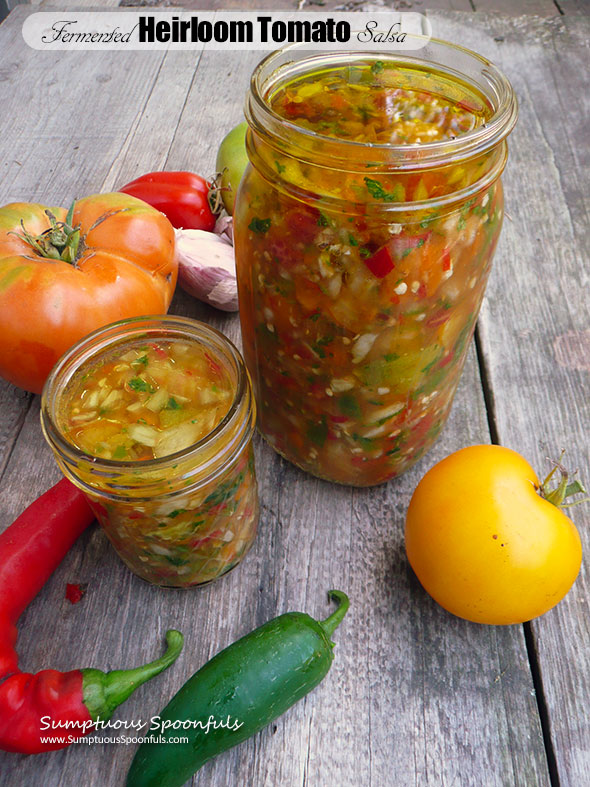 This recipe was shared at Sunday Fitness & Food, Weekend Potluck, Cinco de Mayo Favorites and Hearth & Soul Bloghop.