Feta-stuffed Gyro Burgers
with the World's Best Tzatziki Sauce from Kalyn's Kitchen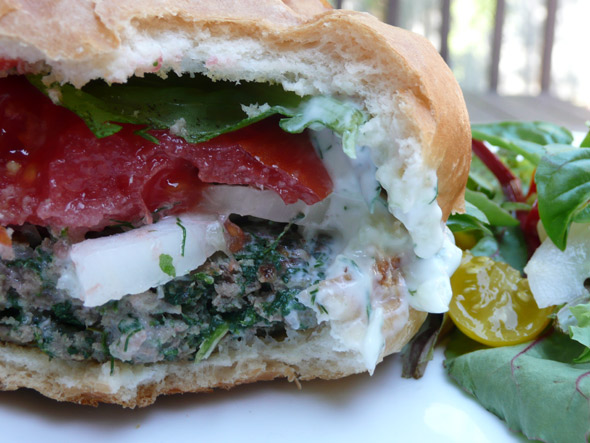 I eat a lot of vegetables and vegetarian-type meals, but every once in a while I need some MEAT. (Coincidentally, that always seems to fall on a Monday, when everyone is trying to eat meatless! … ah well, I eat meatless several times a week, so if I indulge in a burger on a Monday, I figure that's okay.)
My kids and I all love Gyros. And I really really really would love to make traditional Gyro meat, and slice it off the spit in thin strips like the REAL Greeks do … and then toss that on a fresh homemade pita with lots of creamy tzatziki sauce, fresh tomato from the garden and loads of onion. Someday I will do that. Probably with my dad. Because he has the same dream. Yes, my dad and I share foodie dreams. LOL. Maybe we can even get my foodie sister who makes the very best bread ever to make the pita bread.
But in the meantime, I've decided to make Gyro burgers. Much easier than real Gyro meat. You can cook the burgers however you like–the trick is in how you season them.
Really for authentic Greek taste, you should use lamb. I know that. I would love to use lamb. But I just can't. I can't go out and buy meat when I have a freezer-full of venison I need to use. And some grass-fed beef that my dad gave me. In my mind, that would just be wrong. So if you DON'T have a freezer full of venison and other not-lamb kind of meat, please use lamb in these and tell me how it tastes.
I have to say, though: the venison was still pretty gosh-dang delicious in these! So let's get this party started …
Feta-Stuffed Gyro Burgers with the World's Best Tzatziki Sauce
For the burgers:
Mix together the following:
1 lb. lean ground beef (grass fed is best! and make sure it really is lean)
1 lb. lean ground lamb or venison
1/2 t. ground cumin
1 t. dried oregano + several sprigs of fresh oregano leaves, finely chopped
1/2 t. granulated garlic
1 1/2 t. onion powder
3/4 t. coarse sea salt
1 t. Red Robin Seasoning (or seasoned salt)
1 sprig of fresh rosemary, finely chopped
3-4 branches of fresh thyme leaves
Zest of 1 lemon
2 -4 cloves of fresh garlic, peeled and finely chopped
Mix all these lovely seasonings with the meat, then put it in a covered bowl in the fridge for several hours to let the flavors mingle.
While the burger meat is mingling with the spices, go make the tzatziki sauce.
Thaw out 8 oz. frozen spinach in the microwave, then put the spinach on a clean kitchen towel (one that you don't mind getting "green" and squeeze out the excess juices from the spinach. Put the spinach in a handy chopper or food processor and blend it up good so it is in tiny pieces. Then with your hands, mix the spinach into the burger mix. You might notice my burger is overly green–that's because I put the 8 oz. of spinach in just half my burger mix. (I want to use the rest for a moussaka casserole … just wait! You will see this lovely Moussaka very soon …)  You can skip this step if you are afraid of greens, but honestly putting a bit of spinach in your burger will give it extra moisture and flavor and iron and think about this: your salad is right there IN your burger!
Now, take the lovely-smelling burger mix, and make a very thin patty. Sprinkle this patty with feta cheese (I used tomato-basil feta cheese, but I think about any flavor would do), then make another very thin patty.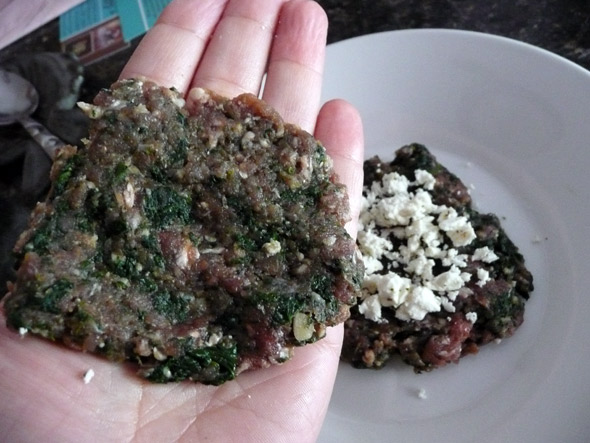 5.  Place the 2nd thin patty on top of the first and press around the edges to seal in the feta cheese.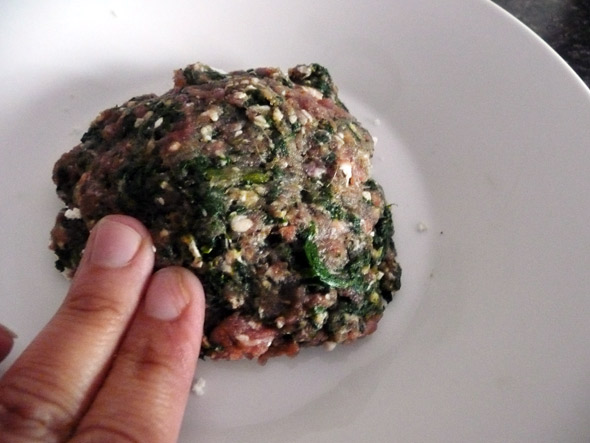 6.  Now cook the burgers however you like to cook burgers. You can grill them on the grill or broil them or even put them in a frying pan and cook them up that way.
7.  Once the burgers are done, there are a couple different ways you can serve them. You can put them on toasted hamburger buns or hard rolls: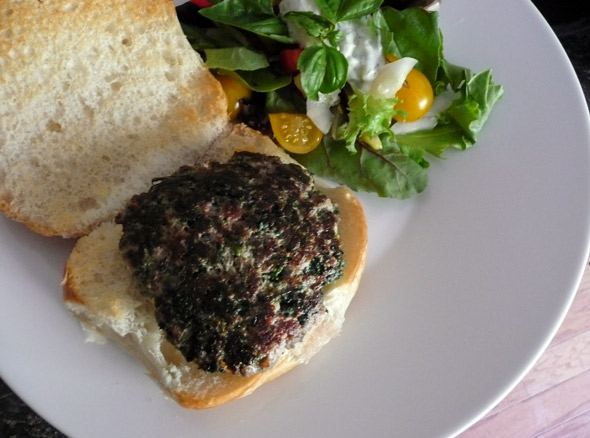 Then top them with tomato, onion, tzatziki and lettuce and try to refrain from taking a bite long enough to take a picture … (I couldn't!)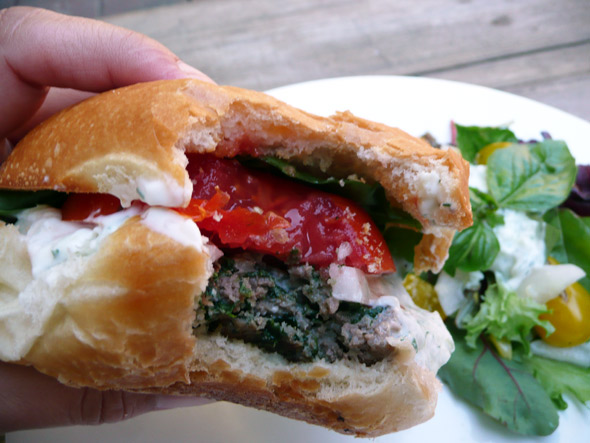 OR you can tuck the burger into a pita pocket and stuff the toppings into the pocket.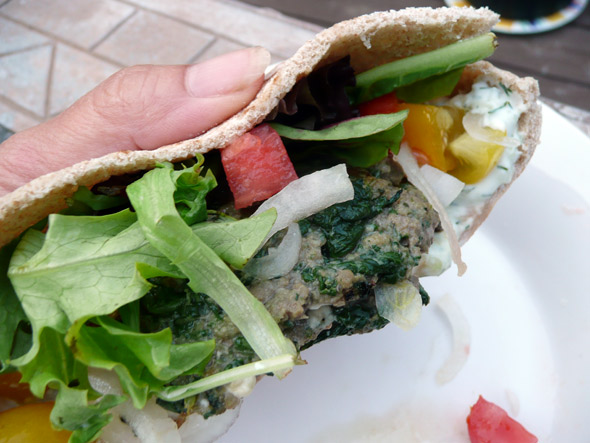 Another way I think you could serve these heavenly Gyro burger things is to make feta-stuffed meatballs, put them on toothpicks and offer the tzatziki sauce for dipping. Perhaps at my next party I will have to serve those …
This recipe was shared at Katherine Martinelli's Meatball Blog Hop.