Flippin' Amazing Barbecue Chicken Salad
with Jalapeno Cilantro Ranch Dressing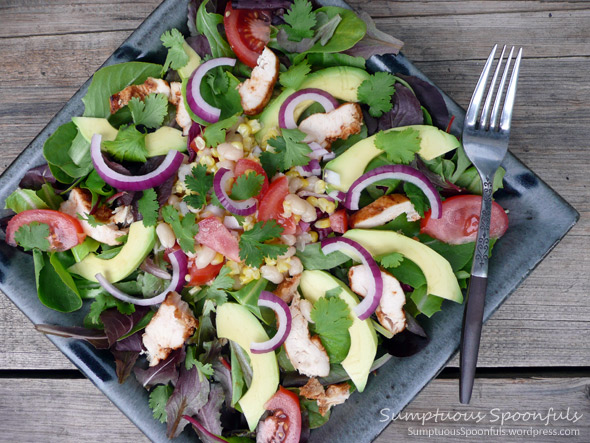 There was this barbecue restaurant in California we used to go to for lunch … I can't remember the name of it, but I could drive right to it if I were there … I know right where it is. They made the most amazing barbecue chicken salad. I think I ordered that salad every time we went there because I can't recall eating anything else there.
I haven't had that salad in years … and I"m not really quite sure why not. I've been back to that area several times. I've certainly had many, many opportunities to MAKE a barbecue chicken salad. I mean, barbecued chicken is one of my daughter's all-time favorite meals!
But today, I am trying to use up things in my fridge. We barbecued chicken last night and this salad just popped into my mind. I actually went to the store and bought an avocado and tomato to make it (and I'm supposed to using up things? hello? what are you thinking?)
Anyway, I took one taste of this salad and I started asking myself why the HELL did I wait so long to make it?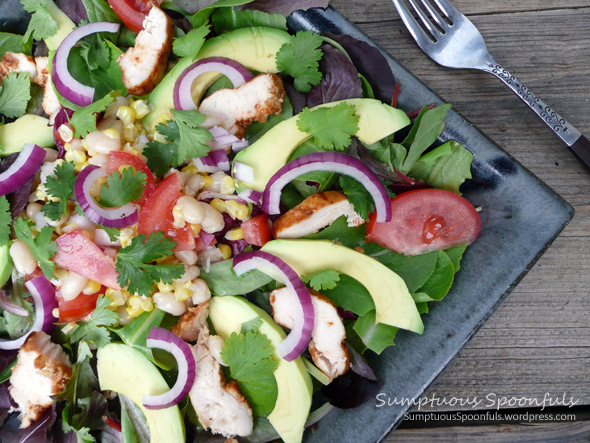 So this is really a two-meal kinda deal: the first night you grill up some mighty fine barbecue chicken. And maybe some asparagus (or corn on the cob!) and grilled cornbread to go with it. Make extra chicken for the next day's meal. Your first meal might look something like this: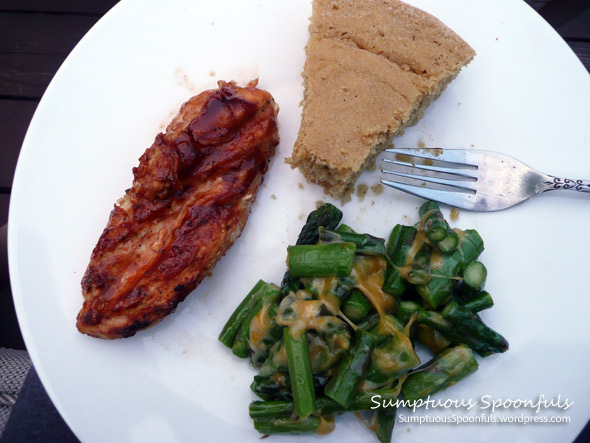 The Moistest Barbecue Chicken Ever
Plain yogurt (I used about a cup for 3 chicken breasts)
2-4 cloves garlic, peeled and finely chopped
1 teaspoon or so of your favorite seasoning mix (I tried some of the Mystic Blue Tandoori Masala Spice mix … ooh that stuff is NICE!)
Uncooked pieces of chicken (last night it was chicken breasts)
Your favorite barbecue sauce (we used Famous Dave's Rich & Sassy BBQ sauce because that's my kids' favorite)
At least an hour or up to a day before you want to cook the chicken, mix enough of the plain yogurt with some garlic and seasonings to completely cover the chicken. Put the chicken in a bowl, pour the spiced yogurt mixture over it and let it marinade in the fridge for an hour or overnight, turning once or twice to make sure you evenly coat all the chicken.
Fire up the grill and put the chicken on. I like to start my chicken over the hot, hot coals and sear it on both sides, "Paint" it with barbecue sauce on both sides, then move it to the side and let it cook till it's done while I cook other things (like the asparagus and the cornbread). The chicken is done if when you cut into it with a knife, the juices run clear and there's no pink flesh left inside. I usually paint the chicken with sauce a couple more times during this process.
Refrigerate your leftover chicken and then on the second day, you can make this amazing salad …
Flippin' Amazing Barbecue Chicken Salad
Mixed greens (or Romaine is nice)
Leftover barbecued chicken, sliced or shredded and heated
Sweet corn, cooked
Beans, cooked (I would usually use black beans, but I had white beans to use up)
Red onion, sliced thin or chopped
Tomato, cut into chunks or wedges
Avocado slices
Fresh cilantro leaves
Shredded Mexican cheese (cheddar, monterey jack, or other … I used a Fiesta blend)
Jalapeno Cilantro Ranch Dressing (recipe below)
A bit of barbecue sauce for drizzling
Directions:
Make the salad dressing and set it aside. Fill your salad bowl or your plate with lots of greens. Heat the beans and sweet corn. Arrange the chicken, red onion, tomato, and avocado over the greens, then add the beans and corn (or make a mound of beans and corn in the center). Sprinkle with cilantro and a bit of shredded cheese. Drizzle with the jalapeno cilantro dressing and a bit of barbecue sauce.
The above pictures were the "civilized version" before I added the shredded cheese and the dressing drizzles. Things get a little messy once you do that … then you dig into the salad and it gets even messier … that's part of the joy of it. Just like any good barbecue, right?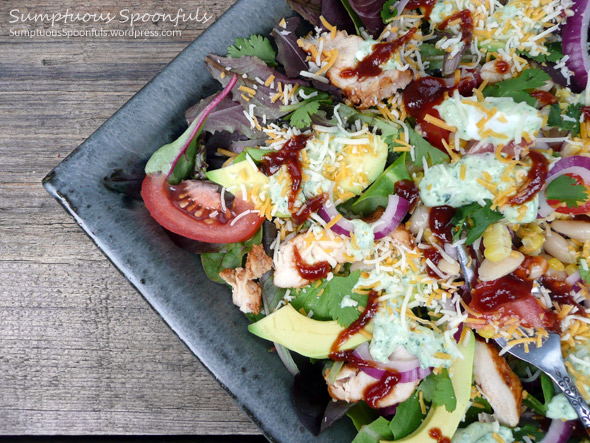 Jalapeno Cilantro Ranch Salad Dressing
Makes about 1 cup of dressing (8 servings/2 Tablespoons per serving)
1/3 c. light mayonnaise
1/3 c. 1% milk
1 clove of garlic
About 1/2 a handful of fresh basil leaves
Several fresh parsley leaves or ½ teaspoon dried parsley
A few fresh dill twigs or ½ teaspoon dried dill weed
1/2 teaspoon onion powder
Several chives
Freshly ground pepper
A sprig of fresh rosemary leaves
3 green onions (tops only)
A handful of cilantro leaves
2 – 3 teaspoons of finely chopped jalapeno
1/4 of a ripe avocado (you could probably even add more avocado if you want …)
1/4 teaspoon salt (Leave out the salt altogether if you want less sodium … I made sure to taste it before I added salt, and it was delicious.)
1/3 c. nonfat greek yogurt
Whir all the ingredients except the yogurt in a handy chopper or food processor until smooth. Stir in the yogurt. Adjust seasonings to taste. Store any leftovers in a covered container in the fridge.
This recipe was shared at Cast Party Wednesdays, Thursday's Treasures, Tastetastic Thursdays, Fit & Fabulous Fridays, and Summer Salad Sundays.