Garlic Buttermilk Mashed Potatoes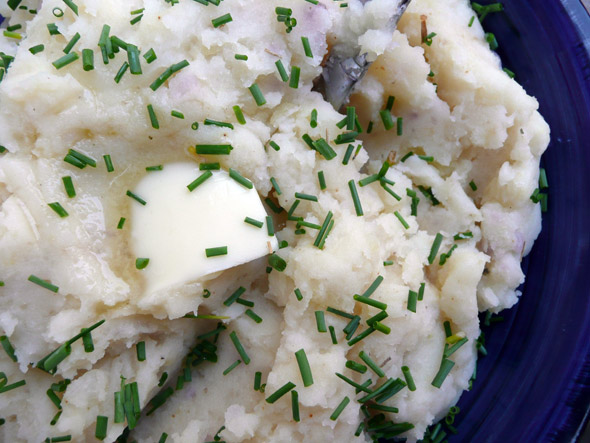 I really really love potatoes. In most any form, but especially mashed or twice baked. At Thanksgiving, I put way more mashed potatoes and stuffing on my plate than turkey (or ham or whatever meat we are having). But my dad always makes the potatoes, it seems, so although I love them (and I have been called upon occasionally to mash them when we are rushing to prepare the feast), I really didn't quite know how to make REALLY good mashed potatoes.
So you can imagine I was totally on top of the world when Tina at Mom's Crazy Cooking chose mashed potatoes for our Crazy Cooking Challenge for November. I SO needed to find and master the killer recipe for mashed potatoes!
I did a lot of searching around, but I didn't want one of those made with tons of cream and butter or fattening cream cheese. I wanted something completely delicious, incredible tasting, very creamy, but yet healthy.
I found the answer at Eclectic Recipes: Buttermilk and Garlic! This is it. Seriously.
Garlic Buttermilk Mashed Potatoes
These potatoes are creamy delicious goodness from Eclectic Recipes. I did scale down the recipe a bit since I was making them for myself, so just add more potatoes, garlic, and buttermilk if you have lots of hungry people to feed!
4 large potatoes (I used 2 large reds, 1 yukon gold, and 1 purple potato)
2 cloves garlic
About 1/2 cup buttermilk (as much as needed for creamy goodness)
2 T. butter
1 teaspoon sea salt or Red Robin Seasoning
Fresh snipped chives (or dried if you have no fresh), for garnish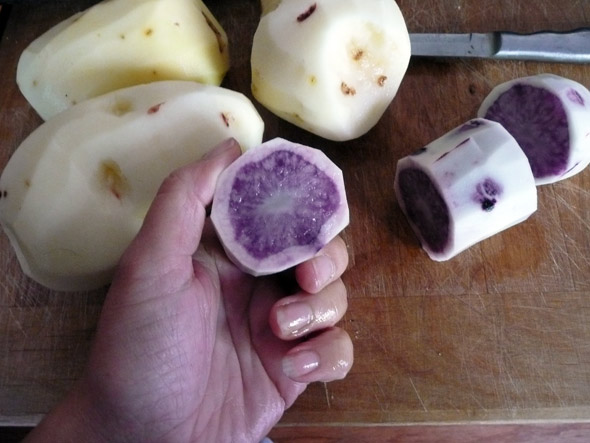 Directions:
Bring a saucepan of water and the kosher salt to a boil. Peel potatoes, if desired. Cut potatoes in similarly sized chunks, and add to boiling water. Make sure the chunks are pretty large. If using small potatoes, just boil whole. Add garlic cloves. Boil the potatoes and garlic over medium heat, until they are very tender and pierce easily with a fork. 
Drain potatoes, and add back to the saucepan. Place the potatoes back on the warm burner, and allow the extra water to evaporate. Mash them up with a potato masher, process in a food mill, or use a ricer. (I had to use my pastry cutter because I don't have a potato masher … can you believe it? But it worked really well.)
When potatoes are mashed, add butter, and stir to combine. Add buttermilk until you get the desired consistency. Season with salt and pepper to taste. Remember not to over mix, or the potatoes can get a glue like consistency.
Top with a small pat of butter and some snipped chives. Watch the butter melt and ooze over the potatoes. Serve to your drooling guests.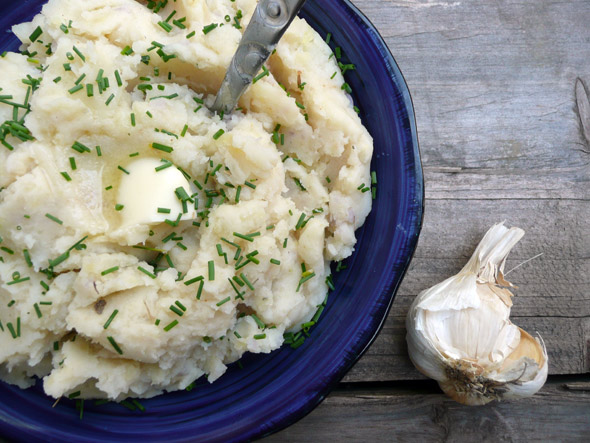 There are a couple other good-looking mashed potato recipes out there I found on my quest for the perfect mashed potato that I would like to try someday as well: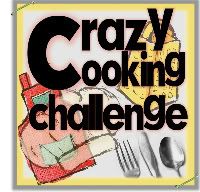 Click here to see the entire list of mashed potato recipes in the November Crazy Cooking Challenge …
This recipe was also shared at Recipe of the Week: Potatoes and Show & Tell Saturday.