Green Chile Cheeseburger Soup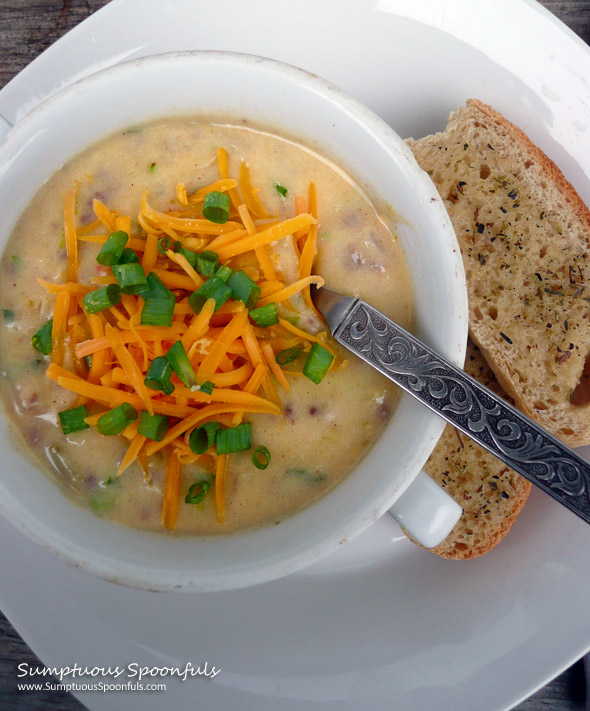 Green Chile Cheeseburgers are one of the delicacies you might come across if you visit New Mexico. I highly recommend them … especially if you happen to find yourself at the original Owl Cafe south of Albuquerque. You may want to make a special trip just for said cheeseburger … I'm just sayin' …
… but it so happens right now, I'm on a little bit of a health kick … I'm trying to exercise more and be good about what I eat. A couple weeks ago, I noticed it was really hard to fit into my jeans … So I'm doing more miles on the treadmill, still going to yoga, drinking more water/less beer, and lightening up most of the foods I eat. This week is going to be hard because we have a lot of special things going on at the office … happy hour Monday, pizza party on Tuesday, then lunch out again on Thursday.
So yesterday I was trying to think of something healthy I could bring to work for lunch on the days we're NOT going out … and I just couldn't quite convince myself to go for something really light, like a salad. My body wanted something more substantial, hearty, meaty. I wondered if I could possibly pull off a light cheeseburger soup? Sure, why not. It's worth a shot, right?
I started with my Baked Potato Soup, added lean ground meat, a few onions, garlic, herbs, some frozen New Mexico green chile from my freezer (along with some other peppers) and voila! Green Chile Cheeseburger Soup. High in protein, calcium, and a good source of iron, vitamins A & C … plus it's low in calories! It's a hearty, healthy meal in a bowl.
Now I'm happy. I can have my cheeseburger … and eat it too 🙂
Green Chile Cheeseburger Soup
Ingredients
2 baking potatoes (about 1.25 lb total), baked or cooked in the microwave until soft
1/2 - 1 lb of very lean ground beef or venison (I used 1/2 lb of venison)
1/2 cup chopped celery stalks, leaves reserved and chopped
3/4 cup chopped onion
1/2 cup chopped sweet peppers
3 cloves of garlic, peeled and chopped
1/3 cup flour
3 cups of lowfat milk (I used 1%)
1 very loose cup of finely shredded extra sharp cheddar cheese
1/4 cup nonfat Greek yogurt
1/4 cup light sour cream
1/2 cup green chile juice (the juices that you find in the container of frozen green chile when you thaw it or canned green chile when you drain it)
1/4 cup chopped green chile
About 2 Tablespoons of finely chopped fresh herbs (I used a mix of basil, oregano, thyme and rosemary - or if you don't have fresh herbs, substitute a teaspoon of Italian seasoning)
2 teaspoons of Red Robin Seasoning
freshly ground black pepper and salt, to taste
For garnish: a bit more shredded cheese and some chopped green onion or fresh herb leaves
Instructions
Start your potatoes cooking. Meanwhile, in a saucepan or soup pot, brown the ground meat over medium heat until fully cooked. Remove the meat from the pan.
If there is fat in the pan when you are done with the meat, pour most of it out, leaving just a tish to sautee the vegies in.
Add the celery, onion, peppers, and garlic and sautee over medium heat until the onion is soft and translucent.
Sprinkle the flour on top of the vegies and stir to coat them all with flour. Pour in the milk and cook over medium heat, stirring frequently, for about 5 - 8 minutes or until the mixture thickens.
Meanwhile, scoop out the flesh from the potato skins, put it in a bowl and mash it roughly with a fork.
Stir the mashed potato into the soup pot, then add the cheese and stir over medium heat till the cheese is melted into the soup. Add the Greek yogurt, sour cream, green chile, and green chile juice and stir until everything is well mixed and hot.
Stir in the fresh herbs and the celery leaves. Spoon into bowls, garnish with shredded cheese and snipped green onions, with some garlic toast on the side.
http://www.sumptuousspoonfuls.com/green-chile-cheeseburger-soup/
Copyright 2012 by Sumptuous Spoonfuls. Recipes are meant to be shared! Nothing makes me happier than to hear about someone who has tried one of my recipes. All I ask is that if you are going to share my recipe online, give me credit and a link. And if you want to use one of my photos, please ask first. You can contact me at http://www.SumptuousSpoonfuls.com/contact/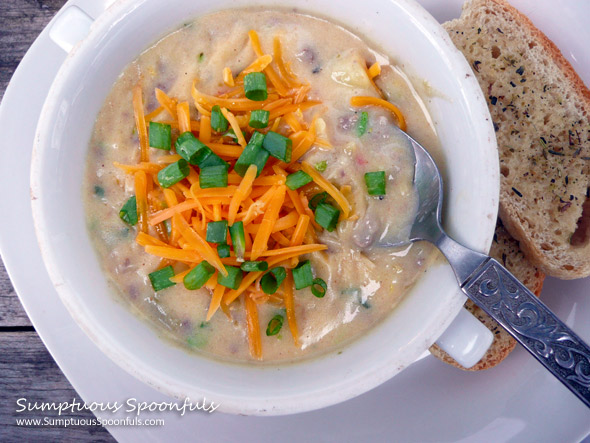 This recipe was shared at Totally Tasty Tuesday, Try a New Recipe Tuesday, Wonderful Food Wednesday, Thursday's Treasures, Tasty Thursday, Show & Tell Saturday, Weekend Potluck, Everyday Mom's Meals and In & Out of the Kitchen.
If you use 1/2 lb of meat (at least 95% lean) and split your pot of soup into 5 servings, it's just 380 calories per bowl, according to About.com's Recipe Calorie Calculator. If you have bigger servings and only stretch it to 4 servings, then it's 475 calories per bowl. (The sodium count is not accurate in the nutrition facts below because the Red Robin Seasoning is not factored into nutrition content.)