Grilled Chicken Stuffed with Eggplant Tarragon Cream
and a Mushroom Cherry Tomato Quinoa Pilaf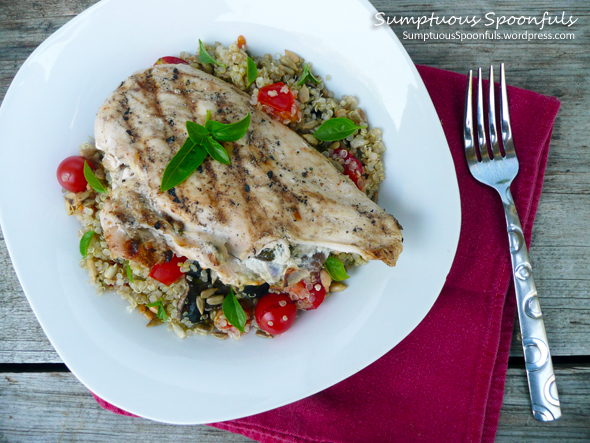 Ever since I made Baba Ghanoush, I've been wondering: what else could you do with eggplant puree? And then I picked up these HUGE chicken breasts at the store and was marinading them in buttermilk for my daughter and I for dinner … and it occurred to me that these babies would be really good stuffed with something wonderful and creamy. Eggplant puree, with cream cheese! and fresh tarragon and basil! Ah yes! How wonderful would THAT be?
Um yeah, completely wonderful … especially when you serve it over a pilaf of nutty quinoa with garlicky sauteed mushrooms and fresh garden cherry tomatoes.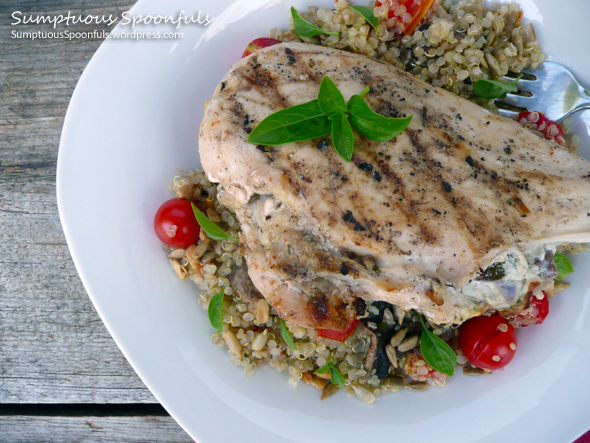 Grilled Chicken Stuffed with Eggplant Tarragon Cream
2 boneless, skinless chicken breasts
Marinade: buttermilk + seasonings
Eggplant Tarragon Cream Filling:
3/4 cup chopped roasted (or grilled) eggplant
2 cloves garlic, peeled
1 oz light cream cheese
About 1 Tablespoon fresh chopped mixed basil & tarragon leaves
Directions:
Put the chicken breasts in a bowl and add enough buttermilk to cover them completely. Add seasonings as you like: I added a couple teaspoons of Mrs. Dash and a couple teaspoons of a basic rub seasoning I like to use. Let the chicken marinade in the buttermilk for at least an hour … I left mine in there overnight.
To cook the eggplant, I took a couple of the little purple tender eggplant from mom's garden, sliced them lengthwise, sprayed them with cooking spray and set on a baking sheet that I'd sprayed with cooking spray. (If you're using a larger eggplant, you probably want to peel it and slice into 1/4 inch slices.) Bake at 400 for about 10 minutes or until the eggplant is soft and tender. Chop the eggplant roughly and toss them into a handi chopper with a couple cloves of garlic, the cream cheese and some fresh tarragon and basil leaves. Pulse to mix it all well and make a good creamy filling.
Now, take the chicken breasts and slice into them horizontally with a small knife, not cutting all the way through so you make a little pocket in each chicken breast. Fill each pocket with half the filling, then close the open end with a toothpick.
Heat up your grill and sear both sides of the chicken breasts on the hot part of the grill, then move them to the cooler part of the grill to cook until they are cooked through.
Serve over a bed of the mushroom cherry tomato quinoa pilaf (recipe below), garnished with a few fresh basil or tarragon leaves.
Mushroom Cherry Tomato Quinoa Pilaf
1/2 – 3/4 cup of mushrooms sauteed with red wine, garlic, and bruschetta seasoning (see my Chardonnay Mushrooms recipe for instructions)
2 cups cooked quinoa
1/2 cup cherry tomatoes
Roasted sunflower seeds
Sautee the mushrooms with a couple cloves of garlic and a splash of red wine like I did with my Chardonnay Mushrooms. Add the hot, cooked quinoa, then the cherry tomatoes and stir gently to mix. Cook for just a few minutes to let the cherry tomatoes heat up. Serve the pilaf sprinkled with a couple tablespoons of sunflower seeds for a nice salty crunch.
This recipe was shared at Cast Party Wednesday, Weekend Potluck, 1 Month of Fun and Talent Show Tuesday.