Grilled Chicken Stuffed with Tarragon Cream
and a Mushroom Cherry Tomato Quinoa Pilaf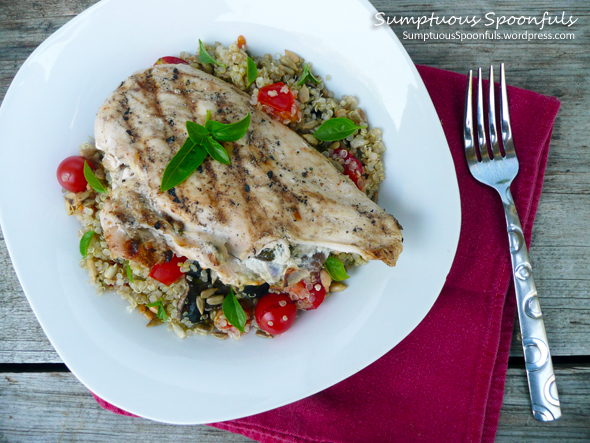 I'm guest posting over at Nutri-Savvy today! Lauren is one of my good friends, a fabulous cook … not to mention she's a total nutrition guru (a.k.a., Registered Dietician). Pop over to her page to get this simple, healthy and delicious recipe for the stuffed grilled chicken.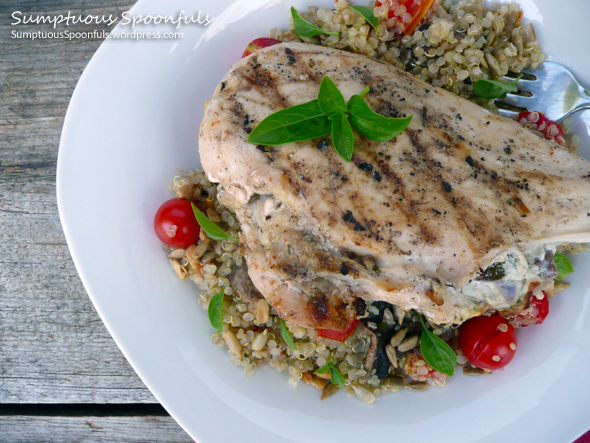 I'll share the Mushroom Cherry Tomato Quinoa Pilaf recipe here … it's the perfect accompaniment to the chicken and it's SO easy to make!
Mushroom Cherry Tomato Quinoa Pilaf
1/2 – 3/4 cup of mushrooms sauteed with red wine, garlic, and bruschetta seasoning (see my Chardonnay Mushrooms recipe for instructions)
2 cups cooked quinoa
1/2 cup cherry tomatoes
Roasted sunflower seeds
Sautee the mushrooms with a couple cloves of garlic and a splash of red wine like I did with my Chardonnay Mushrooms. Add the hot, cooked quinoa, then the cherry tomatoes and stir gently to mix. Cook for just a few minutes to let the cherry tomatoes heat up. Serve the pilaf sprinkled with a couple tablespoons of sunflower seeds for a nice salty crunch.