Grilled Corned Beef & Gouda Sandwich with Dill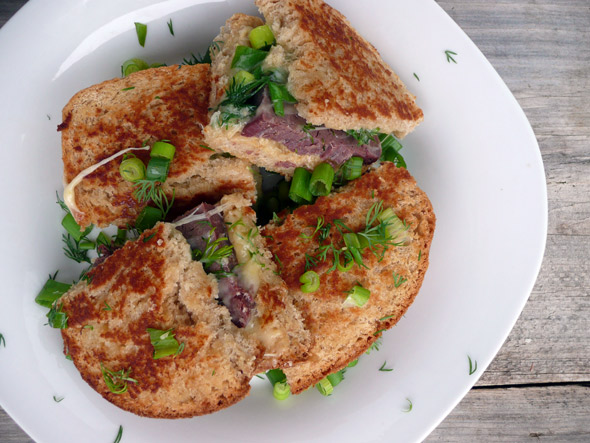 I made my corned "beef" early this year. (It's not really corned beef, it's corned venison … yes, it's true. My dad corned some venison roasts and gave me a few … I love it when he does that!)
I will probably make another for St. Patrick's Day proper, but my daughter wanted meat last week and she LOVES corned venison (or beef … I don't think she really cares, as long as it's meat). So I pulled out a corned vinnie roast and made it for her. But it was a rather large one this time, and we still had quite a bit left.
What do you do with leftover corned beef? Well, it makes for a lovely sandwich. Especially if you happen to have some homemade bread around, and I do. And if you have some fresh dill and green onions and some gouda cheese and garlic peppercorn mustard, well, that makes it all the better.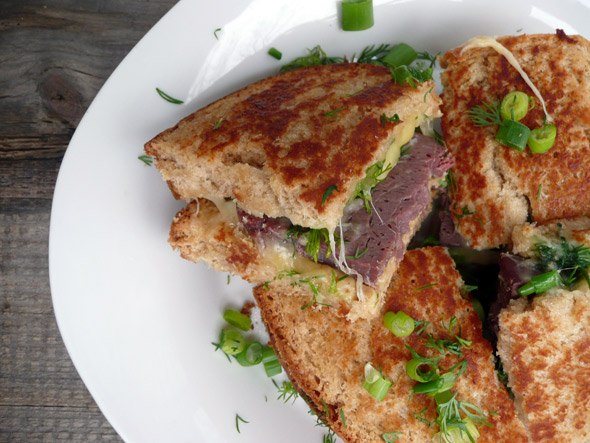 Toasted Corned Beef & Gouda Sandwich with Dill and Green Onion
Fresh homemade bread, sliced (I used my honey oatmeal bread for this one)
Light butter
Corned beef (or venison), sliced and heated
Shredded Gouda cheese (about 1/2 cup per sandwich)
Fresh snipped dill weed
Chopped green onion
A nice gourmet (or dijon or spicy brown) mustard
Directions:
Spread one side of a slice of bread with light butter, flip it over and spread the other side with mustard. Sprinkle on some of the cheese, then add the corned beef slices. Top that with some snipped dill weed and green onion, then more shredded cheese. Sprinkle a bit more dill weed and green onion on there for good measure. It should look something like this: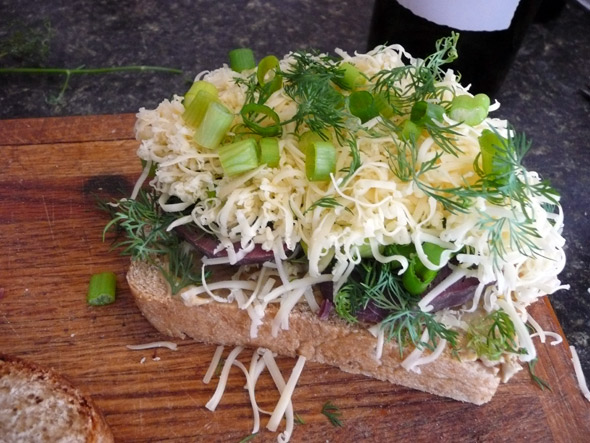 Okay, now take your other slice of bread and put it on top and lightly spread the outside of it (the top side, that is facing you) with some light butter.
Heat a frying pan to medium low heat and spray the pan with cooking spray. Carefully place your sandwich in the pan and cover the pan. Let the sandwich cook until it is brown on the bottom, then carefully flip it over with a spatula and cook, covered, till the cheese is melted and the other side is a lovely golden brown.
Slice it into quarters and chow down!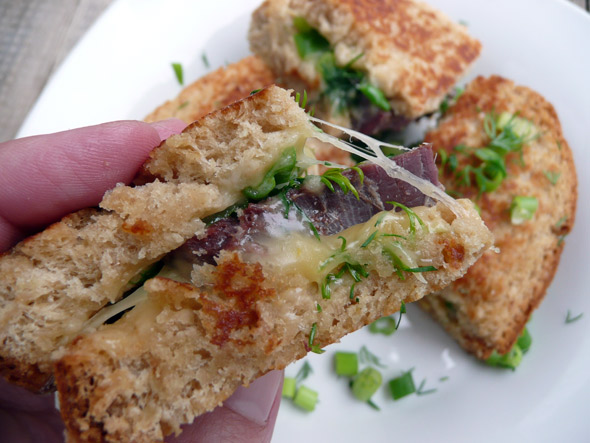 This recipe was shared at Foodie Fridays, Thursday's Treasures, Food of the World-Ireland and Katherine Martinelli's St Patrick's Day Blog Hop.