Happiness & a Mushroom Tomato Skillet Frittata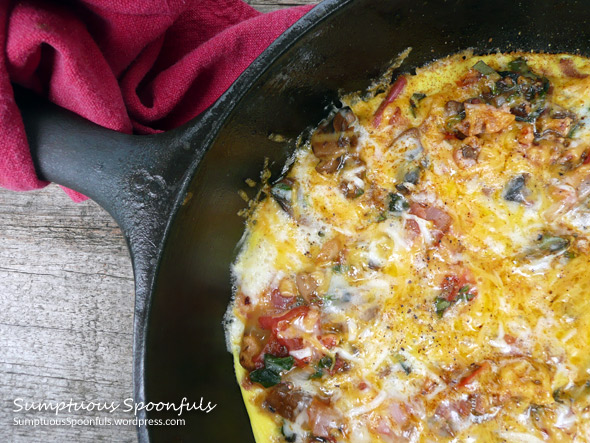 Last night my facebook page zoomed past 10,000 "likes" when I wasn't looking. I was out having a glass of wine with my friend, talking out all the things we needed to talk about, sharing things we probably wouldn't ever tell anyone else.
How did it zoom by without me so quickly? I think it's because I've been doing an A-Z health challenge on my facebook page. Every day there is a letter, you choose one thing that starts with that letter and share the health benefits of your chosen thing. A was Avocado, B was Basil, C was Cilantro, D was Dill. E was Eggs. F was Flax. Yesterday was G and I chose Garlic. Somewhere along the way I invited my foodie friends to join in and share facts or recipes on my page. That's when things really got fun. Suddenly I wasn't talking to myself anymore … everyone was joining in and we had such a spread of beautiful recipes and wonderful conversations going on everywhere.

Today is the letter H and because I'm so HAPPY, I've asked everyone to share what makes them happy. And I thought I better take a minute to share what makes me happy. Each and every one of you that comment, visit, or like me on facebook or Pinterest or twitter: you make me happy. You are what makes all of the time and effort I put into this blog worthwhile.
What makes me happy?
Snuggling, hugs, curling up with my cat, the many shades of green leaves on the trees, joking with my son, hearing my daughter sing, seeing her dance, visiting my parents, talking with my sisters, playing with my nieces and nephews, going for long walks and hikes in beautiful, natural spaces, a text or visit from a friend, yoga, a genuine smile. Art. Live music. Singing. Beautiful architecture. History and Books. Sunrise on the lake.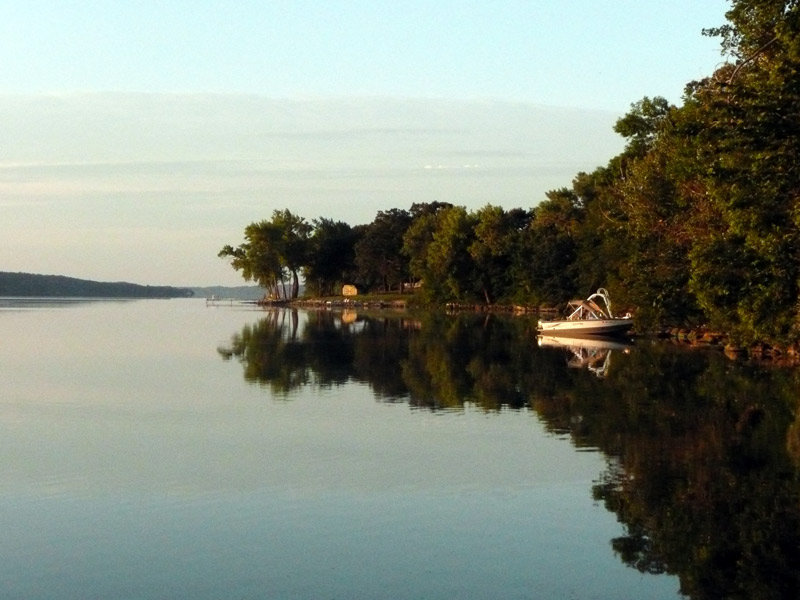 Thunderstorms and rain, rainbows, blue sky, clouds, flowers, sunshine, seeing a deer or beautiful bird or a bat flying in the sky. Dragonflies and butterflies. Mountains. Plants. ANYTHING purple. Looking at the stars somewhere away from the city where you can see so many more of them. Riding on a boat, canoeing, sailing. Swimming. Camping. Dancing. The sound of waves and the feel of water and sand on my toes. Opening the windows and feeling a slight breeze through my house. Travelling. Meeting new people and seeing new things, trying new foods and seeing the world from a different perspective. Coming home. Breathing freely. Being healthy and so grateful to be alive.
A hot cup of chai on a chilly morning, dinner on the patio, a really good smooth dark chocolate. Having a drawer full of different wonderful cheeses, a bottle of wine and several lovely dark beers in my refrigerator. Picking berries, vegetables, herbs or flowers and eating them fresh. Hot soup and the smell of fresh bread baking on a cool or rainy day. Thai food. Or Mexican or Greek or anything funky and ethnic. Baking cinnamon rolls with my daughter, making up new recipes with my son. A beautiful salad. Little toasts! Pizza. Cold sweet ice cream on a hot day. Cooking. Having a handsome man cook for me and rub my back or my feet. Growing herbs. Foraging. Writing and reading and sharing with all of the wonderful foodies that have graced my life with their presence.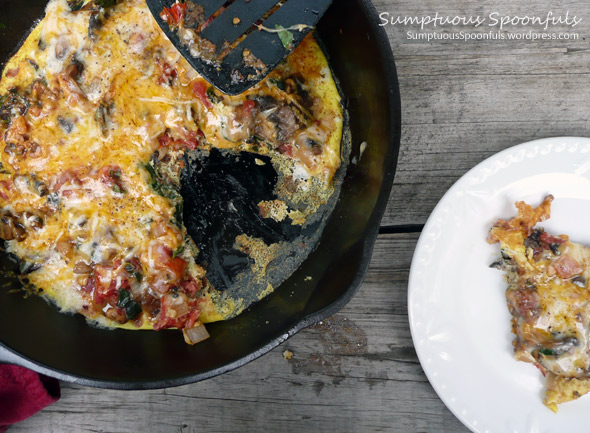 Smoky Mushroom Tomato Skillet Frittata
Cheese is one of those things that send me into a happy oblivion. Dofino cheese noticed this and sent me a bunch of cheeses. One of the cheeses they sent me was this smoked havarti which is very creamy and has an intense smoky taste, which blends so well with mushroom, tomato and eggs and a bit of smoky bacon.
1 teaspoon of butter
2 cups mushrooms
1/4  – 1/3 cup chopped onion
1 medium tomato, chopped
1 cup fresh spinach or swiss chard
A small handful of fresh herbs (basil, oregano, thyme)
2 – 4 eggs (depending on how fluffy you want your frittata … I used 2, but it was a little flat)
1 slice lean bacon, fried crisp, cooled and crumbled or chopped
1 cup shredded cheese (sharp cheddar, smoked havarti, & asiago, mixed)
Directions:
In a skillet pan, melt the butter, then add the mushrooms. Sautee for a few minutes, add the tomato & onion. Cover and cook for a few minutes, then uncover and sautee until the onions are soft. Add the spinach and sautee briefly until wilted.
Put the vegies in a bowl, mix with the herbs, and set aside. Clean out the pan. In a small bowl, whisk the eggs with a spoonful of water for each egg. Sprinkle with Red Robin Seasoning (or just salt) and freshly ground pepper.
Heat the skillet to medium heat and spray with cooking spray. Pour in the eggs and let them cook for just a moment to start setting up. Quickly spread the vegie mixture over the eggs, sprinkle with bacon and top with the shredded cheese. Reduce the heat to medium low, cover and let cook till the cheese is melted. Remove from heat and serve immediately in wedges.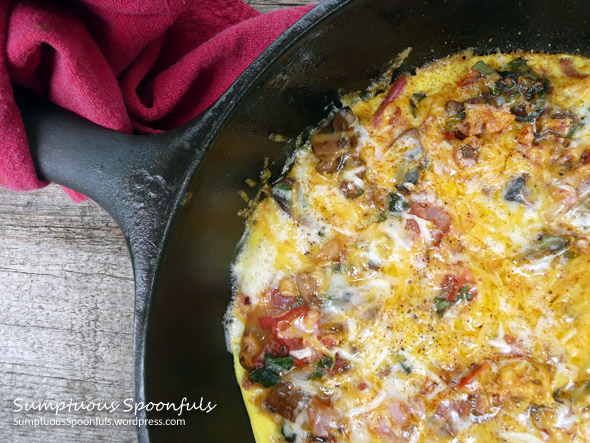 What makes you happy? I would love to know!
This recipe was shared at Share It Saturdays, Scrumptious Sundays, Recipe of the Week, Katherine Martinelli's Tomato Bloghop and Everyday Mom's Meals.