Havarti Kale Tomato Pie with Hashbrown Crust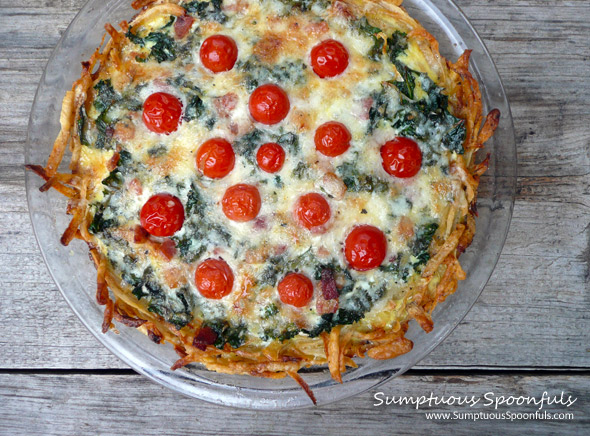 A savory quiche with a crunchy homemade hashbrown crust, filled with kale, whole cherry tomatoes, havarti cheese and a bit of crispy smoked bacon.
The idea for this "pie" has been floating around in my head for several days, waiting for me to take time to make it. Saturdays are always crazy for us and I wasn't feeling well yesterday, so it didn't happen on Sunday either. I totally slept in on Sunday and spent the day lazing about, drinking tea and playing on facebook. I feel better today, though, and I was starving after dropping my kids off this morning … plus I don't have anywhere I have to be or anything in particular I need to do today, so it seemed like the perfect time to make my savory kale tomato pie.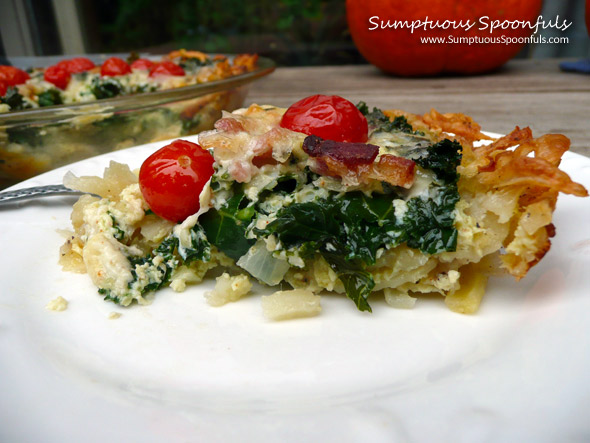 It turned out even better than I imagined it would! … I got the hashbrown crust recipe from The Curious Frau. I needed a recipe made with real potatoes, not frozen hashbrowns. I almost bought some frozen hashbrowns to make this pie, but then I looked at the list of ingredients. They should be just potatoes, right, maybe with a little oil and salt added? But there were some suspicious additives in there, so I decided to skip the pre-made hashbrowns and make the crust with my dad's garden potatoes instead. I'm so glad I did! It turned out perfectly delicious and crisp and wonderful. The cherry tomatoes are from my own little potted tomato plants. I'm a proud tomato mama … I actually grew a few tomatoes of my own this year!
Havarti Kale Tomato Pie with Hashbrown Crust
Ingredients
3 cups shredded, peeled potatoes (3 - 5 potatoes, depending on how big your potatoes are)
2 Tablespoons cooking oil or bacon fat
1/2 teaspoon salt
Freshly ground pepper
1/2 teaspoon oil or bacon fat
2 cloves garlic
1/4 cup chopped onion
3 cups packed, chopped raw kale greens
1 cup shredded Havarti cheese
About 14 cherry tomatoes
1 strip of lowfat bacon, fried crisp, drained, and chopped (optional)
3 eggs
1/2 cup low fat milk
1/2 teaspoon Red Robin Seasoning (or your favorite seasoned salt)
Freshly ground pepper
A dash of nutmeg
Instructions
Preheat the oven to 425 degrees F. Peel and shred the potatoes, then, in a bowl, toss the shredded potatoes with 2 Tablespoons of cooking oil or bacon fat, 1/2 teaspoon salt and some freshly ground pepper. (If you are using bacon fat, cut down the amount of salt because the fat from the bacon is a little salty already.)
Pour the oiled potatoes into a 9 inch pie pan and pat the potatoes around and up the sides of the pie pan to form an even layer across and up the sides of the pie pan. Bake at 425 for 30 - 45 minutes or until the hashbrowns are golden brown and crispy (at least on the top edges).
While the crust is baking, peel and chop the garlic and, in a small bowl, mix it with 1/2 teaspoon of oil or bacon fat. Wash and chop the kale leaves into small bits, then toss the kale with the garlic and oil and let set for 5 - 10 minutes. (This lets the kale leaves soften a bit before you cook them.)
Heat a frying pan or wok over medium to medium high heat. Add the kale with garlic oil and onion and sautee just until the kale is wilted and bright green. The kale should reduce in size considerably as it cooks as well, so you end up with about 1 1/2 cups of cooked kale. If the crust isn't done yet, remove the kale from the heat and place into a bowl to keep it from over-cooking.
In a separate bowl, whisk together the eggs, milk, Red Robin Seasoning, pepper, and nutmeg.
When the crust is done, spoon the cooked kale mixture into the crust, arranging it fairly evenly to fill the crust. Top with the shredded cheese and sprinkle with bacon (if you're using bacon), then pour in the egg mixture. Set the cherry tomatoes into the cheese, pushing them down gently into the mixture so only the top half of the tomato shows.
Bake at 350 for about 45 minutes or until the quiche is set. Let cool for 5 - 10 minutes before cutting the pie. Serve warm.
http://www.sumptuousspoonfuls.com/havarti-kale-tomato-pie-with-hashbrown-crust/
Copyright 2012 by Sumptuous Spoonfuls. Recipes are meant to be shared! Nothing makes me happier than to hear about someone who has tried one of my recipes. All I ask is that if you are going to share my recipe online, give me credit and a link. And if you want to use one of my photos, please ask first. You can contact me at http://www.SumptuousSpoonfuls.com/contact/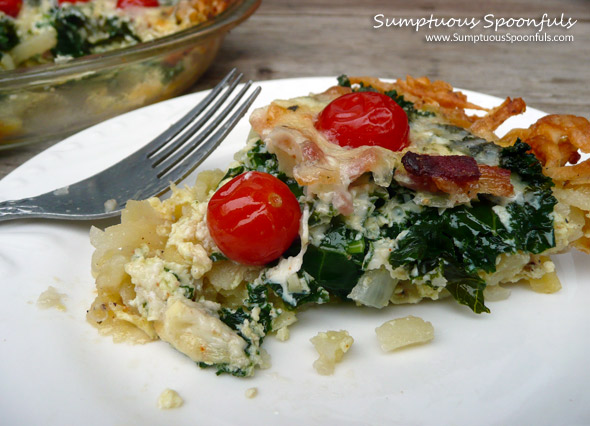 This recipe was shared at Wonderful Food Wednesday, Cast Party Wednesday, Wednesday Extravaganza, Full Plate Thursday, Frugal Food Thursday, Fresh Foods Link Up, Clever Chicks Bloghop, Strut your Stuff Saturday, Eating Inside the Box Greens Party and All my Bloggy Friends.