Herbed Pepperoni Grilled Cheese Sandwich
on Speckled Pepperoni Cheese Bread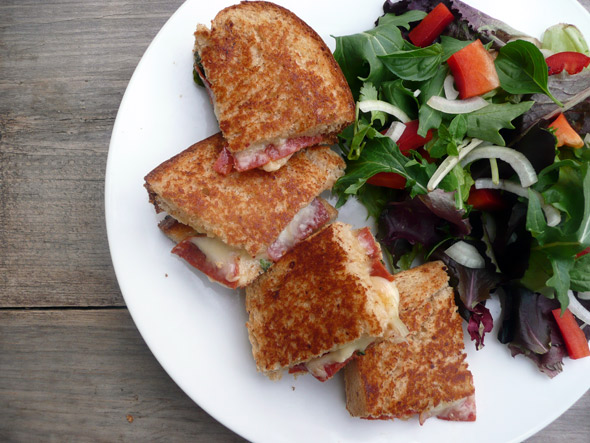 Every once in a while I get a craving for pepperoni. The thin, thin sliced pepperoni that gets a tad crispy when you put it on top of a pizza? I love that. I don't like the grease, though, and usually pepperoni pizzas are swimming in grease.
I thought pepperoni would be fantastic on a grilled cheese sandwich and oooh that was a good thought. The first time I made one, I was so hungry that I rushed to take the photos, then gobbled it up. The photos seemed good when I took them, but when I opened them up on my computer, they were all blurry! That just wasn't going to cut it. I needed good photos to do justice to a sandwich this good. BUT that sandwich was also the last of the loaf of bread I had. So I had to make bread before I could make the sandwich again!
I have tortured my foodie friends for days talking about this sandwich …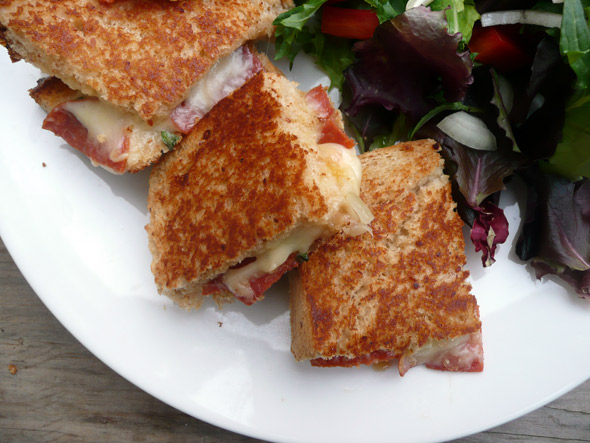 Herbed Pepperoni Grilled Cheese Sandwich
I know, grilled cheese sandwiches are typically in the "not healthy" category … but I did take a few steps to lighten this one up and cut down the grease factor from the pepperoni.
To make this sandwich you will need:
Pepperoni Cheese Bread (recipe is here … or use another really good bread that you love)
Light butter
4 kinds of cheeses: Parmesan, Romano, Part-Skim Mozzarella, and Gouda
Thinly Sliced Pepperoni (9 slices per sandwich)
Finely chopped bell pepper and onion
Fresh Basil and Oregano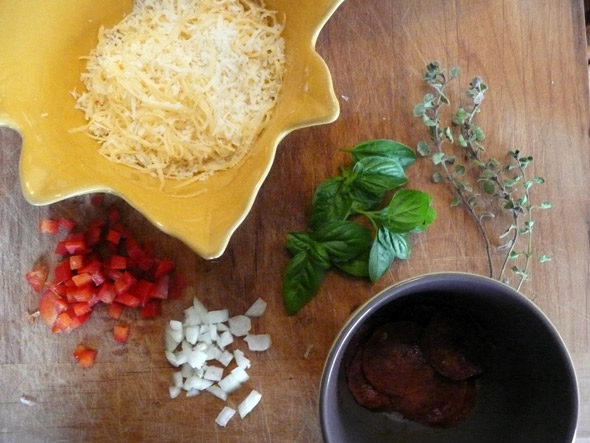 First, prep your ingredients and shred the cheese. I don't know exactly what proportions I used. Shred just a little of the parmesan and romano to give it that extra kick of flavor, then go heavier on the gouda and mozzarella for the melt factor. Gouda has a very soft melt, mozzarella is more stringy, so mixing the two makes your grilled cheese just right. Mix all the shredded cheeses together in a bowl.
Heat the pepperoni briefly and then place them on a clean towel (or paper towel if you prefer), cover, and press so that the towel absorbs all the extra grease from the pepperoni.
Now, take your bread and spread a very thin layer of light butter on the outside of the bread. If you're a purist, you can use real butter, but I prefer the light butter myself.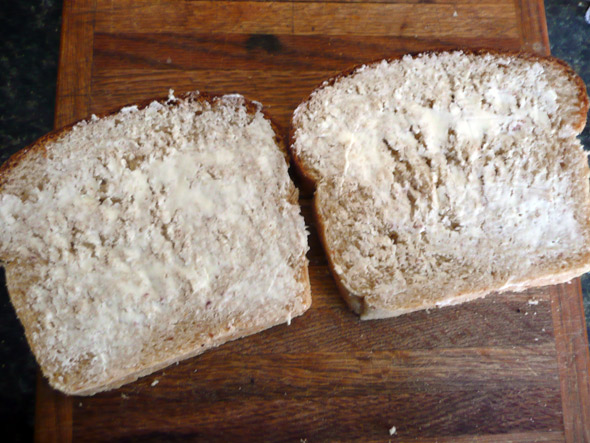 Flip the bread over and on one side of the bread, add a layer of the shredded cheeses.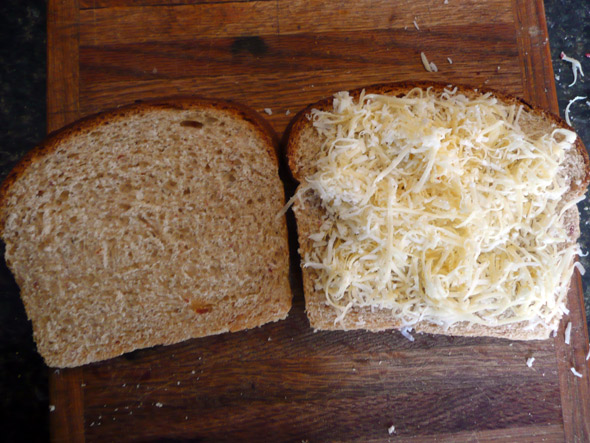 Make a layer of pepperoni on top of that: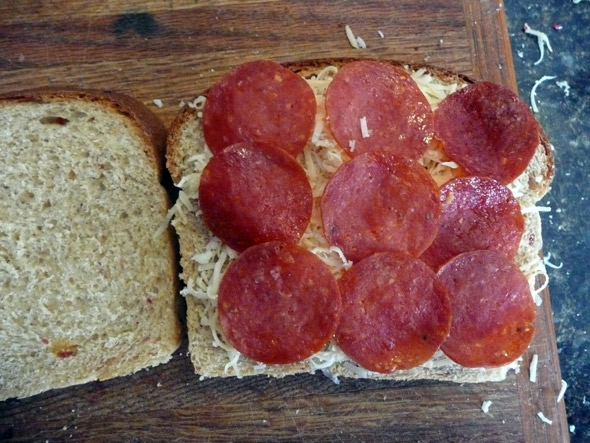 Now sprinkle lightly with onion and bell pepper: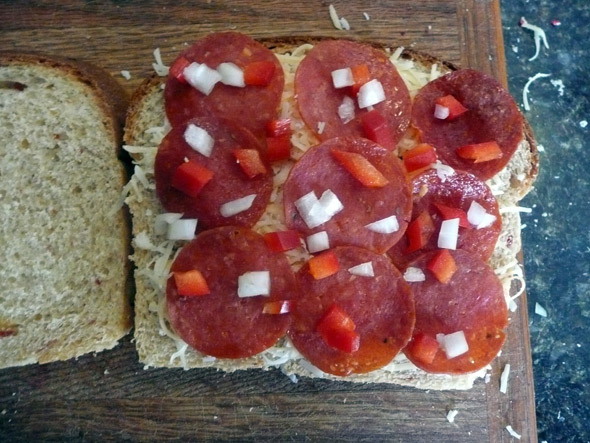 Place the beautiful herbs on top of that: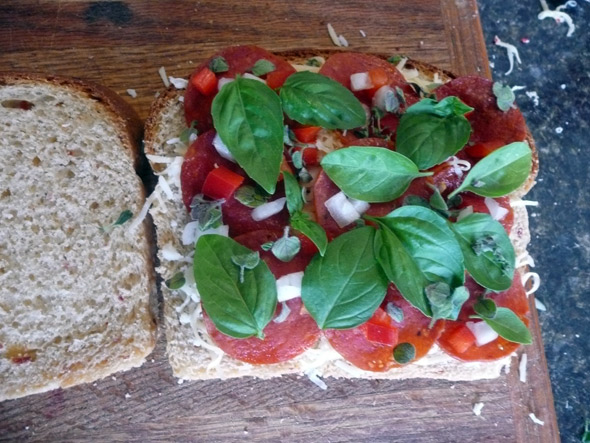 And cover it all up with a second layer of shredded cheeses: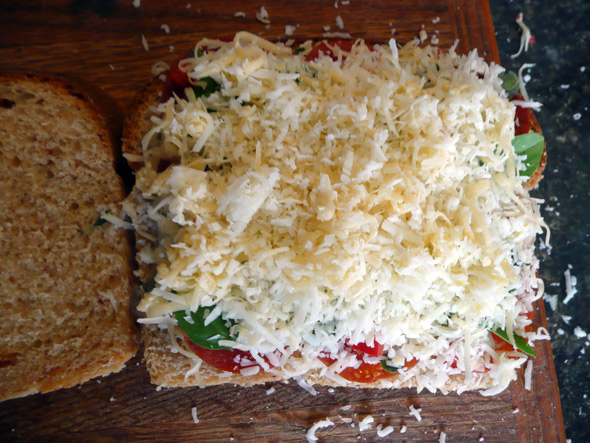 Place the other side of the bread on top (buttered side OUT) and now you're ready to grill your sandwich! Heat up a frying pan on medium low heat, place the sandwich in there and cover. After a few minutes, check the bottom of the sandwich by lifting up the edge with your spatula. When it's golden brown it's time to flip it. Cover and let the other side cook till it's golden brown too and the cheese is all hot and melty.
Then you can cut up your beautilicious sandwich (or leave it whole if you prefer!) … and eat it.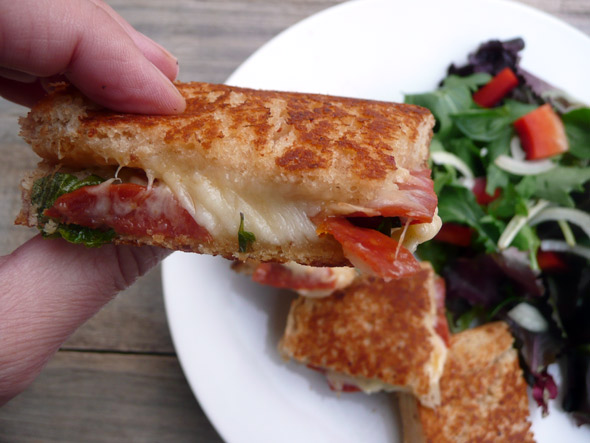 I recommend a salad with this to balance out all that bread and cheese and meat. I did a simple salad of mixed organic greens with bell pepper, onion, and a balsamic vinaigrette. And I discovered the vinaigrette on the plate was a nice "dipping sauce" for the crusts of the sandwich that weren't quite cheese-ified.
I know, cheese-ified probably isn't really a word. That's the beauty of being a food blogger; you get to make up fun words like beautilicious and cheese-ified. I think those two words fit this sandwich very well.
This recipe was shared at Weekend Potluck, Cast Party Wednesday and Newlyweds Recipe Linky.