Homemade Banana Nutella Granola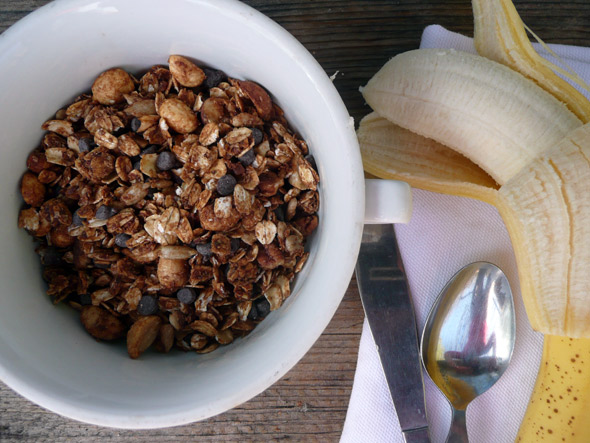 I am completely obsessed with homemade granola. It's so marvelous to munch on … to have for breakfast in a bowl with milk. To make into a parfait. To sprinkle on ice cream. It's nothing like that flat-tasting store-bought stuff that to me just tastes like sugar and cardboard. Homemade granola is like 10,000 levels better than that. It's delicious and decadent and nutty.
And the best part is … it's easy to make.
This granola has been floating around in my head for a while … ever since I saw this "Granola Fit for a King" recipe, I wanted to make something like it. But I wanted more chocolate. And what's more chocolate than peanut butter? NUTELLA! Oh yeah. That's the ticket.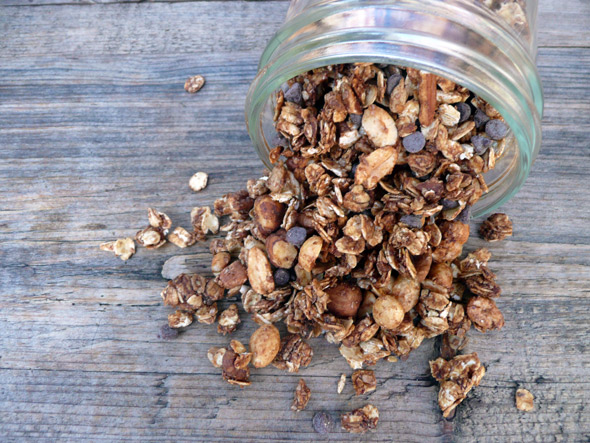 Banana Nutella Granola
Adapted from Oh Nuts! Sweet & Crunchy Talk
4 cups old fashioned oats
1/4 cup flax
1/4 cup wheat bran
2 cups mixed nuts (I used 1/2 cup chopped hazelnuts, 1/2 cup pecan pieces, 1/3 cup sunflower seeds, 2/3 cup peanuts)
1 very ripe banana
1/4 cup maple syrup
1/4 cup Nutella
1 teaspoon cinnamon
2 teaspoons pure vanilla
1/4 teaspoon sea salt
1 Tablespoon dark cocoa powder
1/4 cup honey
2/3 cup mini chocolate chips
Directions:
Preheat the oven to 275 degrees. In a large bowl, mix the oats, flax, wheat bran and nuts. Set aside
In a separate small bowl, mash the banana very well until it's smooth (not lumpy). Put the banana in a small saucepan with the maple syrup, Nutella, cinnamon, sea salt and cocoa powder. Heat over medium heat, stirring frequently, until the mixture is hot and bubbly. Stir in the honey and remove from heat.
Pour the hot sweet chocolatey banana Nutella mixture over the nutty oat mixture in the bowl. Stir it all up until it's well mixed.
Spread all this wonderful stuff out into a thin layer on a large jellyroll pan (or other big flat baking pan with an edge to it). Set it in the oven and bake for about an hour and 15 minutes, stirring every 15 minutes. It should be browned to a lovely chocolate brown color and smelling fantastic. You can taste a little sample to see if it's crunchy enough. If it's not, bake it a little longer.
This is the hard part. Let the granola cool COMPLETELY before stirring in the mini chocolate chips. Store in an airtight container. It will keep for about a month or so. But it is not likely to last that long …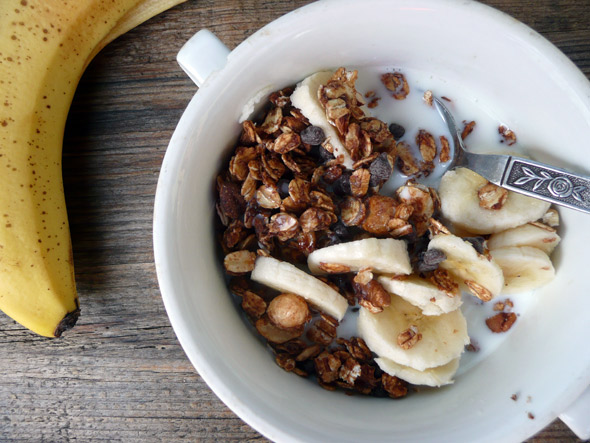 This recipe was shared at Meatless Mondays and Nutella Lovers Linky.