Homemade Maple Cranberry Pecan Granola

I have long been fascinated with the idea of making my own granola. I don't know why it took me so long to actually DO it. Suddenly several of my foodie friends are talking about it, so perhaps it was the power of suggestion? I don't know. I just know that last week I suddenly felt a strong urge to make granola.
And I'm soooo glad I did. It is really quite simple to make and it just blows away the taste of store-bought granola, with the added bonus that you can control what goes into it. So it's easy to make it healthier. This is so tasty, my parents and I munched on little handfuls of this granola all weekend. The first day I made it, I had three bowls of it with milk. The jar is disappearing quite quickly. (Which is exciting to me, because that means I get to try out my NEXT granola flavor! woo hoo!)
Maple Cranberry Pecan Granola
Slightly adapted from ChinDeep.
2 1/2 cups old fashioned rolled oats
1 1/2 cups coarsely chopped pecans
1/2 cup sunflower seeds
1/2 cup dark brown sugar
1 teaspoon cinnamon
1/2 teaspoon ginger powder
1 teaspoons coarse sea salt
1/2 teaspoon nutmeg
1/4 cup flaxmeal
1/4 cup + 2 Tablespoons unsweetened pearsauce (drain a can of pears and blend until smooth) or applesauce
1/6 cup maple syrup
2 Tablespoons honey
1 1/2 Tablespoons olive oil
Preheat oven to 325 degrees. In a very large mixing bowl, mix oats, pecans, sunflower seeds, brown sugar, cinnamon, ginger, salt, flaxmeal and nutmeg.
In a small saucepan, warm the apple or pear sauce, maple syrup, honey and oil. Combine the wet mixture with the dry mixture until completely incorporated and everything is evenly mixed. Divide the granola between two large jellyroll pans. Bake for 45-55 minutes, stirring every 10 minutes until the granola is a deep golden brown. Remove from oven. Cool completely. Mix in dried cranberries. Store in an airtight container. Keeps up to one month. But it isn't going to last that long …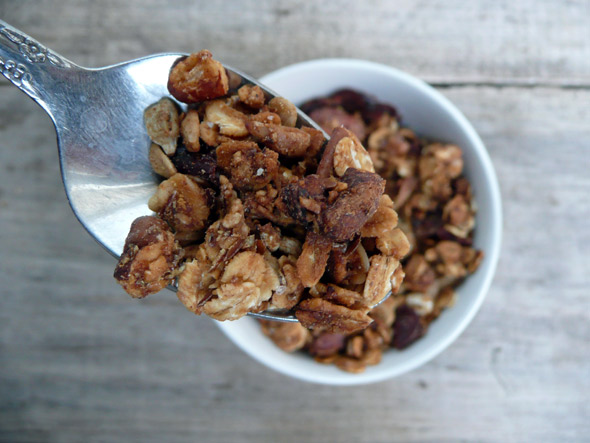 This recipe was shared at Midnight Maniac Meatless Mondays and Tuesday Talent Shows.