Hotsy Totsy Summer Shrimp Dip

Calling this a shrimp dip is a little misleading because it's got SO much more than shrimp in it … there's bacon, and asparagus, and grilled corn cut off the cob, sweet onion, Havarti, Gorgonzola and cream cheese, greek yogurt, some seasonings of course… and then, to give it a little summer heat, some Sriracha sauce. It's like a taste of summer in every bite.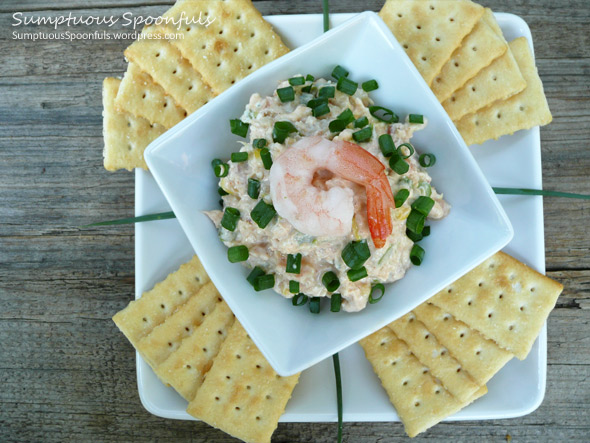 Hotsy Totsy Summer Shrimp Dip
1/3 cup roasted asparagus, chopped into small pieces
1/3 cup chopped onion
2 cloves garlic, peeled and chopped fine
1/4 cup light cream cheese
2/3 cup fat free greek yogurt
1/3 cup cooked corn (I cut the kernels off a cob we had cooked on the grill, but thawed frozen corn would be fine too)
1/3 cup cooked, chopped shrimp (tails removed)
1/4 teaspoon Red Robin Seasoning (if you don't happen to have any, you can make your own with this recipe)
1/4 teaspoon Old Bay Seasoning
1/4 teaspoon smoked paprika
2 1/2 tablespoons cooked, chopped lower-fat bacon
1/2 cup shredded Havarti cheese
1 1/2 Tablespoons gorgonzola cheese
1/4 – 1 teaspoon Sriracha sauce or more (add more or less according to how spicy you want the dip)
Directions:
Heat a frying pan up over medium heat till it's hot, spray with cooking spray, and sautee the onion and garlic until the onion is translucent and soft. If the mixture gets dry or starts to "burn", add a splash of wine, then cook until the liquid from the wine has disappeared.
In a small mixing bowl, mix the onion/garlic with the rest of the ingredients until it's all thoroughly mixed. I started with the cream cheese because the heat from the onions will melt the cheese and make it easier to blend with the rest of the ingredients, then added the other things one by one.
When I started cooking, I really meant this as a hot dip, but I ended up eating it cold because it's SO hot outside … but really more because I was soo hungry by the time I finished it that I didn't want to wait for it to bake. So hey, if you want, you could put this in an oven-safe baking dish and bake it up till it's all hot and bubbly … or serve it cold with toasted pita chips, crackers, baked bagel chips or tortilla chips. Or vegies. Vegies always make good dippers.
Garnish with a shrimp and some snipped green onion or chives.
(By the way, thank you Patti and Tara and all my Boho tribe friends for helping me name this one!)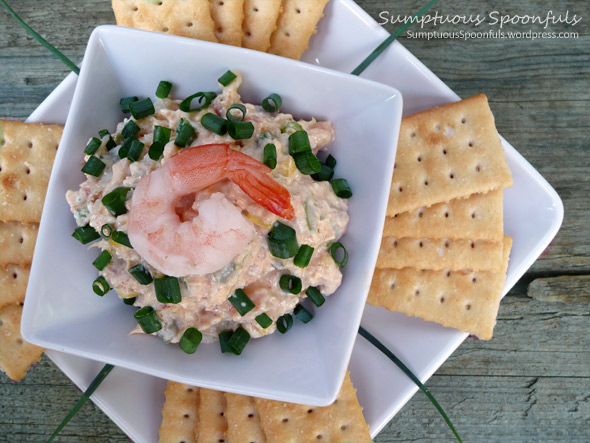 This recipe was shared at Patriotic Potluck, Everyday Mom's Meals, Scrumptious Sundays, KM's Seafood Bloghop and Totally Tasty Tuesdays.
It was also featured at Carrie's Experimental Kitchen's Seafood Frenzy Friday.