Italian Zucchini Asiago Whole Wheat Flatbread

It's finally cooled off enough here to BAKE (yay! happy dance!) and I decided I needed to make some flatbread. My son loves flatbread … he came upstairs just after I took these flatbreads out of the oven and decided he was going to have flatbread and a fruit smoothie for dinner. I panicked a little because that boy has a BIG appetite and he could easily polish off just about all the flatbread in one sitting, but he only ate 3 of them! Whew! There were still plenty left for the photo shoot.
I'm participating in an A-Z health challenge on my facebook page and today is the letter I. A was Avocado, B was Basil, C was Cilantro, D was Dill. E was Eggs. F was Flax. G was Garlic. I was scratching my head for the letter I … how many healthy things can you think of that start with the letter I? All I could think of was Ice Cream, and even though I have several healthy ice cream recipes, it didn't seem like a very good choice, so I asked my kids who are both wonderful at brainstorming. My daughter suggested Italian Seasoning and that led me to think: Italian food! There are lots of health benefits to eating Italian food. You should see all the wonderful Italian recipes on my facebook page today! (If you happen to miss it or want to see some of the other recipes that were shared, I'm pinning all of the recipes to my A-Z Health Challenge Pinterest Board.)
This flatbread might not be "traditional" Italian cuisine, but it does have lots of the wonderful healthy things that Italians use in their cooking: whole grains, olive oil, lots of herbs (via the Italian Seasoning!) and the wonderful flavor of Asiago cheese. And hey, what's a good Italian meal without bread? This flatbread is a wonderful base for a pizza, or serve it as the bread with your meal with some olive oil for dipping. Oh they go wonderfully with hummus too! … or you can just eat them plain, hot out of the oven, like my son. If you have any leftover flatbreads, put them in a bag and freeze them for quick meals (add sauce, cheese, and toppings and you have instant pizza!)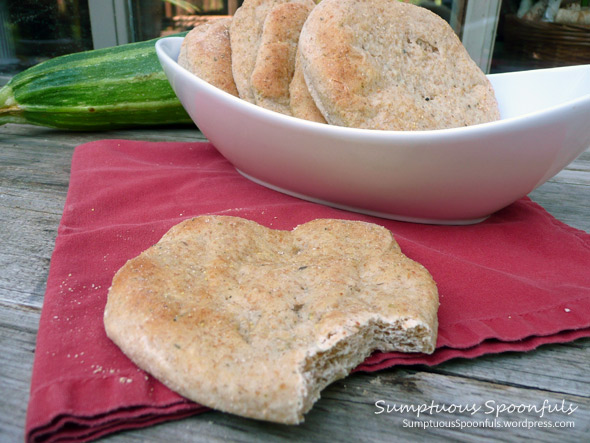 Italian Zucchini Asiago Whole Wheat Flatbread
Inspired by this recipe from Red Star Yeast. I just saw that recipe and thought it was such a cool idea to put zucchini in a yeast bread!
1 cup whole wheat flour
2 cups bread flour
1/2 cup finely shredded zucchini
2 – 3 Tablespoons shredded asiago cheese
2/3 cup plain nonfat yogurt
1 Tablespoon extra virgin olive oil
1 teaspoon salt
1 teaspoon Italian Seasoning
2 1/2 teaspoons yeast
2 teaspoons sugar
1/3 – 2/3 cup water (or other liquid)
Directions:
Put all the ingredients in the bread machine (or the bread attachment to a KitchenAid … that works too!), using 1/3 cup of water to start. Set the machine on the dough setting and watch it as it starts mixing: add water as needed until it forms a nice ball of dough. I had to use the full 2/3 cup on mine.
When the dough is done, take it out and cut the dough into equal-sized pieces for the desired number of flatbreads. I made 12 mini-flatbreads, but you can make 2 large rounds for pizza or 6 for individual pizzas if you prefer.
Dusting the dough with cornmeal to keep it from sticking, shape the dough into discs with your hands, cover and let rest for 5 minutes or so, then stretch the dough further with your hands or use a rolling pin to roll the flatbreads to about 1/4 inch thick (adding more cornmeal as needed to keep it from sticking).
Cover with a towel and let rise in a warm place till your breads are the desired thickness, then bake at 425 for about 10 – 15 minutes or until golden brown. I like to cook my flatbreads on a pizza stone to get them nice and crisp on the bottom, but you can bake them on a cookie sheet if you don't have a pizza stone.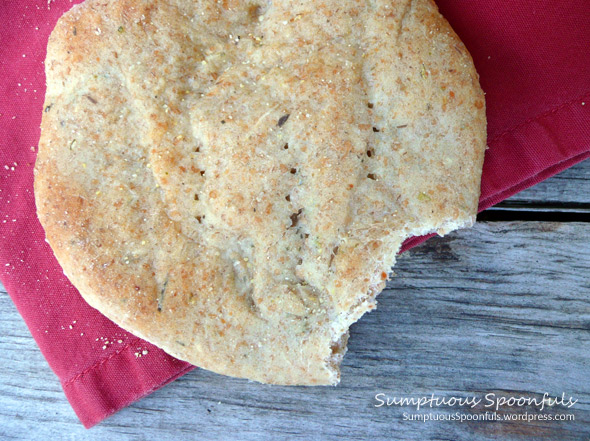 This recipe was shared at Tastetastic Thursday, Thursday's Treasures, Fit & Fabulous Fridays, and Weekend Potluck.