"It's Good to be Home" Cheesy Cajun Popcorn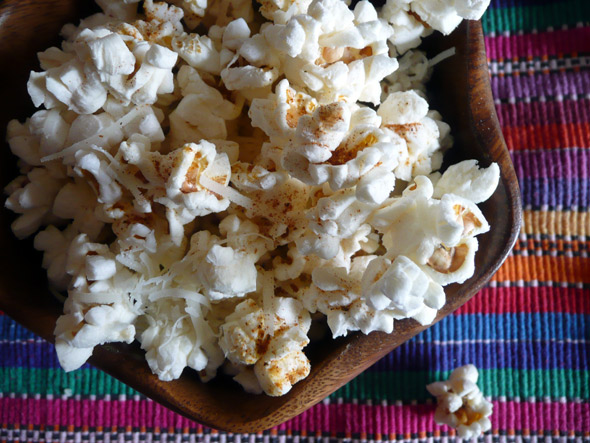 I don't know if this is really a recipe, but I have to tell you  I am so happy to be back in my own home with my own kitchen where I can walk in and make funky popcorn anytime I want. And I have all my spices! YES! … so I can season things like I like them …
I was only gone for two days. And I do love to travel. Really, this should not be a big deal. But I've grown sooo attached to my kitchen. Perhaps I need a portable spice suitcase. And hotels to actually deliver what they promise. This was supposed to be a "suite" … with 2 beds, a microwave, mini-fridge, sofa bed … it wasn't. It was a bed, a desk, and a chair. No microwave, no fridge, no sofa at all. And they overcharged me. But they let us check in early, which was handy because my girl needed to get ready for her dance competition. So I'm not REALLY complaining.
I'm just glad to be home. With my popcorn popper. My kitchen. My spices. My cheese drawer. Real wine glasses. My bed. My cats. My plants. My pillow. My trees.  I love it here.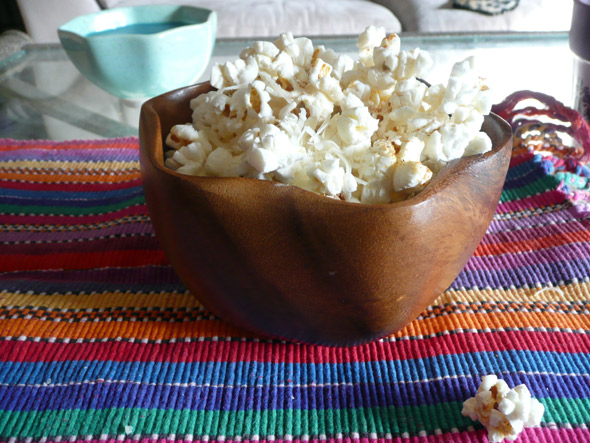 "It's good to be home" Cheesy Cajun Popcorn
A large bowl full of air-popped popcorn (about 10 cups or so? something like that … it fills my mixing bowl)
1 to  1 1/2 tablespoons melted butter
Cajun seasoning mix
Cheesy popcorn seasoning (I found this at our local Natural Foods Coop … if you have some, use it, if not, the popcorn will still be delicious …)
Salt
Cayenne (if you want it hotter)
Freshly shredded parmesan (about 1/2 cup)
Melt the butter. Drizzle the butter over the popcorn as it pops, and sprinkle with the cajun seasoning mix, the popcorn seasoning, the cayenne (if desired) and the salt. Add the parmesan in there too if you can manage it … if you can't, just sprinkle it on top. It will sink as you eat the popcorn anyway. Grab bunches of it with your fingers as you eat the popcorn. It's so good that way.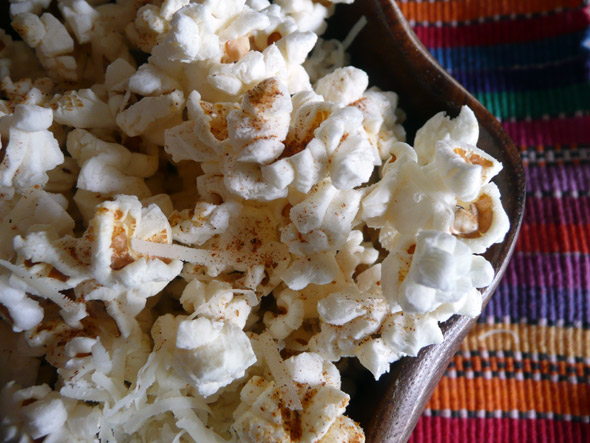 This recipe was shared on Midnight Maniac Meatless Mondays, Totally Tasty Tuesdays and Trick or Treat Tuesdays.